Fleet manager
Optimise your fleet's performance
Looking to optimise your fleet's performance? Webfleet's suite of solutions gives you as fleet manager visibility over your vehicles, with insights to help you reduce operational costs, save valuable time, improve your customer relation­ships and prioritise safety.
What's important to you as a fleet manager?
Fleet visibility and maintenance
Stay up to date on vehicle conditions with greater visibility over your fleet. Webfleet automates your maintenance tasks based on time, odometer or engine hours. It also sends instant notific­a­tions about vehicle malfunc­tions so you can schedule repairs, reduce downtime and lower the risk of unexpected breakdowns. You can also use the vehicle check app for daily vehicle inspections.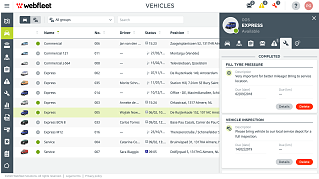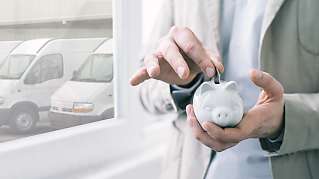 Optim­isation of complex operational costs
Webfleet software gives fleet managers real-time insights into fuel consumption, driving behaviour and effective route planning. With a clear dashboard view, you can take one glance at your operations to see where you can improve and reduce your fleet's overall operational costs.
Admin­is­trative time and optimal planning
Increase productivity and reduce the admin­is­trative burden across your entire organ­isation. Our vehicle and driver insights will help you optimise transport routes, improve delivery ETAs and save time in commu­nic­ation and planning. You can also integrate Webfleet software with existing third-party solutions.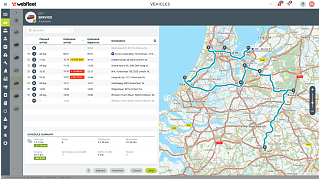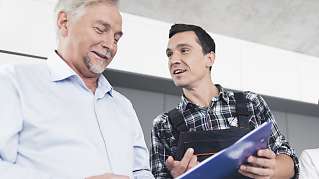 Customer service levels
Build stronger customer relation­ships and keep them updated every step of the way. Webfleet gives fleet managers the information they need to optimise scheduling, move quickly, communicate clearly and leave your customers with a good impression.
Mileage log and tax compliance
Gain peace of mind and stay tax compliant with Webfleet Logbook. This electronic mileage log makes admin­is­tration a breeze. It will save you and your drivers time, reduce human error and ensure your records are saved securely in one place – with heightened data security for drivers.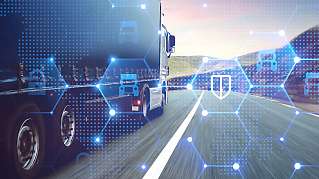 Vehicle security and driver safety
Make fleet security and driver safety a top priority. As fleet manager you can follow the status of your vehicles and assets through real-time tracking. Driver support is possible with instant feedback on driving behaviour through Webfleet, in combination with PRO Driver Terminals. Webfleet Video helps you increase safety and reduce claims using AI-powered dashcams.
How can we help you as a fleet manager?
Gain visibility over your fleet and maintenance tasks
Use powerful insights to help reduce operational costs
Get a tailored solution with a range of business integ­ra­tions
Make customers happy with optimised routes and schedules
Track mileage and prove tax compliance
Monitor your trucks, assets and driving behaviour
---
All you need to know about fleet managers
What is the role of a fleet manager?

The primary role of a fleet manager is to ensure that the fleet runs efficiently, product­ively and safely. Fleet managers strive to reduce operational costs and achieve their organ­isa­tions' sustain­ab­ility goals, partic­u­larly with lowering C02 emissions.
What does a fleet manager do (on a daily basis)?

Fleet managers do a variety of tasks on a daily basis. They monitor the fleet's fuel consumption, noting trends and identifying ways to improve fuel efficiency. They also handle route planning, driver coaching/training and vehicle lifecycle management—acquisition, utilisation, disposal.
What are the respons­ib­il­ities of a fleet manager?

A fleet manager is responsible for various aspects of operations, from driver retention and well-being to vehicle maintenance. They also oversee the fleet budget, manage drivers, implement safety policies and stay informed about industry regulations.
What tools does a fleet manager use?

Fleet managers increas­ingly rely on telematics and software to tackle their workload. This typically includes a GPS system within vehicles and fleet management software to process and analyse real-time data. An integrated fleet management system simplifies admin­is­trative tasks while helping fleet managers leverage insights for strategic decision making.
Check out our fleet management features in more detail
Want to bring your fleet costs under control?
Download the eBook and find out how much you could save with the right fleet management solution.
Get your guide
Get a demo
See how Webfleet can help your business.