If you have coaches and trucks in your fleet, you know that you need to comply with drivers' hours rules. After all, failure to do so can see you hit with major penalties. And, almost certainly, your vehicles will be fitted with a tachograph for this purpose.
But the EU regulations1 on this topic are quite complex and it's not always straight­forward knowing what's the requirement in all circum­stances.
At Webfleet, we like to make things simple. Our quick guide to drivers' hours compliance, tachograph devices and tachograph cards for storing data covers: why the rules are in place, what a tachograph does, what the main rules are, how to handle compliance easily and if there are any exemptions.
Webfleet: One platform where you can do it all
When you manage a transport fleet, you've got a lot on your hands - schedules, routes, safety, security, drivers, compliance, maintenance, fuel, costs and much, much more. Wouldn't it be easier to have one platform where you could do it all?
Find out why Webfleet is the market leading telematics solution for European transport fleets, connecting more than 200,000 HCVs across the continent.
Guide to drivers' hours compliance and digital tachograph devices
What's the purpose of driver's hours regulation?
There are two main reasons that the European Union places a limit on drivers' hours and demands the use of a tachograph to measure them.
Firstly, it ensures drivers are well rested when operating their vehicles, protecting both their own safety and that of other road users. Secondly, it promotes healthy competition, as no company can aim to get an advantage over their competitors by forcing their drivers to work excessively long schedules.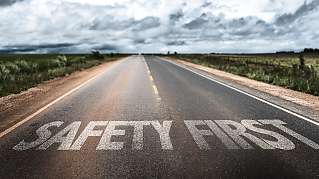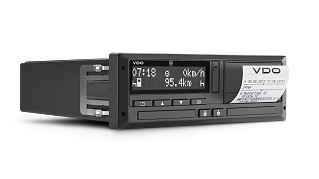 What is a digital tachograph device?
Tachographs record the driving and rest times, speed and distance of your drivers' journeys. The tachograph is fitted to your vehicles and automat­ically monitors progress as soon as the vehicle starts moving. The data collected by the tachograph device is stored in the vehicle unit memory and on tachograph driver cards.
While analogue tachographs have been in use since the 1950s, all qualifying vehicles manufac­tured in the EU since 2006 have been required by law to be fitted with a first-gen­er­ation digital tachograph device.
Since mid-June 2019 onwards, however, the law has evolved again. Every new vehicle produced from that month on has to be fitted with a smart tachograph type 1 (second-gen­er­ation digital tachograph). These devices offer enhanced security, improved efficiency, an open interface for additional services and a dedicated short-range commu­nic­ation system to simplify the inspection process.

Starting in August 2023, all newly registered trucks must be fitted with a smart tachograph type 2. This change, impacting both transport companies and truck drivers, is a consequence of the European 'mobility package'. As well as monitoring driving and rest times, the smart tachograph type 2 will help enforce cabotage and secondment rules. Border crossings, loading and unloading, will be registered on the device. There will be a phased intro­duction:

Trucks with an analogue or digital tachograph should have a smart tachograph type 2 by 31 December 2024.
Trucks fitted with a smart tachograph type 1, should be fitted with a smart tachograph type 2 by 19 August 2025.
Who gets penalised?
If it is found that a company is not complying with drivers' hours rules, it can be fined and, in some cases, those involved can be jailed. Also, the license to operate may be revoked. Companies, fleet managers and drivers may all be held accountable when a trans­gression has been proven. The employee responsible for scheduling, in particular, could be liable when work has not been properly timetabled, while the fleet manager could be liable if appropriate training has not been given to drivers or standard working time checks weren't being done.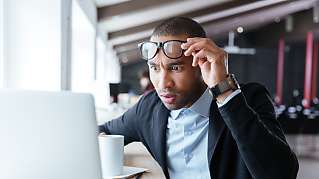 What are the most important rules to know?
On driver hours

The scope of Regulation (EC) No 561/2006 specifies how long your drivers can stay on the road in two-week, one week and one day periods.

| Time period | Maximum driving time per driver |
| --- | --- |
| One day | 9 hours, which can be extended to 10 hours no more than twice a week |
| One week | 56 hours |
| Two weeks | 90 hours during any two consecutive weeks |

On weekly rests

For every week of driving, a driver must rest a total of 45 hours minimum. This must commence at least six days since the end of the driver's previous rest period.

It is, however, also possible for drivers to take a reduced weekly rest period. Within six days of the end of the last weekly rest, the driver can take a reduced rest period of 24 hours minimum. This reduction must then be compensated in a single block of time before the end of the third week following the week of the initial reduction and taken alongside an additional rest period of 9 hours minimum.

Weekly rest hours must be taken continu­ously, and the driver must not be engaged in any other profes­sional activity during this period.
On daily breaks and rests

For every 4.5 hours of driving time, a driver must take a break of 45 minutes minimum. These minutes can either be taken in one single break or in two smaller breaks – one of 30 minutes, one of 15 minutes.

Per day, each driver must have a rest period of 11 hours minimum. These hours can either be taken in one single rest period or split into two smaller periods, in which case the number of hours must total 12 – one rest of 3 hours, one of 9 hours.

Also, a driver can reduce their rest period down to 9 hours, 3 days out of every week.

Daily rest must be taken in total within 24 hours of the driver's last rest period.

On driver working time

There's often confusion on the difference between the Working Time Directive (WTD) and the EU's Drivers Hours rules. Per the WTD legislation, drivers may not work over 60 hours in any given week, with a maximum average of 48 hours per week over a 17-week period. Under the WTD, drivers must break for a minimum total of 30 minutes during shifts of 6 to 9 hours. When your driver is traveling between the UK and countries in the European Union, the EU legislation on driver hours applies instead. The EU rules are stricter than WTD. For example, the EU legislation requires drivers to take a 45-minute break after 4.5 hours of driving. All HGV and PCV bus drivers must follow both sets of rules.

On tachograph driver cards

Tachograph driver cards are required by law for all commercial bus and truck drivers. Tachograph driver cards store all relevant driver data that is required to be in compliance with EU drivers' hours regulations, including breaks and rest times. There are different types of tachograph cards, such as driver cards and company cards, and the type of card you use may depend on your role.

On downloading tachograph data

As a transport operator, data from the vehicle unit and driver cards from your digital tachograph must be gathered and analysed on a regular basis – at least every 28 days for each driver and at least every 90 days for each vehicle.
How can I handle drivers' hours compliance?
Manual downloads of tachograph data can take between 20 minutes and two hours per vehicle. Vehicles and drivers must be in specific locations where reading equipment is located. This can heavily impact drivers' time on the road, drain resources and add admin­is­trative hassle. Companies are also required to regularly analyse tachograph data to ensure compliance. A software analysis tool can help fleet managers keep on top of compliance.
Webfleet developed Tachograph Manager to enable remote downloading and secure archiving of all relevant tachograph data. Plus, with real-time analysis of Remaining Driving Time (RDT) and social infringement notific­a­tions, fleet managers can improve dispatch planning, maximise driving times and avoid fines.
Drivers' hours and tachograph exemptions
What are drivers' hours and tachograph exemptions?

All driving done under EU rules has to be recorded on a tachograph. Although the UK is no longer part of the EU, the EU drivers' hours and tachograph regulations still apply as before.

However, some vehicles are exempt from the EU rules. These tachograph exemptions generally depend on the type of vehicle and purpose of transport, as well as the start and end points of the trip.

What kind of tachograph exemptions are there?

There are several exemptions from the rules that apply, regardless of where the vehicle is driven within the EU.

For vehicles used to transport goods, these are the main types of tachograph exempt vehicles:

Vehicles that can't go faster than 25 mph
Vehicles used for emergencies or rescue operations
Specialised breakdown vehicles working within a 100 km radius of their base
Vehicles being road-tested for technical development, repairs or maintenance
Vehicles with a historic status and that are used for the non-com­mercial transport of goods. In the UK, vehicles made more than 25 years ago are deemed historic.
Vehicles or combin­a­tions of vehicles that don't exceed 7.5 tonnes used to carry work equipment for the driver, where the distance is less than 100 km

The European Commission has also granted special tachograph exemptions for the following vehicles in the UK:

Vehicles used by the Royal National Lifeboat institution
Vehicles made before 1 January 1947
Vehicles propelled by steam

A complete list of tachograph exempt vehicles is available on the UK Government website.
Which tachograph exemptions do you have in the UK?

The UK Government has set some "national derogations" for journeys that are wholly within the UK. These UK-specific tachograph exemptions include:

Vehicles used by agricul­tural, horti­cul­tural, farming, fishery or forestry businesses to transport goods within a 100 km radius of their base
Vehicles used to transport live animals between a farm and a market, or from a market to a slaughter­house, where the distance is less than 100 km
Vehicles used to transport animal waste or carcasses not intended for human consumption
Educational vehicles such as play buses or mobile libraries
Vehicles driven only on islands whose area is less than 2,300 square kilometres
Vehicles fuelled by natural or liquefied gas or electricity, with a maximum weight of 7.5 tonnes, which are used to transport goods within a 100 km radius from their base
Vehicles used for driving lessons or exams
Specialised vehicles used to transport circus and funfair equipment
Vehicles used to collect milk from farms or return milk containers or milk products for animal feed to farms

For the full list of tachograph exemptions in the UK, please refer to the UK Government website.

What are the tachograph exemption rules/laws?

The UK Ministry of Transport requires lorries, buses and trailers to be tested for roadwor­thiness on an annual basis. This test is usually referred to as an MOT. Tachograph laws in the UK state that you must declare if tachograph exemptions apply to your vehicle when you take it for its MOT.

If your heavy goods vehicle (HGV) or public services vehicle (PST) doesn't have a calibrated tachograph and is exempt from needing one, you'll need to declare this in a tachograph exemption form. You'll have to use either an HGV exemption form or a PSV exemption form.

Although there's no official tachograph exemption certificate, your exemption form will act as an official declaration. This form needs to be given to the tester at your vehicle's MOT.
To ensure you get the most up-to-date information on tachograph exemptions, we advise you to check the UK Government website.
1
The EU drivers' hours and tachograph rules will continue to apply as before, even though the UK has left the EU.
---
EU and AETR rules on drivers' hours - Drivers' hours and tachographs: goods vehicles - Guidance - GOV.UK