Electric vehicle fleet management
Where are you in the electri­fic­ation journey? Webfleet helps every step of the way.
Webfleet electric vehicle fleet management software gives you the tools you need to manage your EVs.
Webfleet EV fleet management helps you
Know which vehicles to switch
Spot the best vehicles to switch over to electric, based on milage, efficiency and TCO
Have it all in one place
Monitor and manage your ICE and EV fleets on one convenient dashboard
Information at your fingertips
Track range, energy consumption, mechanical status and more with just a click
Understand the drivers element
Measure exactly how driver behaviour and other factors influence your fleet's economy and expenses
Craft a more efficient charging strategy
Lower costs, increase productivity and make a better ROI by optimising charging choices
Get expert advice tailored to your fleet
Let our EV experts help you implement the best solutions for your own electric fleet
Where are you in your journey to electri­fic­ation?
Key features for customers willing to add EVs to their fleet
Electric vehicle fleet management software
Monitor real-time fuel consumption and emissions respons­ib­ility with our fuel efficiency dashboard and use those insights to spot the best places to begin decar­bon­ising your fleet. Whether your fleet consists of passenger cars, LCVs or anything else, our LINK on-board devices can connect everything to Webfleet and make all your data easily available.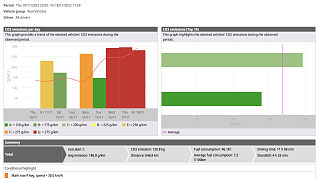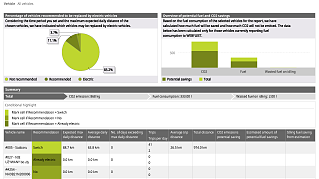 Get your fleet electri­fic­ation report now
Thinking about adding electric vehicles to your fleet but not sure where to start? Our fleet electri­fic­ation planning report will evaluate your current fleet and recommend which vehicles could be replaced with an electric model.
Talk to our EV experts
Whether you would like to know more about calculating your current fleet's TCO, comparing that to the advantages and disad­vantages of an EV or hybrid fleet, or want to know exactly where to start the transition, our experts are keen to help.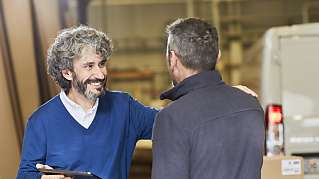 Key features for customers that have EVs in their fleet
Manage all vehicles in one platform
Have more than one type of vehicle in your fleet? No problem! Webfleet lets you monitor electric, hybrid and ICE vehicles on the same dashboard and compare them in meaningful ways.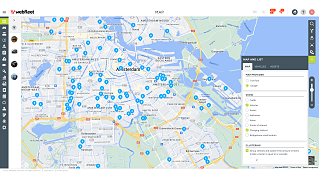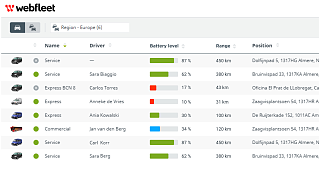 Real-time battery level
Stop worrying about running dry. Webfleet can track the battery levels and ranges of all of your electric and plug-in hybrid vehicles, displaying current power levels and driving range remaining.
Visualise energy consumption on map
Drill down to any trip to see the actual and predicted power consumption for each part of the journey, colour coded for under­standing at a glance. It can even help you spot areas which need special attention and the added efficiencies of your best drivers.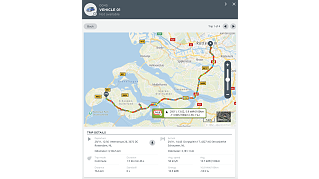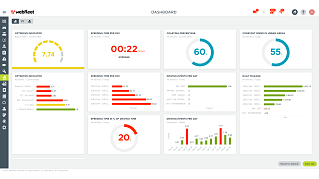 Improve driving behaviour
Our OptiDrive 360 tool is one of the best in the industry for fostering continuous driver improvement. Its real strength is comparing driver behaviour to EV performance.
It can also help your drivers improve efficiency by keeping a lower maximum speed, coasting more and making the most of regen­er­ative braking.
OptiDrive 360 helps you compare, evaluate and coach your drivers on a wide range of EV-specific performance indicators.
Optimise your workforce planning
Webfleet displays available charging stations clearly on the map, making it easier than ever to be sure that the EVs you dispatch have plenty of battery charge to make a journey and return.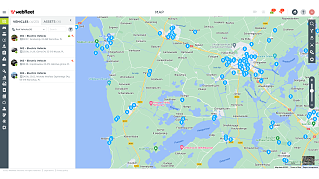 What our EV customers have to say
Jump to content
The published ranges of EVs can be lower in the real world due to load, temperature, terrain and driving behaviour. With Webfleet reporting, we get daily real-world mileages for ICE and electric vehicles, plus criteria like road types and standstill times. We can see a vehicles' true EV potential, TCO and emissions savings.
Owain Pearce, Oxford Direct Services
Jump to content
With Webfleet, we use telematics data to understand average/longest daily journeys, vehicle dwell times and more. That's key to identifying the best electric vehicle for our usage and helps us optimise the size and number of chargers for our fleet.
OVO energy
How can Webfleet boost the performance – and efficiency – of your entire EV fleet?
Our electric vehicle fleet management solutions are designed to help enhance your fleet's ROI in ways you never thought possible. Just watch this video to see how we can improve your fleet's productivity, your customers' satis­faction and your bottom line, all at once.
All you need to know about EV fleet management
What is EV fleet management?

0

Electric vehicle (EV) fleet management is the process of running an EV fleet efficiently, safely and product­ively. Smart planning is crucial for effective EV fleet management—jobs should be planned according to vehicle charge.
What are the key benefits of an electric vehicles fleet?

0

Saving on fuel and maintenance costs is one key benefit of an electric vehicles fleet. EVs don't use fuel, which also means they don't emit C02. Another benefit, then, is proving your organ­isation's commitment to envir­on­mental respons­ib­ility. There is also the potential to reduce your maintenance costs as EVs have fewer parts.
How is EV fleet management different from the fleet management for petrol powered vehicles?

0

The main difference between managing an EV fleet and one that uses petrol is how you power your vehicles. With internal combustion engines, it's a matter of filling up at a petrol station. Managing an EV fleet requires planning jobs based on range capacity and re-charges.
How does EV fleet management work?

0

Fleet management technology plays a significant role. You need the ability to monitor your EV locations and charge status, data that's vital to route planning and job completion. Electric vehicle fleet management software gives you greater control with notific­a­tions on battery levels. Thinking of switching to EVs? Use our free Fleet Electri­fic­ation Report to analyse how much you could save on fuel and C02 emissions by going electric.
What could electric vehicles mean for fleets?
Electric vehicles are reshaping mobility. What could they do for your business? Download our eBook for exclusive insights.
Get your FREE copy
---
Book a call with an EV expert
See how Webfleet can help your business.