Electric vehicle fleet management
Get the most value from your EVs with Webfleet
Webfleet electric vehicle fleet management software gives you the tools you need to manage your EVs.
Webfleet EV fleet management helps you
Stay connected to your electric vehicle fleet, whether they are parked or on the go
Monitor your whole EV fleet in one view along with your internal combustion engine (ICE) vehicles
Stay confident about range by ensuring your drivers have enough charge to complete their jobs
Plan your jobs by dispatching based on electric vehicle charge information
See real-time charging information and always know your EVs' charge levels
Adapt to the unexpected with real-time notific­a­tions and EV charging points displayed on the map
Key features electric vehicle fleet management
Electric vehicle fleet management software
Thinking about adding electric vehicles to your fleet but not sure where to start? Our Fleet Electri­fic­ation Report will evaluate your current fleet and recommend which vehicles could be replaced with an electric model.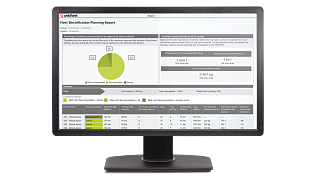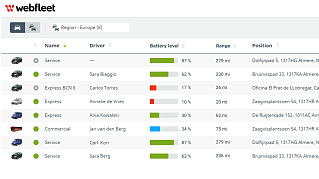 Real-time battery level
Reduce your range anxiety regarding your electric and plug-in hybrid vehicles by always knowing their battery level and remaining driving range with Webfleet electric vehicle fleet management.
Accurate EV charging information
Stay connected with what's happening in the field with complete visibility of your EV fleet charging status and remaining charging time.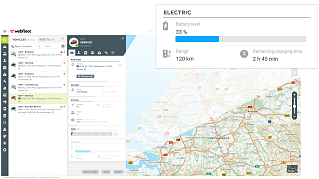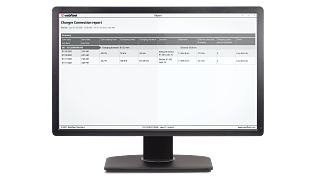 Electric vehicle fleet management charging report
This historical report helps you track when, where and for how long your electric vehicles were plugged in for charging. This allows you to gain insight into why your EVs are at their current level of charge.
Optimise your workforce planning
Plan your jobs with charging stations displayed directly on the Webfleet map, while ensuring that dispatched electric vehicles have enough battery charge to complete the job.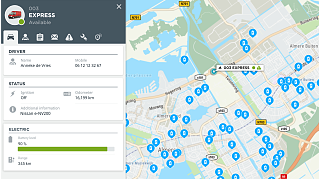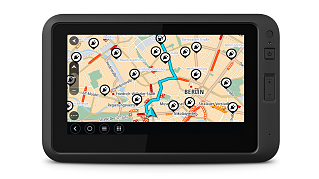 Find the closest EV charging locations on the road
Your drivers can rely on TomTom's EV map coverage on their PRO Driver Terminal with charging points in over 50 countries throughout Europe, the Americas, the Middle East and Asia.
Notific­a­tions keep you on top of your operation
Get notified in real-time when the battery of an electric vehicle on the road reaches a critical level and needs to be charged.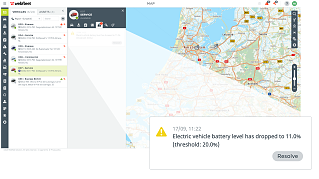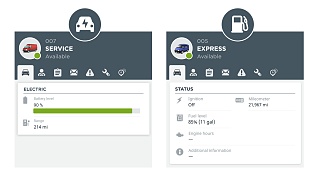 EV fleet management made easy
Our Webfleet electric vehicle fleet management software solution allows you to view, monitor, and manage your ICE, hybrid and electric fleet all on the same platform, while offering support to drivers when necessary. Webfleet can also be integrated with a wide range of 3rd party applic­a­tions, so you can build the ideal solution for your fleet.
Monitor your electric vehicles from anywhere
Right there in the palm of your hand, you can manage your whole electric fleet from anywhere using our Webfleet Mobile app. Most of your electric vehicle fleet management information is available in one touch and commands are carried out using the same intuitive tap or swipe action you use for other mobile apps.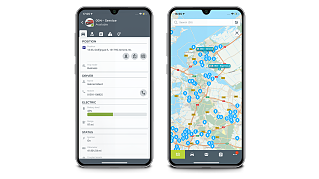 ---
All you need to know about EV fleet management
What is EV fleet management?

Electric vehicle (EV) fleet management is the process of running an EV fleet efficiently, safely and product­ively. Smart planning is crucial for effective EV fleet management—jobs should be planned according to vehicle charge.
What are the key benefits of an electric vehicles fleet?

Saving on fuel and maintenance costs is one key benefit of an electric vehicles fleet. EVs don't use fuel, which also means they don't emit C02. Another benefit, then, is proving your organ­isation's commitment to envir­on­mental respons­ib­ility. There is also the potential to reduce your maintenance costs as EVs have fewer parts.
How is EV fleet management different from the fleet management for petrol powered vehicles?

The main difference between managing an EV fleet and one that uses petrol is how you power your vehicles. With internal combustion engines, it's a matter of filling up at a petrol station. Managing an EV fleet requires planning jobs based on range capacity and re-charges.
How does EV fleet management work?

Fleet management technology plays a significant role. You need the ability to monitor your EV locations and charge status, data that's vital to route planning and job completion. Electric vehicle fleet management software gives you greater control with notific­a­tions on battery levels. Thinking of switching to EVs? Use our free Fleet Electri­fic­ation Report to analyse how much you could save on fuel and C02 emissions by going electric.
What could electric vehicles mean for fleets?
Electric vehicles are reshaping mobility. What could they do for your business? Download our eBook for exclusive insights.
Get your FREE copy
Get a demo
See what Webfleet can do for your electric vehicles.