WEBFLEET Asset Tracking​
Monitor your assets and vehicles on one interface​
WEBFLEET Asset Tracking gives you visibility over your assets' positions and usage. From one place, you can instantly check the status of all the powered assets and vehicles in your fleet. This helps you maintain their security, value and effect­iveness. Meanwhile, automated processes and notific­a­tions reduce your workload.
WEBFLEET Asset Tracking helps you
‍
Monitor and control your assets' movements at all times
‍
Reduce workload and automate more tasks​
‍
Maintain your assets' value and simplify maintenance​
WEBFLEET Asset Tracking key features
Monitor your whole operation
WEBFLEET displays the location and status of every powered asset¹ and vehicle in your fleet on one interface.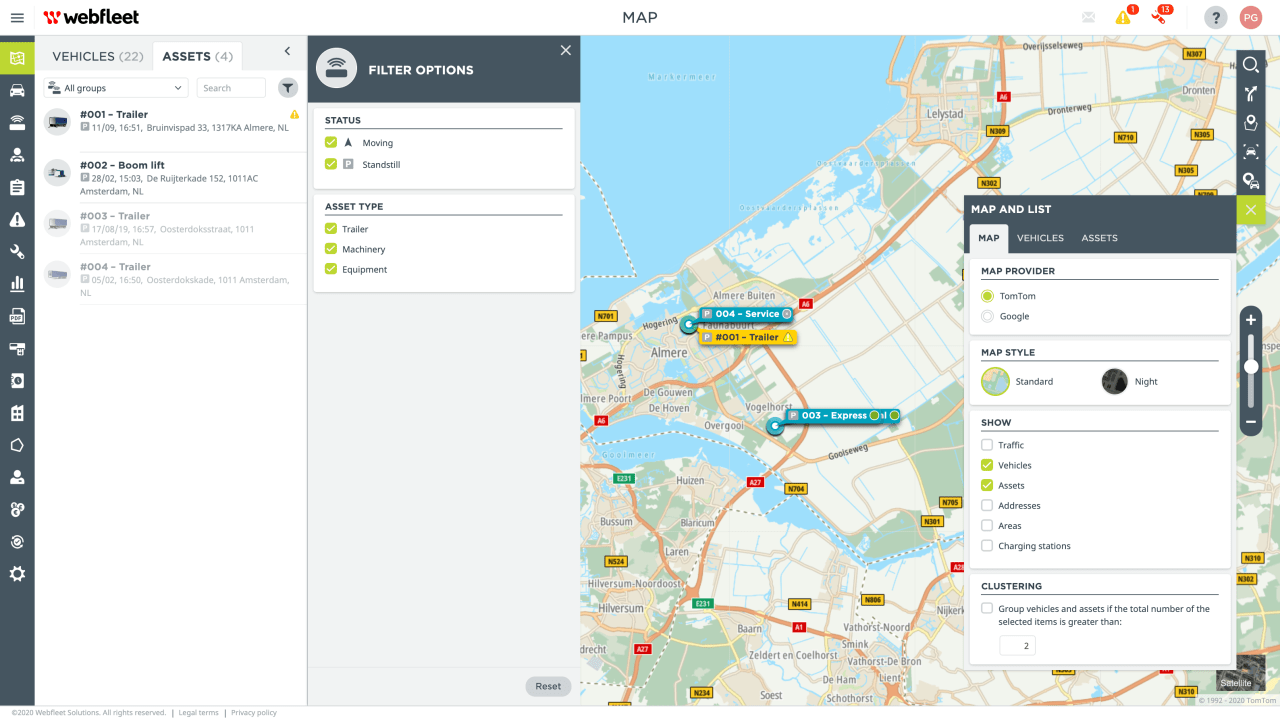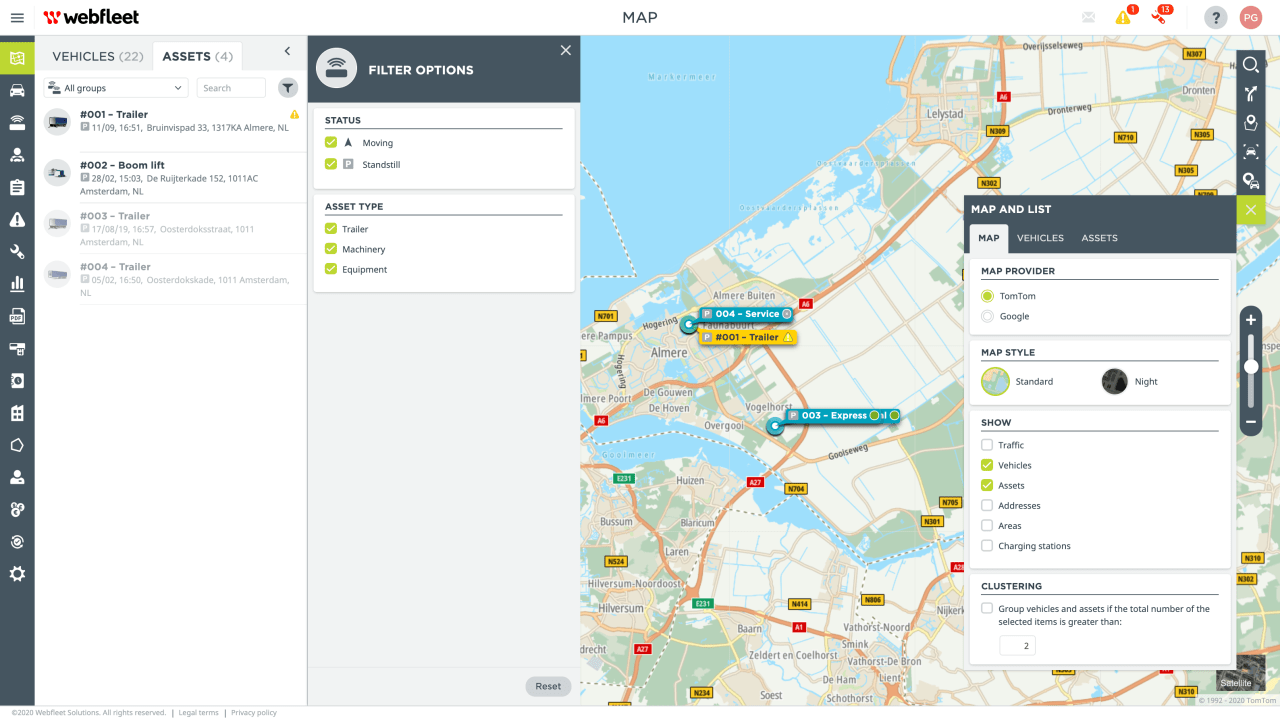 Clear map view 
WEBFLEET's detailed map makes it easy to see exactly where your assets are. If they're not on-site, stay confident you can locate them quickly.
Get the updates you need when you need them
WEBFLEET lets you know when your asset's status changes. For example, if it enters or leaves a defined area or if a movement is detected, you get a notific­ation.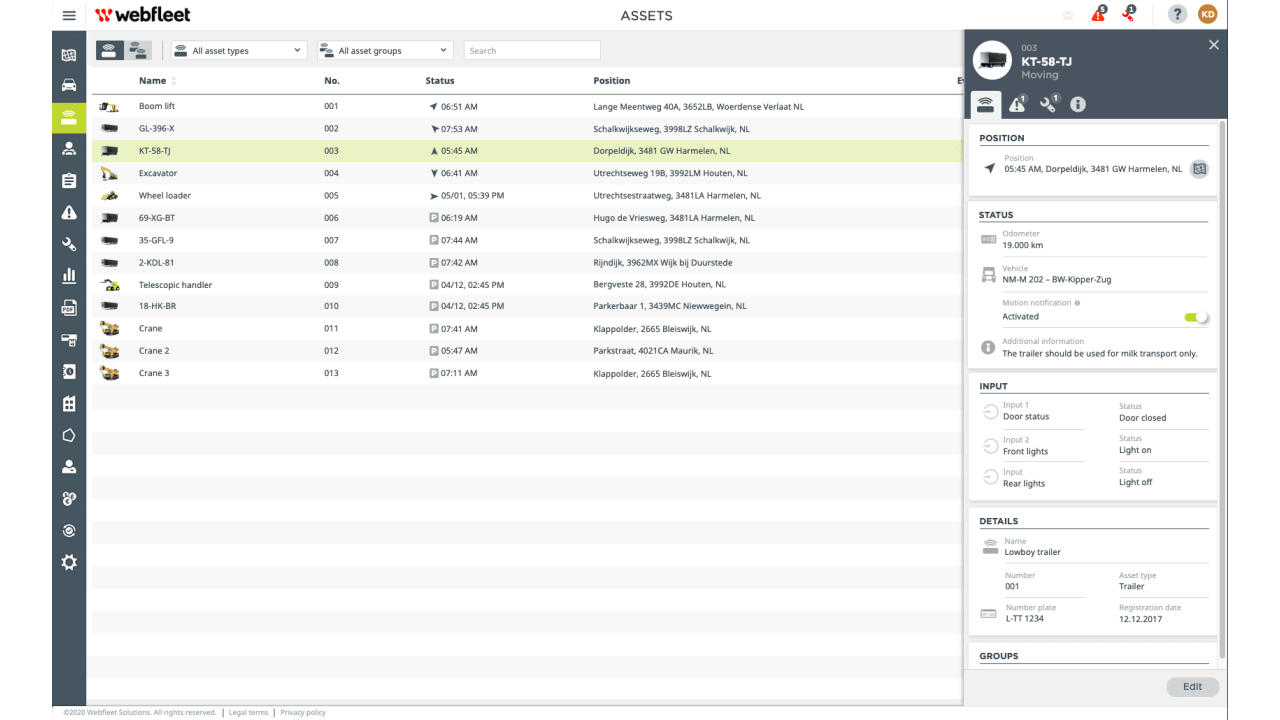 Know how your assets are being used
Get a quick view on WEBFLEET's asset card or access 24/7 to reports regarding your assets' statuses, including current position, trip, maintenance, address/location and input reports (e.g. trailer door status).​
Keep your assets' value high​
You can schedule and manage maintenance tasks to keep your assets in good condition. Setup notific­a­tions based on odometer, operating time or time since the last maintenance.
Couple your asset and vehicle​
Coupled asset information² is displayed on the primary tracking vehicle. This can identify, for example, which trailer is connected to which truck.
Efficient and convenient​
The LINK 340 IP67 waterproof asset tracking device combines with WEBFLEET Asset Tracking, equipping you with everything you need to stay in control.
If your asset is discon­nected from power, you can still trace it once per day via the battery of the LINK 340.
Download LINK 340 datasheet​

‍
Get a demo
See how WEBFLEET Asset Tracking can help your business.
1
Powered assets often have on-board engines or can obtain power through the vehicle power supply.
2
Coupling features are due to be ready in Q4 2019. If your vehicle is also equipped with a LINK vehicle tracking device, the asset will be automat­ically coupled and displayed in the WEBFLEET vehicle compact view.​