Webfleet Mobile
Manage your fleet operations on the go
Webfleet Mobile
Manage your fleet operations on the go
You don't need to be at your desk to control your fleet. With Webfleet Mobile, it's all right there in the palm of your hand. Our fleet app gives you the visibility need to optimise your fleet management. You'll always know your vehicle locations. Real-time updates on driver status allow you to dispatch new orders in a snap. Compliance is easy, with driving time data available on the app.
Webfleet Mobile helps you:
Stay connected to your vehicles and assets1
at all times
Find your drivers quickly
with real-time location and status updates
Improve customer satis­faction
with up-to-date ETAs for jobs in progress
Adapt to the unexpected
with notific­a­tions when a disruption occurs
Stay compliant2
with driving time data available on the app
Dispatch new orders quickly
to keep the business running efficiently
Key features of the fleet management app
Real time vehicle and asset tracking
Track both your assets and vehicles on one interface. Whether your drivers are parked or on the move, get their precise, mapped location. This helps with proof of delivery and working times compliance1, while keeping your assets safe.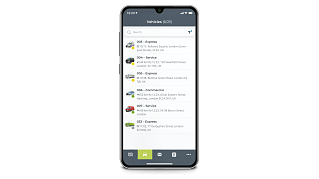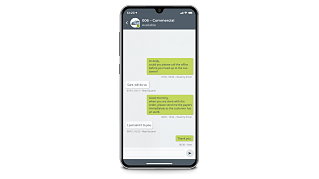 Quick commu­nic­ation with drivers
Need to give your drivers an important business update? Or need to send them a new job? Get an overview of all text, status and order messages. Send text messages straight to your driver's PRO Driver Terminal device.
Trip management
You can access previously recorded trip data on the app by date, for either one vehicle or your whole fleet. This helps you to respond to customer inquiries regarding previous jobs and manage trip reporting compliance. Check the start and finish points, the trip duration, the distance travelled, recorded trip/order details and Driver ID.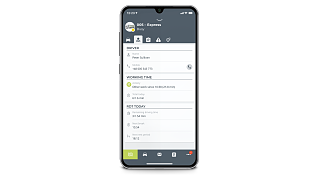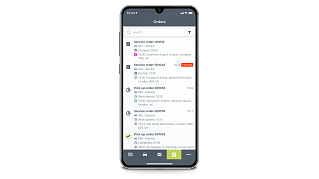 Dispatch new orders and jobs
Dispatch orders and view the progress of existing orders for a selected vehicle, including the location of the vehicle handling the order and the estimated time of arrival. Webfleet Mobile also helps you plan around traffic with access to traffic and map views on your smartphone and tablet.
Notific­a­tions and alerts
Stay on top of your fleet operations on the app with notific­a­tions and alerts that let you know you when a potential disruption might occur. For example, you can set up an alert for when a vehicle enters or leaves a previously designated geo area or when an order status changes.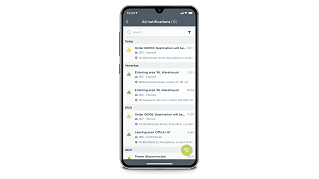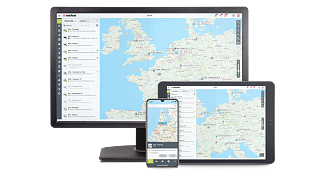 Easy-to-use mobile app
Webfleet Mobile is intuitive by design. Most of the features and information are available in one touch and commands are carried out using the same tap or swipe action you use for other mobile apps.
---
All you need to know about Webfleet Mobile
What is the Webfleet Mobile app?

0

Jump to content

The Webfleet Mobile app is a digital tool that helps businesses manage their fleets on the go. Fleet operators can therefore manage daily tasks and driver commu­nic­ation more flexibly, whether they're in the office or out in the field.
What are the main benefits of Webfleet Mobile?

0

Jump to content

Webfleet Mobile offers a number of benefits. For example, fleet operators can easily track new orders and jobs, supporting their ability to provide reliable ETAs and excellent customer service. Tracking vehicles and assets is a breeze, since the app shows exact map locations.
How does the Webfleet Mobile app help fleet efficiency?

0

Jump to content

With the Webfleet Mobile app, fleet managers can monitor their vehicles and drivers on one interface. Real-time notific­a­tions and status updates mean that fleet managers can quickly dispatch incoming orders. Real-time information also means you can keep customers happy with reliable ETAs.
How does Webfleet Mobile help fleet managers?

0

Jump to content

In today's uncertain business climate, being able to adapt to arising situations is crucial. The Webfleet Mobile app helps fleet managers quickly respond to business urgencies, from disruptions to last-minute job orders. Compliance headaches go away too, with all driving data accessible through the app.
What type of business could benefit from using Webfleet Mobile?

0

Jump to content

Any business that uses a fleet of vehicles can benefit from using the Webfleet Mobile app. From construction to plumbing and healthcare, your business can run more product­ively and efficiently with this digital fleet management tool.
What do I need to install the Webfleet Mobile app for my fleet?

0

Jump to content

Webfleet Mobile was designed to work specifically with Webfleet, our fleet management platform. If you're a Webfleet customer, just download the app for free from Apple's App Store or Google's Play store. Not a customer yet? Just start a Webfleet subscription to start using our app.
On which devices can I use the Webfleet Mobile app?

0

Jump to content

The app is available for iPhone and Android devices. Webfleet customers can download the app for free at the Apple App Store and the Google Play store. If you have a Webfleet subscription, just log into the app with your Webfleet credentials.
Get the Webfleet Mobile app now
If you're an existing Webfleet customer, download the FREE app for iPhone via the Apple App Store or for Android via the Google Play Store. Just log in with your Webfleet credentials. 3
Get a demo
See how Webfleet fleet management software can help your business
Get a demo
See how Webfleet fleet management software can help your business
1 Asset tracking requires both the install­ation of LINK 340 tracking device and an active Asset Tracking tariff subscription.
2 Remaining Driving Times (RDT) or Tachograph Manager Plus/TachoShare Plus additional service is required.
3  Webfleet Mobile is a mobile app for Webfleet, our compre­hensive web-based fleet management application. It can only be used by customers with a subscription to Webfleet.