WEBFLEET Mobile
Optimise Your Fleet & Reduce Costs On The Move
Manage on the move
Manage on the move
As an entrepreneur or manager you spend a good part of each day on the road, just like your workforce. It's hard to keep tabs on people when you're out of the office yourself. But WEBFLEET Mobile makes it easy. With this handy fleet management app on your Smartphone you can view and control your dispersed operation, anytime and anywhere. So you can stay on top of the business you already have while you're out getting more.
Offer better service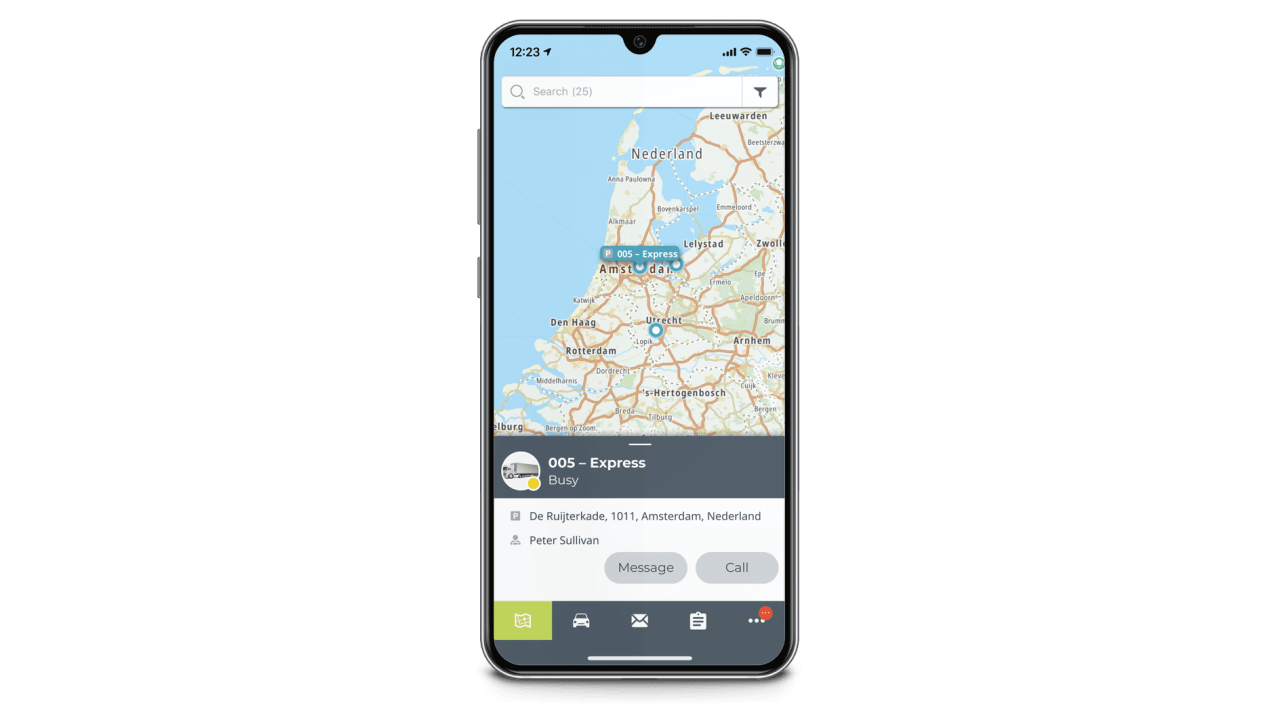 Offer better service
WEBFLEET Mobile helps you to deal with the challenges of the day. If a customer calls with a query, you can summon up the relevant information in seconds. See at a glance where your drivers have been, their current position and the status of the orders they're working on. Thanks to WEBFLEET Mobile, everything you need to provide an excellent service is there on your phone when you're not at your desk.
Stay in control
Stay in control
If you want to stay in control of your business, you'll need to stay in touch with events. With WEBFLEET Mobile you can receive an automatic notification of significant changes across the fleet. This gives you round-the-clock reassurance that you know exactly what's going on across your business in real time.
Key features
Access business-critical information on your iPhone, Android Smartphone or Tablet. This includes locating your vehicles on a map, keeping an eye on traffic, monitoring current orders and receiving automatic notifications as their status changes.
‍
Vehicles
Check the location and status of individual and groups of vehicles. See at a glance where they're headed and the ETA for reaching their destination.
‍
Messages
Have an at-a-glance overview of text, status and order messages. Send text messages straight to the driver's WEBFLEET device.
‍
Trips
View the trip data, by date, for a single vehicle or the entire fleet. Display the track on the map. Check the start and finish points, the journey duration and the distance travelled.
‍
Notifications
Get instant alerts when a vehicle enters or leaves a nominated geozone. Receive automatic notifications for change of order status.
‍
Traffic
Plan around traffic having access to TomTom Traffic on the TomTom map on your smartphone and tablet.
‍
Orders
Dispatch orders and view the progress of an order from a selected vehicle. See the location of the vehicle handling the order, including the estimated time of arrival.
Increase efficiency
Increase efficiency
WEBFLEET Mobile keeps you in touch and in control. It shows you at a glance where your vehicles are and which ones are available, so you can always send the best placed person for a new job, taking the current traffic situation into account. Monitoring the activity of your vehicles in the field also enables you to spot where changes need to be made to increase performance.
Impress customers
Impress customers
It's simple. The best way to keep customers satisfied is to keep them informed, even when things aren't going to plan. WEBFLEET Mobile gives you instant access to data from the field, so you can always give your customers accurate information on the status of jobs in progress. For example, you can tell them where your drivers are at any given time, where they're headed, and the ETA for reaching their destination. You'll know the moment an order is overdue, so you can do something about it before the phone rings. When a customer calls with a last minute request you can handle it from the road just as well as you could from the office.
Easy to use
Easy to use
We know you don't have time to read manuals or help screens when on the road. So we've made sure that WEBFLEET Mobile is intuitive to use. Most of the information is available in one touch, and commands are carried out using the same tap or swipe action you use for other Smartphone apps.
Get the app
Download the app for iPhone via the Apple App Store or for Android in Google Play.
The WEBFLEET Mobile app is available for iOS and Android. You can also manage your fleet on a tablet, a laptop or a desktop computer entering WEBFLEET through your web browser.
Accessibility
:
WEBFLEET Mobile is a viewing app for WEBFLEET, our comprehensive web-based fleet management application. It can therefore only be used by customers with a full subscription to WEBFLEET. Once you have downloaded the app, just log in with the same username and password that you use for your main account.