Power up your trailer management & trailer tracking
Proactive monitoring and reporting with Webfleet Trailer management & tracking
Webfleet Trailer brings you actionable insights about the status of your trailer fleet so you can improve utilisation, save costs, boost efficiency and enhance safety. Powered by the durable LINK 350 and connected to all leading trailer EBS (Electronic Braking System) providers, Webfleet Trailer is the trailer management system to help you make even better decisions for your trailer fleet.
Webfleet Trailer helps you
Boost productivity
Improves trailer utilisation and limit empty runs.
Increase uptime
Fix faults early, avoiding disruptions and breakdowns.
Cut costs
Save on roller brake tests and maintenance costs while extending trailer and tyre life.
Elevate safety
Monitor trailer load and fault systems, such as braking, stability, and tyre pressure.
Be compliant
Remote monitoring of brake performance in line with DVSA EBPMS specific­ation guidelines.
Improve security
Stay connected with your trailers and cargo.
Utilisation insights
For all your trailer fleet see empty and loaded status by kilometre travelled and current axle weight to help optimise trailer usage, billing, as well as calculate the optimal number of trailers for your fleet.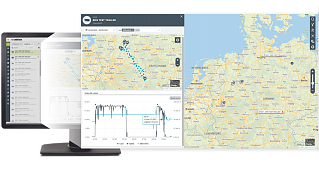 Track and trace
Monitor trip details such as duration, distance, speed and standstill, in real time or over a chosen period. Trace view shows where trailers are with position updates every two minutes1.
Proactive maintenance
Receive reminder alerts on pending maintenance tasks. Notific­a­tions will flag trailer system malfunc­tions, helping you to detect and fix faults before they become bigger repairs, as well as extending the life of your trailer fleet.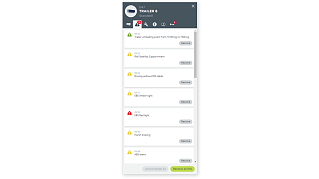 Coupling
View the coupling status of your trailers and vehicles with automatic coupling detection. Easily and quickly identify which trailer is connected with the right tractor and be confident that your cargo is going to the correct destination2.
Safety monitoring
Monitor trailer health by configuring payload limits in line with permissible weight of cargo compliance and receive alerts on overloading, rollover stability3, harsh braking and anti-lock braking events. Plus, for TPMS-equipped trailers receive alerts to warn of tyre issues and keep tyres at the correct pressure for a safer fleet.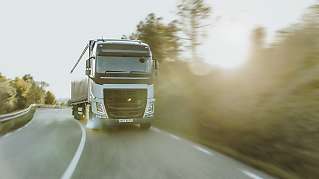 Security notific­a­tions
Stay connected with your trailers and valuable goods and get notified when a trailer leaves a defined area or when a movement is detected.
24/7 tyre view
Reduce the risk of breakdowns and disruption to your fleet by detecting type issues early. Access live and historical data for all TPMS-equipped trailers. Alarms warn of abnormal pressure or temperature4.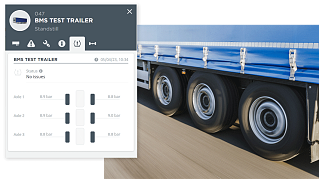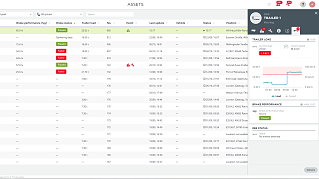 EBPMS brake performance reporting
See every brake event and monitor your trailer brake performance remotely, via continuous data capture from your trailer's EBS. With the brake performance report you can access the brake performance value and get alerted to any value below the DVSA pass mark.5
Durable trailer tracking device
Webfleet Trailer is powered by the LINK 350 device and connects to all leading trailer EBS systems.
Fully protected
Has the highest IP69K protection rating for fully dust-tight, waterproof hardware.
Maximised coverage
Comes with advanced mobile network connectivity.
Always connected
Operates and tracks position even when not powered via rechargable battery.
TPMS ready
Works with embedded TPMS receiver for tyre sensor connectivity.
How Webfleet Trailer works
How Webfleet Trailer works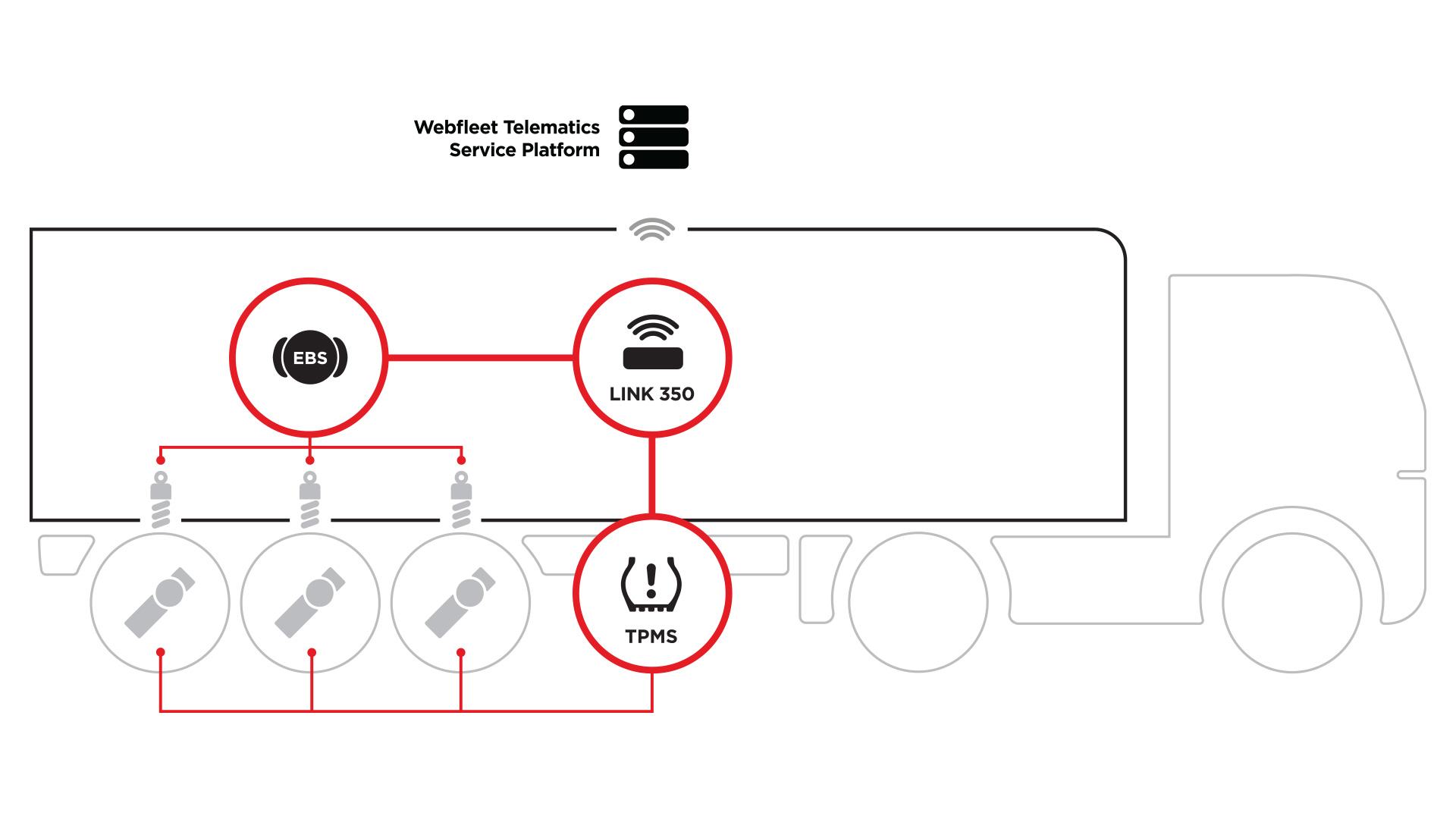 LINK 350 connects directly to the trailer's EBS system and collects trailer load, braking and trailer system data.
Data is then transferred to Webfleet where fleet managers and drivers receive trailer monitoring and reporting insights.
LINK 350 device relays the trailer's EBS and TPMS data to the Webfleet platform.
Tyre pressure and temperature data is collected from strap mounted sensors and sent to the LINK 350's embedded TPMS receiver. Data is then transferred to the Webfleet platform.
---
All you need to know about trailer tracking
What is trailer tracking?

0

Jump to content

With trailer tracking, fleet operators gain insights on the location and status of every single trailer in their fleet. This information helps fleets calculate the optimal number of trailers, reducing unnecessary investment. Trailer tracking also simplifies the management of trailer utilisation, maintenance and safety.
What is a trailer tracking device?

0

Jump to content

A trailer tracking device is essentially a GPS device for trailers. By attaching these GPS devices to trailers, fleet operators can always know the locations of their assets, not to mention the avail­ab­ility and roadwor­thiness of the trailers. The trailer trackers used by Webfleet customers are designed for the toughest of weather and road conditions.
How does trailer tracking work?

0

Jump to content

A trailer tracking system gives fleet managers visibility on every trailer in their fleet. The system uses GPS trackers to locate trailers, whether they're on the road or parked at a customer's business. The tracking system also sends alerts about overloading and issues with braking, helping prevent road incidents.
Who can use trailer tracking?

0

Jump to content

Trailer tracking is ideal for HGV fleets that rely on trailers to deliver goods. With features like automated coupling status, fleet operators can always identify which trailers are connected to vehicles. Trip details drawn from GPS provide data such as speed and position, so trailer tracking can occur in real time.
Why is trailer tracking important?

0

Jump to content

Trailer tracking is important for a few reasons. For one, it enables fleets to cut costs and boost productivity by optimising trailer and tyre maintenance. With trailer tyres kept at appropriate pressure levels, fleets can maximise their fuel efficiency while limiting CO2 emissions.
What are the benefits of trailer tracking?

0

Jump to content

A trailer tracking system helps fleets improve utilisation of their assets. As a result, fleet operators can keep their trailers productive and avoid empty runs. Real-time insights on trailer locations make it possible to maintain cargo security. Another benefit of trailer tracking is the ability to monitor brake systems and tyre conditions, both of which contribute to fleet safety.
Get a demo
Find out how Webfleet Trailer can help you better utilise your trailer fleet.
1
Webfleet Trailer requires an AST-T subscription and must be used in combination with a LINK 350 device.
2
Requires vehicle and trailer to be equipped with a LINK tracking device that is associated with the same account.
3
Requires trailers to be equipped with RSS system.
4
TPMS for the trailer is an additional bookable service and requires the ordering of sensors.
5
To benefit from the Webfleet Brake Performance Report, an AST-T subscription in combination with a LINK 350 device is required. This gives you all the extra benefits of Webfleet Trailer – our advanced trailer management solution that brings you insights on trailer utilisation, load, maintenance and safety.