Fleet management
Optimise your business with tools that can save you time and money
Fleet management
Optimise your business with tools that can save you time and money
Fleet management is a term that describes the practices and techno­logies used by companies to manage their commercial vehicle fleets. This includes a range of activities such as vehicle maintenance, fuel management, driver safety and logistics planning.
The goal of fleet management is to increase operational efficiency, reduce costs and improve overall fleet performance. Fleet management solutions can involve software, GPS tracking systems, telematics and other advanced techno­logies to provide real-time insights that help companies optimise their fleet operations. Find out everything you need to know about fleet management here.
Webfleet helps you track your vehicles, cut your fuel costs and run more efficiently — all from a single dashboard. Discover what you can do with our fleet management system.
---
Explore our fleet management solutions
A fleet management system helps you
Know where your vehicles are 24/7
Through real-time track and trace
Make smarter and faster decisions
By analysing fleet performance data
Protect your drivers and vehicles
With tools to prevent accidents and reduce downtime
Avoid fines and reputa­tional damage
By ensuring your drivers, vehicles and company stay compliant
Get more jobs done and cut costs
With optimised order and workflow management
Reduce your CO2 emissions and save fuel
By running more sustainably and managing EVs efficiently
Explore all fleet management solutions
---
Explore our fleet management techno­logies
Get full insight into critical road events with our AI-powered dashcam and GPS tracking
Mobile fleet management
You don't need to be at your desk to manage your fleet. With Webfleet Mobile, it's all right there in the palm of your hand. Locate vehicles and drivers, stay on top of compliance and dispatch orders with efficiency. We also have productivity apps that simplify your drivers' daily tasks too, whether it's performing daily vehicle checks or keeping you posted on job status.
Features:
Real-time vehicle and asset tracking

Two-way commu­nic­ation

Trip management

Order dispatching

Notific­a­tions and alerts
More about Webfleet Mobile⁠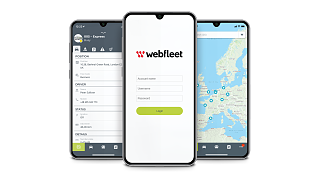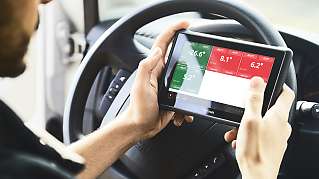 Business integration
Do you use third-party solutions to improve your operational efficiency? Our fleet management system integrates seamless with your existing software and business applic­a­tions. Webfleet's open-platform approach means you can set up the processes that work best for your fleet. Our fleet management integ­ra­tions include office applic­a­tions, in-vehicle solutions and, through our partnership with Chargylize, a fleet electri­fic­ation advisor.
Features:
Office solutions

Business apps

Webfleet APIs
More about business integration⁠
---
All you need to know about fleet management
Why is fleet management important?

0

Jump to content

Fleet management plays an essential role in safety and efficiency. Managing a fleet of vehicles involves many complex aspects, from driver hiring and retention to complying with local and inter­na­tional regulations. To stay on top of daily tasks and compliance deadlines, many businesses use a fleet management solution.

A cloud-based system like Webfleet provides operational visibility for fleets. Vehicle data on fuel consumption, driving behaviour and carbon emissions enables businesses to improve their productivity, safety and sustain­ab­ility. Fleet managers can cut costs and save fuel by leveraging real-time and historical insights on key performance indicators.

With a high-quality telematics solution, fleets connect their vehicles to their fleet management dashboard, making it easy to plan jobs, communicate with drivers and optimise every step of vehicle management.
What is a fleet management system?

0

Jump to content

A fleet management system integrates software and hardware so that fleet operators can manage their vehicles efficiently. The most effective solutions include a range of tools and features that streamline the daily workflow:

Fleet management software - Fleet managers log into a cloud-based platform to analyse vehicle data and decide which actions can improve their fleet's performance.
Vehicle tracking devices - Once GPS devices are installed or plugged into vehicles, fleet managers can track vehicle locations in real time. These devices transmit vehicle data to the fleet management dashboard, giving fleet operators visibility on driving behaviour as well as driver avail­ab­ility.
Driver Terminals - When connected to profes­sional navigation, these rugged table or mobile phone devices help drivers stay on the best routes. Fleet managers can send job updates to drivers through these devices, which log mileage and business/private trips.
Dashcams - Fleet dashboard cameras help fleets keep their drivers safe, prevent accidents and lower their insurance premiums. It's possible to use the camera as a road-facing recording device only. Webfleet Video complies with GDPR, ensuring maximum data security and driver privacy.
How does a fleet management system support your fleet business?

0

Jump to content

A fleet management system gives you greater visibility and control over your fleet. As a result, it's easier to cut costs, enhance safety and run more sustainably. See how a fleet management system can help you achieve your business goals:

Track vehicle locations - Know the exact locations of your vehicles with precise GPS coordinates.
Communicate with your team - Send your drivers job instruc­tions or crucial updates through the Driver Terminal.
Monitor driving behaviour - Hardware sensors help you assess behaviours like braking and idling to understand whether your team needs coaching on safer, more economical driving.
Satisfy customers - Provide your customers with reliable ETAs and update them as needed on arrival times or delays.
Keep drivers on track - Drivers can get real-time driving tips through the Driver Terminal. They can also receive alerts about speed limits and speed camera locations.
Comply with drivers' hours rules - Take the hassle out of compliance with a telematics system that automat­ically records driver hours.
Optimise your business - By analysing the data in your fleet management solution account, you can determine how to plan jobs more effectively while ensuring your vehicles are well maintained.
Reduce admin time - Avoid time-con­suming and repetitive paperwork tasks across departments. Automated invoices and remote tachograph downloads mean the entire back office can benefit from a fleet management system.
What is a profes­sional fleet?

0

Jump to content

A profes­sional fleet refers to a group of commercial vehicles that are owned and operated by a company or organ­isation for business purposes. These vehicles may include cars, vans, trucks and buses. Typically, profes­sional fleets transport goods, people or equipment. Profes­sional fleet managers often rely on digital solutions to run their operations effectively and more compet­it­ively.
What does a fleet manager do?

0

Jump to content

Fleet managers oversee the operation and maintenance of a company's fleet. This includes selecting and tracking vehicles, ensuring they're used correctly, keeping them on the right routes and servicing them properly.

Fleet managers are also responsible for managing drivers, keeping fleet-re­lated costs under control and ensuring any related legal require­ments are met.

To increase the effect­iveness and efficiency of their fleets, fleet managers often rely on vehicle telematics that work in combination with fleet management software and hardware.

Finding the right solution involves several steps, including defining your business needs, under­standing the function­al­ities of different suppliers, confirming IT require­ments and setting service expect­a­tions.
How does fleet management software work?

0

Jump to content

Fleet management software helps businesses to efficiently manage their fleet of vehicles, allowing them to track the location, performance and maintenance of each vehicle. This software also supports fleets with real-time insights on fuel consumption, driver behaviour and compliance. By leveraging these tools, companies can reduce costs, increase productivity and improve fleet safety.
How can a fleet management system help you save fuel?

0

Jump to content

A fleet management system can help you save fuel in a variety of ways. With insightful data on vehicle performance, you can identify and address patterns in fuel consumption. A fleet management system also simplifies job planning, ensuring your drivers stay on the most fuel-ef­fi­cient routes. With fleet management software, you have the tools necessary to analyse driver habits in accel­er­ating, coasting and braking.
What are the benefits of fleet management solutions?

0

Jump to content

Fleet management does not only help fleet managers, but also drivers, admin­is­trative staff and anyone else involved in operating a business fleet. The key benefits of working with a fleet management solution are:

Increase efficiency. Easily access relevant, up-to-date info so you can plan effectively and adapt quickly when unexpected events arise.
Increase productivity. Use accurate real-time traffic info to keep your drivers on the fastest routes and complete more jobs.
Improve safety. A fleet management system can give enhanced insights to help reduce unsafe driving behaviour that could harm your drivers, vehicles or business reputation.
Decrease costs. Encourage more fuel-ef­fi­cient driving and avoid expensive repairs by getting timely maintenance reminders.
Improve commu­nic­ation. Stay connected to drivers by sending job details from your office to Driver Terminals in their vehicles.
Increase customer satis­faction. Keep customers informed of schedule changes and cut unnecessary waiting times.
Reduce stress for drivers. Set the best route for drivers and give timely traffic updates through driver terminals, so they can do their job with ease.
Simplify admin­is­tration. Save time across different departments by automating admin­is­trative tasks.
Download the guide to fleet management solutions
What is fleet management and what are the benefits?
Download whitepaper
Discover fleet management in your region
Click on one of the cities below to find out more about fleet management and vehicle tracking in your area.
Return on investment in six to nine months on average
See how Webfleet fleet management software can help your business