Slough: Fleet Management by Webfleet
Your business is unique. Just like your fleet of vehicles. Therefore, you need a flexible fleet management platform: a solution in terms of fleet optim­isation, vehicle tracking, workforce management, green & safe driving, business integration and connected car services that suit your activities, vehicles, size, budget and location.
Fleet management solution for your fleet in Slough
Are you looking for a fleet management solution for the Slough region that provides you with real-time information about the location of your vehicles? Do you also want to communicate directly with your drivers, dispatch jobs, track a mileage logbook, improve driving behaviour and save on fuel? Our vehicle tracking and Active Driver Feedback help you with this challenge in a busy city like Slough.
Slough – a hub for both business and transport
The town of Slough occupies a strategically important location 20 miles to the west of London and near Heathrow Inter­na­tional Airport. That explains why so many domestic and global businesses have chosen to base themselves there. Mars Inc. and Nintendo have their UK HQs in Slough and the huge Slough Trading Estate is home to Fiat Group Automobiles, Akzo Nobel, Virgin Media and O2. Attracting businesses from all over the world, Slough also attracts people from diverse countries giving it one of the most ethnically diverse populations in the UK.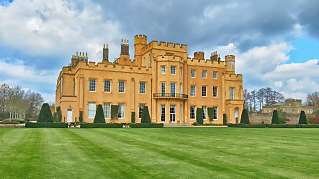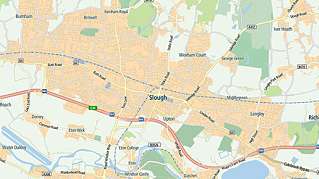 The challenges your drivers & vehicles face in Slough
As such an important centre for business, Slough's transport system is very busy attracting commuters from nearby towns and cities such as London, Windsor, Reading and Bracknell. There are partic­u­larly large surges of road transport during rush hours in the morning and evening. Slough is close to the M4 and M25 motorways as well as the A4, A355 and A412. It comprises various districts including Burnham, Stoke Poges, Dorney, Chalvey and Upton. Further afield, Windsor is 3 miles away, Maidenhead 7 miles, and Maidenhead 12 miles (Wikipedia).
Why is a fleet management solution partic­u­larly useful in a congested town like Slough? Due to heavy traffic during the day and specifically in peak hours, each vehicle spends more time on the road which means an average commercial vehicle driver wastes many hours sat in traffic. This can translate into significant losses for businesses in the Slough area – and that's precisely where a fleet management solution can help.
Webfleet
Webfleet
For more than 20 years, our award winning fleet management platform Webfleet, an SaaS (Software as a Service) solution, has helped teams to cooperate better. Whether for real-time tracking and tracing, staff management or driving econom­ically and safely, more than 50,000 customers around the world make smarter decisions every day with Webfleet. No matter where your drivers are, our fleet management service and products ensure that your team remains connected, supporting your drivers and helping you to increase the general efficiency of your fleet.
Webfleet is ISO/IEC 27001 certified which means it fulfils the required high standards of confid­en­ti­ality, integrity and avail­ab­ility.
Request callback⁠
Slough service area for Fleet Management and Vehicle Tracking
Some of the disctricts around Slough where Webfleet is active
Burnham

Farnham Royal

Stoke Green

Stoke Poges

George Green

Middlegreen
Horton

Datchet

Eton

Dorney

Lynch Hill

Clippenham
Chalvey

Manor Park

Langley

Upton
Request a callback to find out how Webfleet can help your business.