Northampton: Fleet Management by Webfleet
Your business is unique. Just like your fleet of vehicles. Therefore, you need a flexible fleet management platform: a solution in terms of fleet optim­isation, vehicle tracking, workforce management, green & safe driving, business integration and connected car services that suit your activities, vehicles, size, budget and location.
Fleet management solution for your fleet in Northampton
Are you looking for a fleet management solution for the Northampton region that provides you with real-time information about the location of your vehicles? Do you also want to communicate directly with your drivers, dispatch jobs, track a mileage logbook, improve driving behaviour and save on fuel? Our vehicle tracking and Active Driver Feedback help you with this challenge in a busy city like Northampton.
Northampton – a town that feels like a city
According to Wikipedia, Northampton is one of the largest towns in the UK – and can feel more like a city for a driver. Situated in the East Midlands on the River Nene, it is most famous as a centre for shoemaking and leather. Today, companies like Wildsmith Shoes, Edward Green Shoes and Crockett & Jones continue that long tradition. But other companies like Barclaycard and Blacks Leisure Group also choose to base themselves here. The town has a fine university and a well-renowned rugby union team – the Northampton Saints.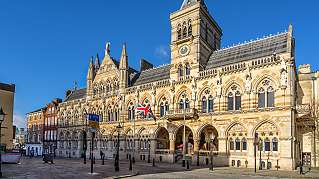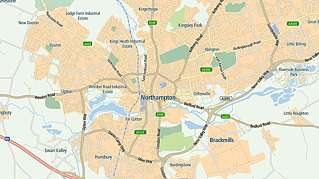 The challenges your drivers & vehicles face in Northampton
Situated between London and Birmingham, Northampton gives businesses a great central location from where they can easily reach their markets. Nearby links to the M1 mean that access to the north is also right on the doorstep. The A45 and A43 give access to other towns in the county. Many suburban areas such as Upton, Kislingbury, Queens Park and Harding­stone help make the town feel much bigger.
Why is a fleet management solution partic­u­larly useful in a congested town like Northampton? Due to heavy traffic during the day and specifically in peak hours, each vehicle spends more time on the road which means an average commercial vehicle driver wastes many hours sat in traffic. This can translate into significant losses for businesses in the Northampton area – and that's precisely where a fleet management solution can help.
Webfleet
Webfleet
For more than 20 years, our award winning fleet management platform Webfleet, an SaaS (Software as a Service) solution, has helped teams to cooperate better. Whether for real-time tracking and tracing, staff management or driving econom­ically and safely, more than 50,000 customers around the world make smarter decisions every day with Webfleet. No matter where your drivers are, our fleet management service and products ensure that your team remains connected, supporting your drivers and helping you to increase the general efficiency of your fleet.
Webfleet is ISO/IEC 27001 certified which means it fulfils the required high standards of confid­en­ti­ality, integrity and avail­ab­ility.
Request callback⁠
Northampton service area for Fleet Management and Vehicle Tracking
Some of the disctricts around Northampton where Webfleet is active
Upton

Kislingbury

Boughton

Moulton Park

Cogenhoe

Hackelton
Harding­stone

Roade

Blisworth

Gayton

Far cotton

Delapre
Cotton End

Abington

Kingsley Park

Queens Park
Request a callback to find out how Webfleet can help your business.