Newport: Fleet Management by Webfleet
Your business is unique. Just like your fleet of vehicles. Therefore, you need a flexible fleet management platform: a solution in terms of fleet optim­isation, vehicle tracking, workforce management, green & safe driving, business integration and connected car services that suit your activities, vehicles, size, budget and location.
Fleet management solution for your car fleet in Newport
Are you looking for a fleet management solution for the newport region that provides you with real-time information about the location of your vehicles? Do you also want to communicate directly with your drivers, dispatch jobs, track a mileage logbook, improve driving behaviour and save on fuel? Our vehicle tracking and Active Driver Feedback help you with this challenge in a busy city like Newport.
Newport - Medieval history mixed with modern business
With a port dating back hundreds of years, Newport has always been an important city in Wales. Located in the south east of the country on the banks of the River Usk to the north east of Cardiff, it has three major centres for employment: the city centre, business parks around the busy M4 motorway and at the Newport docks. The city boasts a distinctive cathedral and is home to the University of South Wales.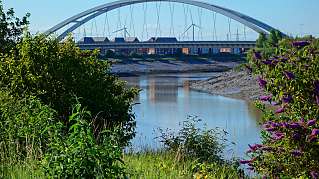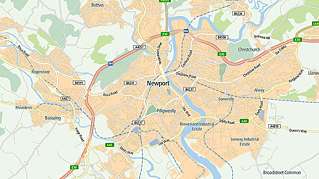 The challenges your drivers & vehicles face in Newport
Newport faces its own unique transport challenges. It is connected to the M4 motorway at several junctions which gives excellent access­ib­ility east to west. The Brynglas Tunnels, however, can be a bottleneck for traffic and a cause for delay as the motorway narrows. Other important routes include the A4042, A449 and A48 which forms part of the Southern Distributor Road (SDR) ring road on the south side of the city. Districts such as Goldcliff, Bassaleg, St Brides and Maes-Glas are accessible through a network of smaller roads. Drivers face some restric­tions in the city centre thanks to major routes being pedes­tri­anized.
Why is a fleet management solution partic­u­larly useful in a congested town like Slough? Due to heavy traffic during the day and specifically in peak hours, each vehicle spends more time on the road which means an average commercial vehicle driver wastes many hours sat in traffic. This can translate into significant losses for businesses in the Slough area – and that's precisely where a fleet management solution can help.
Webfleet
Webfleet
For more than 20 years, our award winning fleet management platform Webfleet, an SaaS (Software as a Service) solution, has helped teams to cooperate better. Whether for real-time tracking and tracing, staff management or driving econom­ically and safely, more than 60,000 customers around the world make smarter decisions every day with Webfleet. No matter where your drivers are, our fleet management service and products ensure that your team remains connected, supporting your drivers and helping you to increase the general efficiency of your fleet.
Webfleet is ISO/IEC 27001 certified which means it fulfils the required high standards of confid­en­ti­ality, integrity and avail­ab­ility.
Request callback⁠
Newport service area for Fleet Management and Vehicle Tracking
Some of the disctricts around Newport where Webfleet is active
Nash

Goldcliff

Whitson

Underwood

Caerleon

Bettws
Cwmbran

Rogerstone

Bassaleg

St Brides

Maes-Glas

Gaer
Pillgwenlly

Somerton

Maindee

Beechwood
Request a callback to find out how Webfleet can help your business.