Digital mileage tracking
Take the hassle out of trip admin­is­tration with mileage tracking
Our digital mileage logbook helps you maintain accurate, easy-to-use mileage trip tracking and admin­is­tration for company vehicles, grey fleet drivers and pool-car fleets, while protecting your drivers' data privacy.
WEBFLEET Logbook helps you:
Create individual driver profiles to manage your drivers in pool-car vehicles
Simplify fleet admin­is­tration for taxes, cost control and complying with HMRC
Reduce your workload with accurate odometer reading directly from vehicle's odometer1
Reduce your drivers' workload with automatic business and private trips regis­tration
Prove tax compliance with reliable and accurate data
Protect your drivers' privacy when they use company vehicles for personal journeys
Automated trip recording
Trip and mileage tracking reports provided by WEBFLEET can be used for mileage claims and tax detail verific­a­tions. All of this helps you reduce your tax burden and cut the time you spend on trip admin­is­tration.
Heightened data security for drivers
We take data privacy seriously. That's why drivers can only see details of their own trips and companies have the option to hide trace for business and private trips.
Satisfy HMRC compliance
Our digital mileage logbook ensures employee benefits are taxed accurately. This also helps with compliance for HM Revenue and Customs (HMRC) auditing purposes.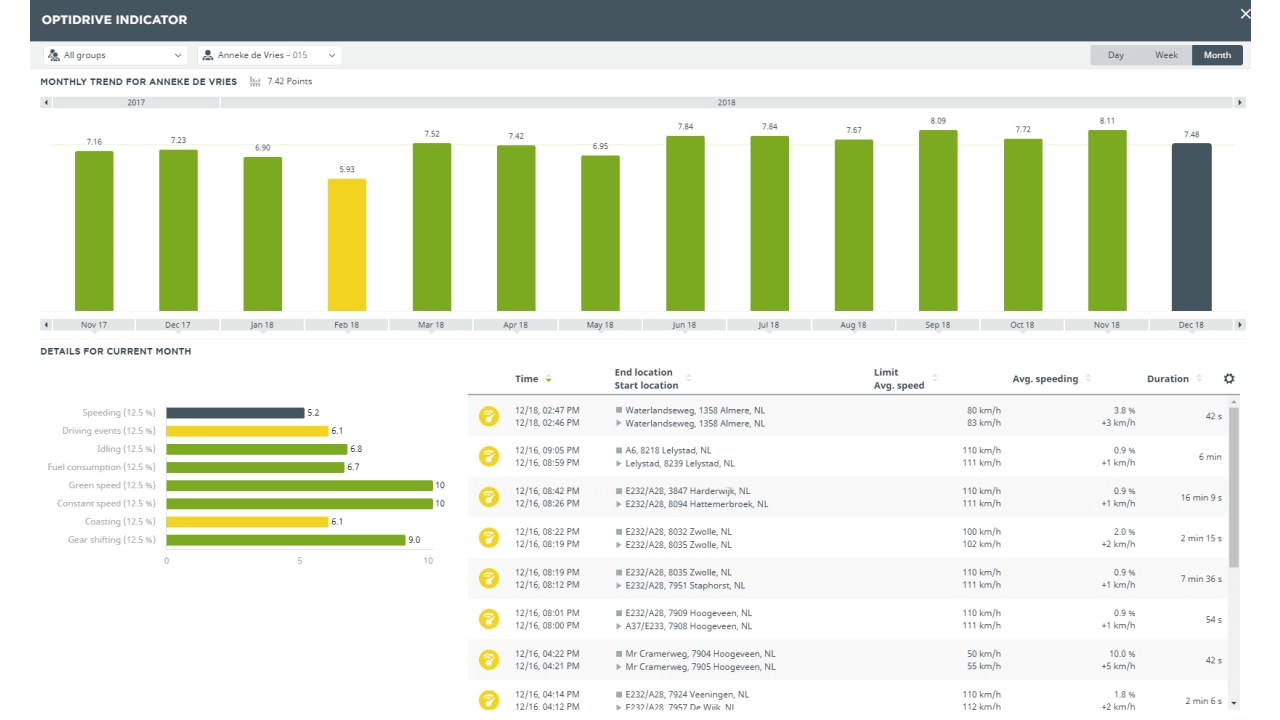 Driving behaviour feedback
Driver scores (OptiDrive) are presented on both the PRO Driver Terminal and WEBFLEET Logbook mobile app. This helps drivers stay safe and reliable on the road, while maintaining a good reputation for your business.
Easy-to-use mobile app
Drivers can manage their trip and mileage tracking admin­is­tration with the user-centric WEBFLEET Logbook mobile app. While on the go, they can modify all trip details (such as contact person and purpose of journey), assign themselves to available vehicles, adjust the odometer settings and get driver feedback (OptiDrive).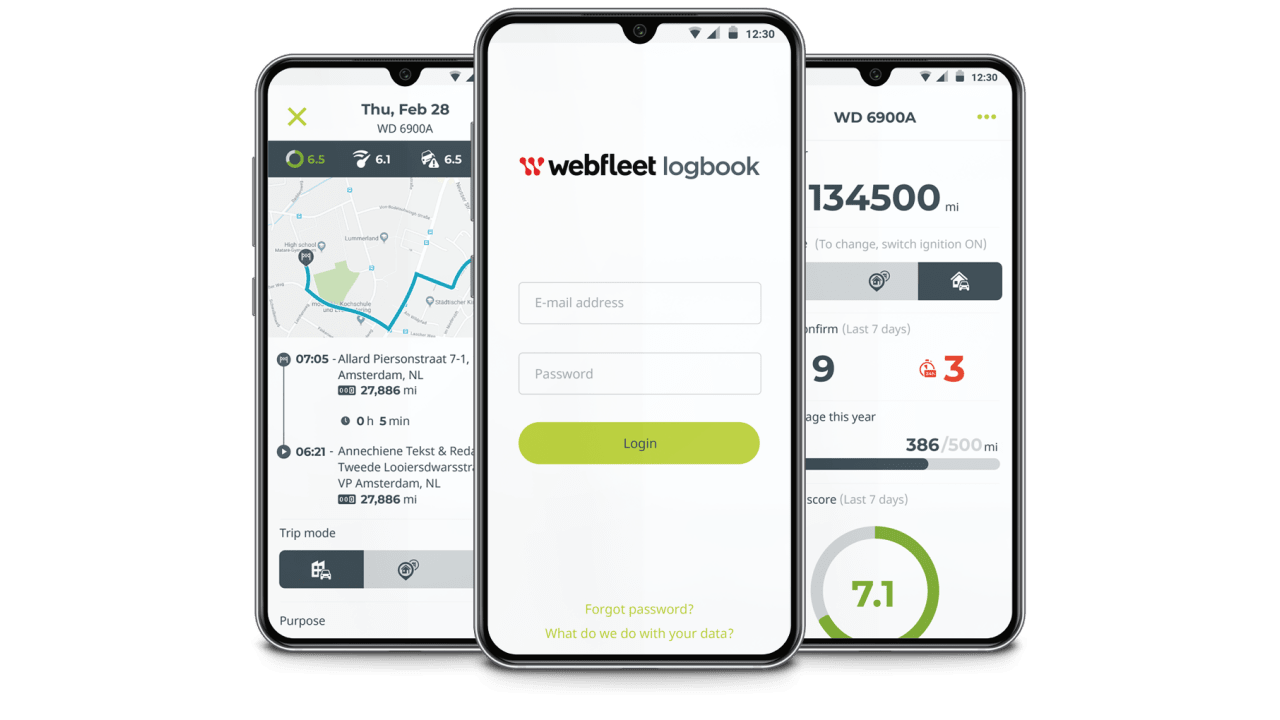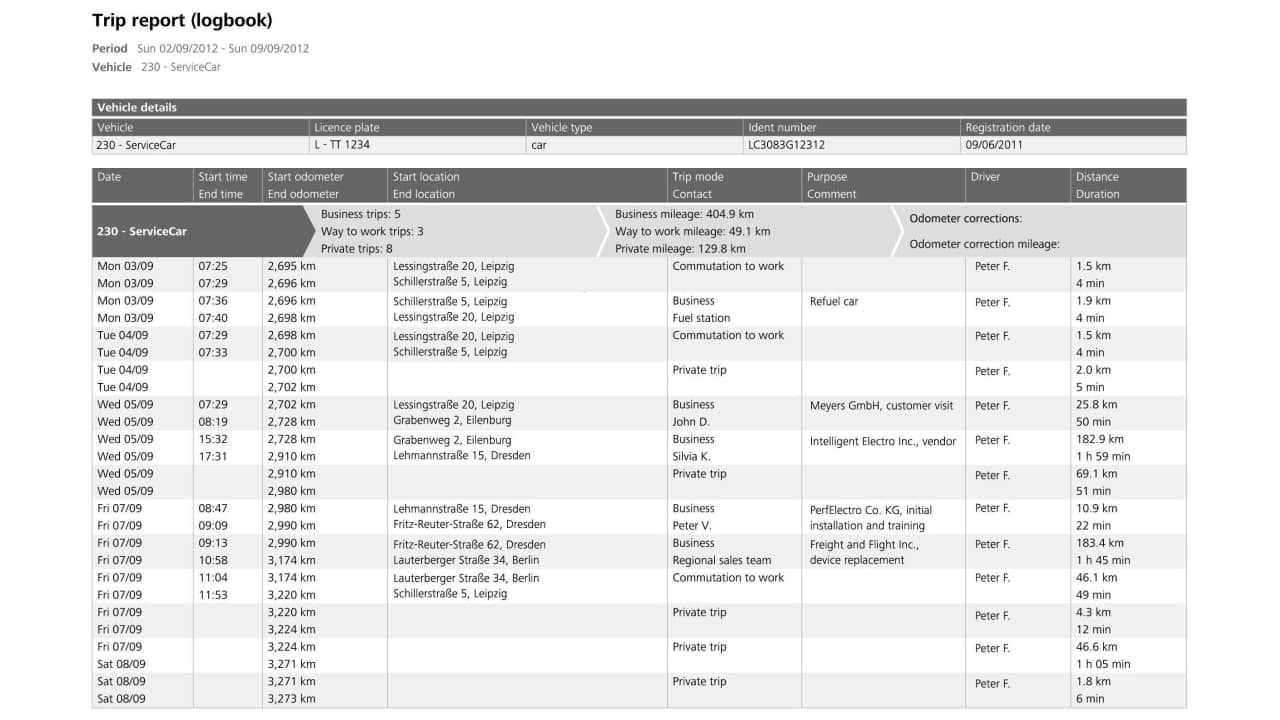 Accurate, reliable data
Odometer data is updated in real-time directly from the vehicle's odometer. So, when the tax authorities make a request you know your reports are reliable. Your trip report can be downloaded at any time in WEBFLEET or WEBFLEET Logbook mobile app.
Take the hassle out of trip admin­is­tration with WEBFLEET Logbook
---
What does mileage tracking do?
Mileage tracking is a general term for logging miles travelled for business. This can be done for a number of different reasons, including complying with regulations, tax or reimbursement of employees.
Why switch to a digital mileage logbook?
Learn more about how a digital mileage logbook like WEBFLEET Logbook helps make you tax smart.
Download FREE tax guide
What you need for WEBFLEET Logbook
LINK vehicle tracking device
WEBFLEET subscription
The WEBFLEET Logbook mobile app
1
Odometer reported by CAN connected device (LINK 610 or LINK 710) in the vehicle.