Dundee: Fleet Management by Webfleet
Your business is unique. Just like your fleet of vehicles. Therefore, you need a flexible fleet management platform: a solution in terms of fleet optim­isation, vehicle tracking, workforce management, green & safe driving, business integration and connected car services that suit your activities, vehicles, size, budget and location.
Fleet management solution for your fleet in Dundee
Are you looking for a fleet management solution for the Dundee region that provides you with real-time information about the location of your vehicles? Do you also want to communicate directly with your drivers, dispatch jobs, track a mileage logbook, improve driving behaviour and save on fuel? Our vehicle tracking and Active Driver Feedback help you with this challenge in a busy city like Dundee.
Dundee - a city of discovery
On the banks of the River Tay, Dundee is on the east coast of Scotland to the north of Edinburgh. It was once a major centre for the jute industry but today has reinvented itself. Extensive regen­er­ation has taken place on its waterfront which now features the prestigious V&A Museum housed in a spectacular building. Other museums celebrate the city's seafaring connections, partic­u­larly with the RRS Discovery – Captain Scott's Antarctic exploration ship. The cargo port is an important employer in the city along with the NHS, Tesco and the University of Dundee.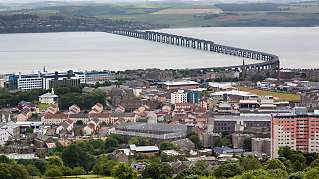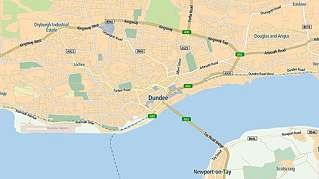 The challenges your drivers & vehicles face in Dundee
Dundee is Scotland's fourth largest city and a large port. It is served by several main trunk routes which connect it to suburbs and outlying districts including Invergowrie, Kingoodie, Tayport, and Strath­martine. The A90 links the city to the M90 motorway to the west and the cities of Aberdeen and Perth to the north. Called The Kingsway, the section closest to the city is a useful bypass to the north of the city centre. The A92 takes drivers over the Tay Road Bridge towards the south. Other transport options in Dundee include the airport and two railway stations.
Why is a fleet management solution partic­u­larly useful in a congested city like Dundee? Due to heavy traffic during the day and specifically in peak hours, each vehicle spends more time on the road which means an average commercial vehicle driver wastes many hours sat in traffic. This can translate into significant losses for businesses in the Dundee area – and that's precisely where a fleet management solution can help.
Webfleet
Webfleet
For more than 20 years, our awarded fleet management platform Webfleet, an SaaS (Software as a Service) solution, has helped teams to cooperate better. Whether for real-time tracking and tracing, staff management or driving econom­ically and safely, more than 60,000 customers around the world make smarter decisions every day with Webfleet. No matter where your drivers are, our fleet management service and products ensure that your team remains connected, supporting your drivers and helping you to increase the general efficiency of your fleet.
Webfleet is ISO/IEC 27001 certified which means it fulfils the required high standards of confid­en­ti­ality, integrity and avail­ab­ility.
Request callback⁠
Dundee service area for Fleet Management and Vehicle Tracking
Some of the disctricts around Dundee where Webfleet is active
Invergowrie

Kingoodie

Benvie

Bridgefoot

Strath­martine

Brunside of Duntrune
Monifieth

Murroes

Newport-on-Tay

Tayport

Alpin Road

Saint Cyprus
Lochee

Wimberley Houses

East Marketgait

Craigie
Request a callback to find out how Webfleet can help your business.