Portsmouth: Fleet Management by Webfleet
Your business is unique. Just like your fleet of vehicles. Therefore, you need a flexible fleet management platform: a solution in terms of fleet optim­isation, vehicle tracking, workforce management, green & safe driving, business integration and connected car services that suit your activities, vehicles, size, budget and location.
Fleet management solution for your fleet in Portsmouth
Are you looking for a fleet management solution for the Portsmouth region that provides you with real-time information about the location of your vehicles? Do you also want to communicate directly with your drivers, dispatch jobs, track a mileage logbook, improve driving behaviour and save on fuel? Our vehicle tracking and Active Driver Feedback help you with this challenge in a busy city like Portsmouth.
Portsmouth – a unique city with a character of its own
Situated on the south coast of England, Portsmouth is a naval city with a proud history stretching back centuries. "Her Majesty's Naval Base Portsmouth" has been home to famous ships like Nelson's Victory and Henry VIII's Mary Rose. Today, both make very popular tourist attractions drawing in thousands of people every year. A more contem­porary attraction is the spectacular Emirates Spinnaker Tower soaring 170 metres above Gunwharf Quays. But, home to IBM's European HQ and the University of Portsmouth, there's more to Portsmouth than tourism alone.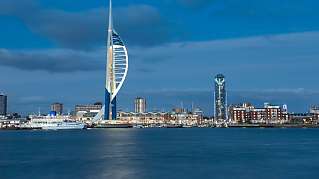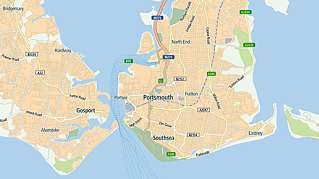 The challenges your drivers & vehicles face in Portsmouth
Covering an area of 40 square kilometres mainly on Portsea Island, Portsmouth is the UK's only island city. With over 5,000 people per square kilometre, it's also one of Europe's most densely populated cities (Wikipedia). Apart from making it unique and fascinating to visit, its location also creates trans­port­ation issues. It is served by the M27 and M275 motorways as well as the busy A3 trunk road. Maritime transport is also, of course, a huge part of the city's infra­structure. Portsmouth Inter­na­tional Port is a commercial cruise ship and ferry port serving many inter­na­tional destin­a­tions.
Why is a fleet management solution partic­u­larly useful in a congested city like Portsmouth? With its compact footprint and island location, Portsmouth's transport network faces its own set of challenges. Due to heavy traffic during the day and specifically in peak hours, each vehicle spends about 25%¹ more on the road (a total of 2,091 miles¹ in and around the city). That means an average commercial vehicle driver wastes more than 102 hours¹ per year while sat in traffic. Translate that into an approximate loss of £12,484,800² for businesses in the Portsmouth area, and you have your answer.
Webfleet
Webfleet
For more than 20 years, our award winning fleet management platform Webfleet, an SaaS (Software as a Service) solution, has helped teams to cooperate better. Whether for real-time tracking and tracing, staff management or driving econom­ically and safely, more than 60,000 customers around the world make smarter decisions every day with Webfleet. No matter where your drivers are, our fleet management service and products ensure that your team remains connected, supporting your drivers and helping you to increase the general efficiency of your fleet.
Webfleet is ISO/IEC 27001 certified which means it fulfils the required high standards of confid­en­ti­ality, integrity and avail­ab­ility.
Request callback⁠
Portsmouth service area for Fleet Management and Vehicle Tracking
Some of the disctricts around Portsmouth where Webfleet is active
Gosport

Fareham

Portchester

Widley

Purbrook

Havant
Hayling Island

Stoke

Southwick

Cosham

Fratton

Landport
Hilsea

Port Solent

Old Portsmouth

Water­looville
Request a callback to find out how Webfleet can help your business.