Nottingham: Fleet Management by Webfleet
Your business is unique. Just like your fleet of vehicles. Therefore, you need a flexible fleet management platform: a solution in terms of fleet optim­isation, vehicle tracking, workforce management, green & safe driving, business integration and connected car services that suit your activities, vehicles, size, budget and location.
Fleet management solution for your fleet in Nottingham
Are you looking for a fleet management solution for the Nottingham region that provides you with real-time information about the location of your vehicles? Do you also want to communicate directly with your drivers, dispatch jobs, track a mileage logbook, improve driving behaviour and save on fuel? Our vehicle tracking and Active Driver Feedback help you with this challenge in a busy city like Nottingham.
Nottingham – at the centre of everything
Situated in the UK's East Midlands about 130 miles north of London, Nottingham will always be associated with the Robin Hood story but it is also a thriving business, tourist and cultural centre in the country's heartland. It is home to two universities – the University of Nottingham and Nottingham Trent University – as well as the BioCity Nottingham bioscience park. With a historic connection to the lace and bicycle industries, today it is the base for many well-known companies including Boots the Chemist. A huge centre for sports, it is also a popular tourist destination.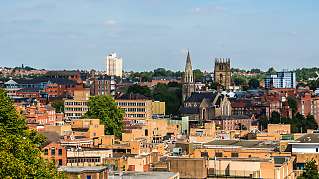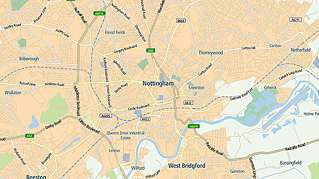 The challenges your drivers & vehicles face in Nottingham
With all its business, sports and cultural activities going on, Nottingham is a busy place. It has the largest urban area in the East Midlands and the second largest in the Midlands as a whole – covering districts such a Beeston and Breaston, Likeston, Giltbrook, Hucknall and Tollerton. Public transport is actually very good. It has the largest publically owned bus network in England and the Nottingham Express Transit tram system is one of the best in the country. Being centrally located in the country, it also has a lot of major road links. The A46, A52, A60 and A610 give good access to surrounding areas and the M1 provides the fastest route to cities both north and south. Last but not least, East Midlands Airport is 15 miles south west of the city centre.
Why is a fleet management solution partic­u­larly useful in a congested city like Nottingham? Given its urban spread and the general busy-ness of this thriving city, getting around can pose problems for fleet managers. The fluctuating student population and seasonal flow of tourists also make planning more tricky. Due to heavy traffic during the day and specifically in peak hours, each vehicle spends about 27%¹ more on the road (a total of 2,166 miles¹ in and around the city). That means an average commercial vehicle driver wastes more than 120 hours¹ per year while sat in traffic. Translate that into an approximate loss of £9,158,400² for businesses in the Nottingham area, and you have your answer.
Webfleet
Webfleet
For more than 20 years, our award winning fleet management platform Webfleet, an SaaS (Software as a Service) solution, has helped teams to cooperate better. Whether for real-time tracking and tracing, staff management or driving econom­ically and safely, more than 50,000 customers around the world make smarter decisions every day with Webfleet. No matter where your drivers are, our fleet management service and products ensure that your team remains connected, supporting your drivers and helping you to increase the general efficiency of your fleet.
Webfleet is ISO/IEC 27001 certified which means it fulfils the required high standards of confid­en­ti­ality, integrity and avail­ab­ility.
Request callback⁠
Nottingham service area for Fleet Management and Vehicle Tracking
Some of the disctricts around Nottingham where Webfleet is active
Kimberley

Giltbrook

Hucknall

Bestwood Village

Tollerton

Ruddington
Clifton

Gotham

Breaston

Likston

The Park

Wolalton
Woodthorpe

Arnold

Beeston

Carlton
Request a callback to find out how Webfleet can help your business.