Glasgow: Fleet Management by Webfleet
Your business is unique. Just like your fleet of vehicles. Therefore, you need a flexible fleet management platform: a solution in terms of fleet optim­isation, vehicle tracking, workforce management, green & safe driving, business integration and connected car services that suit your activities, vehicles, size, budget and location.
Fleet management solution for your fleet in Glasgow
Are you looking for a fleet management solution for the Glasgow region that provides you with real-time information about the location of your vehicles? Do you also want to communicate directly with your drivers, dispatch jobs, track a mileage logbook, improve driving behaviour and save on fuel? Our vehicle tracking and Active Driver Feedback help you with this challenge in a busy city like Glasgow.
Glasgow – Scotland's biggest city by population
Located on the River Clyde, Glasgow is Scotland's most populous city with around 600,000 people. It features rich Victorian and art nouveau archi­tecture as well as being home to cultural insti­tu­tions like Scottish Opera, Scottish Ballet and the National Theatre of Scotland. Glasgow boasts four universities as well as the Glasgow Science Centre – a purpose-built science centre and Scotland's most popular paid-for tourist attraction. The SEC Centre is Scotland's largest exhibition centre staging all kinds of world class commercial and cultural events.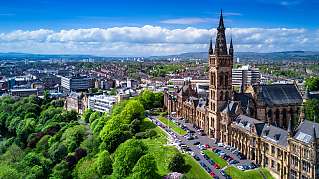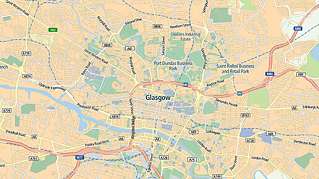 The challenges your drivers & vehicles face in Glasgow
Spread over 70 square miles, Glasgow is a thriving and busy place with one of the highest population densities of any town or city in Scotland. Its districts include Renfrew, Paisley, Clydebank, Cambuslang and the famous Gorbals area. The M8 motorway links Glasgow to Edinburgh and joins the M77, M73, M74, M80 and A82 in making the city a major transport hub. The busiest motorway in Scotland, the M8 is 60 miles (97 km) long, crossing the River Clyde on the Kingston Bridge – the busiest in Europe. Glasgow is also served by three inter­na­tional airports – Glasgow Airport, Glasgow Prestwich Airport and Edinburgh Airport.
Glasgow's live traffic flow⁠
Why is a fleet management solution partic­u­larly useful in a congested city like Glasgow? Given the concen­tration of transport options and the large population, navigation around the city is not always easy. Due to heavy traffic during the day and specifically in peak hours, each vehicle spends about 29%¹ more on the road (a total of 5,010 miles¹ in and around the city). That means an average commercial vehicle driver wastes more than 129 hours¹ per year while sat in traffic. Translate that into an approximate loss of £22,755,600² for businesses in the Glasgow area, and you have your answer.
Webfleet
Webfleet
For more than 20 years, our awarded fleet management platformWebfleet, an SaaS (Software as a Service) solution, has helped teams to cooperate better. Whether for real-time tracking and tracing, staff management or driving econom­ically and safely, more than 60,000 customers around the world make smarter decisions every day with Webfleet. No matter where your drivers are, our fleet management service and products ensure that your team remains connected, supporting your drivers and helping you to increase the general efficiency of your fleet.
Webfleet is ISO/IEC 27001 certified which means it fulfils the required high standards of confid­en­ti­ality, integrity and avail­ab­ility.
Request callback⁠
Glasgow service area for Fleet Management and Vehicle Tracking
Some of the disctricts around Glasgow where Webfleet is active
Bearsden

Bishop­briggs

Cambuslang

Gorbals

Thornliebank

Clydebank
Giffnock

Govan

Govanhill

Hillhead

Paisley

Parkhead
Partick

Renfrew

Rutherglen

Clarkston
Request a callback to find out how Webfleet can help your business.