Brighton: Fleet Management by Webfleet
Your business is unique. Just like your fleet of vehicles. Therefore, you need a flexible fleet management platform: a solution in terms of fleet optim­isation, vehicle tracking, workforce management, green & safe driving, business integration and connected car services that suit your activities, vehicles, size, budget and location.
Fleet management solution for your fleet in Brighton
Are you looking for a fleet management solution for the Brighton region that provides you with real-time information about the location of your vehicles? Do you also want to communicate directly with your drivers, dispatch jobs, track a mileage logbook, improve driving behaviour and save on fuel? Our vehicle tracking and Active Driver Feedback help you with this challenge in a busy city like Brighton.
Brighton - Much more than just a seaside resort
Part of the city of Brighton and Hove, Brighton is a famous English seaside resort. It is most well-known for its wide beach and the Victorian pier which stretches out into the sea from the main waterfront. Regency era archi­tecture and the Brighton Pavilion are particular highlights. With a thriving arts, culture and music scene, Brighton scores well when it comes to "coolness". The University of Sussex and University of Brighton attract many students while the conference and convention centre are the main attraction for business groups. Large companies like American Express choose Brighton for their HQ to enjoy the benefits of this trendy city.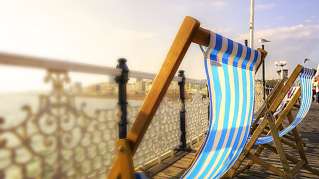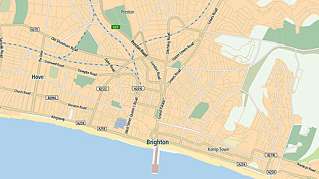 The challenges your drivers & vehicles face in Brighton
A short drive from London, Brighton is a popular destination for a day trip. And in the summer it's a magnet for holiday makers who come not only for the beach but for the nightlife too. With its arts scene, good shopping and regular festivals its population of 155,000 often swells to many more. Trans­port-wise, it is served by several major trunk roads including the A23, A27, A259 and A270 as well by the M23 motorway and by Brighton City airport. The city comprises many different districts including Portslade, Peacehaven, Preston and Cliveden. The Brighton Marina area can be especially busy in the summer months with an influx of visitors looking to take advantage of Brighton's enviable location.
Why is a fleet management solution partic­u­larly useful in a congested city like Brighton? Due to heavy traffic during the day and specifically in peak hours, each vehicle spends about 36%¹ more on the road (a total of 824 miles¹ in and around the city). That means an average commercial vehicle driver wastes more than 135 hours¹ per year while sat in traffic. Translate that into an approximate loss of £10,594,800² for businesses in the Brighton area, and you have your answer.
Webfleet
Webfleet
For more than 20 years, our awarded fleet management platform Webfleet, an SaaS (Software as a Service) solution, has helped teams to cooperate better. Whether for real-time tracking and tracing, staff management or driving econom­ically and safely, more than 50,000 customers around the world make smarter decisions every day with Webfleet. No matter where your drivers are, our fleet management service and products ensure that your team remains connected, supporting your drivers and helping you to increase the general efficiency of your fleet.
Webfleet is ISO/IEC 27001 certified which means it fulfils the required high standards of confid­en­ti­ality, integrity and avail­ab­ility.
Request callback⁠
Brighton service area for Fleet Management and Vehicle Tracking
Some of the disctricts around Brighton where Webfleet is active
Stanmer

Portslade

Southwick

Saddle­scombe

Moulsecoomb

Falmer
Woodingdean

Rottingdean

Kemptown

Brighton Marina

Saldean

Peacehaven
Pyecombe

Preston

Cliveden Close

Withdean
Request a callback to find out how Webfleet can help your business.