Sheffield: Fleet Management by Webfleet
Your business is unique. Just like your fleet of vehicles. Therefore, you need a flexible fleet management platform: a solution in terms of fleet optim­isation, vehicle tracking, workforce management, green & safe driving, business integration and connected car services that suit your activities, vehicles, size, budget and location.
Fleet management solution for your fleet in Sheffield
Are you looking for a fleet management solution for the Sheffield region that provides you with real-time information about the location of your vehicles? Do you also want to communicate directly with your drivers, dispatch jobs, track a mileage logbook, improve driving behaviour and save on fuel? Our vehicle tracking and Active Driver Feedback help you with this challenge in a busy city like Sheffield.
Sheffield – a thriving city built on steel
Situated on the River Don in South Yorkshire, Sheffield is known as the "Steel City" having been a centre for steel production in the Twentieth Century. Although the industry has largely vanished now, reminders remain in the metal works at the Millennium Gallery while Kelham Island Museum showcases the city's industrial past. Today's city is dotted with green spaces and the Peak District National Park is a short drive away. The city is home to two universities, two major football clubs and to the World Snooker Champi­onship at the Crucible Theatre.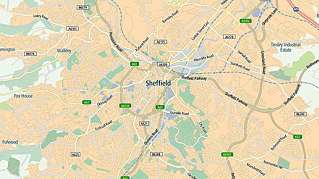 The challenges your drivers & vehicles face in Sheffield
Sheffield is an important focal point for transport. The M1 motorway links it directly with London to the south and Leeds to the north while the M18 takes drivers to Doncaster and Humberside. The A630 Sheffield Parkway is an important link road for drivers to access these motorways. Other important trunk roads include the A57 and A61 which run through the city as well as the A631 and A6102 providing routes to the many different suburban districts such as Loxley, Catcliffe, Nether Edge and Neepsend. Doncaster Sheffield Airport is located 18 miles (29km) from the city centre.
Why is a fleet management solution partic­u­larly useful in a congested city like Sheffield? Although the inner ring road allows traffic to avoid the city centre, Sheffield does have its fair share of congestion. Due to heavy traffic during the day and specifically in peak hours, each vehicle spends about 35%¹ more on the road (a total of 3,023 miles¹ in and around the city). That means an average commercial vehicle driver wastes more than 137 hours¹ per year while sat in traffic. Translate that into an approximate loss of £23,772,240² for businesses in the Sheffield area, and you have your answer.
Webfleet
Webfleet
For more than 20 years, our award winning fleet management platform Webfleet, an SaaS (Software as a Service) solution, has helped teams to cooperate better. Whether for real-time tracking and tracing, staff management or driving econom­ically and safely, more than 50,000 customers around the world make smarter decisions every day with Webfleet. No matter where your drivers are, our fleet management service and products ensure that your team remains connected, supporting your drivers and helping you to increase the general efficiency of your fleet.
Webfleet is ISO/IEC 27001 certified which means it fulfils the required high standards of confid­en­ti­ality, integrity and avail­ab­ility.
Request callback⁠
Sheffield service area for Fleet Management and Vehicle Tracking
Some of the disctricts around Sheffield where Webfleet is active
Loxley

Worrall

Thrope Hesley

Rotherham

Brinsworth

Catcliffe
Treeton

Swallownest

Breighton

Crosspool

Sharrow

Highfield
Nether Edge

Heeley

Meersbrook

Neepsend
Request a callback to find out how Webfleet can help your business.