Bristol: Fleet Management by Webfleet
Your business is unique. Just like your fleet of vehicles. Therefore, you need a flexible fleet management platform: a solution in terms of fleet optim­isation, vehicle tracking, workforce management, green & safe driving, business integration and connected car services that suit your activities, vehicles, size, budget and location.
Fleet management solution for your fleet in Bristol
Are you looking for a fleet management solution for the Bristol region that provides you with real-time information about the location of your vehicles? Do you also want to communicate directly with your drivers, dispatch jobs, track a mileage logbook, improve driving behaviour and save on fuel? Our vehicle tracking and Active Driver Feedback help you with this challenge in a busy city like Bristol.
Bristol – a busy centre for culture, arts and business
Located on the River Avon in the south west of England, Bristol is a popular place to live with its lively selection of cultural hotspots and thriving local economy. Its historic city-centre port is now a hive of artistic and educational activity The M Shed museum at The Harbourside, for instance, showcases the town's rich industrial heritage while restaurants, shops and galleries like The Arnolfini have repurposed the port's original warehouses. Home to the regional HQs of BBC West and the BBC Natural History Unit, Bristol also boasts two highly regarded universities.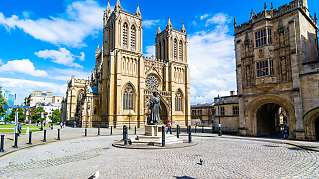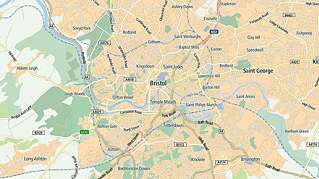 The challenges your drivers & vehicles face in Bristol
Bristol covers an area of 110 square kilometres and is the ninth largest metro­politan economy in the UK by GDP. So business is good – the city is doing well – but locals often complain about congestion, with roads often operating at full capacity. Although some lucky commuters may make use of the water transport in the centre of town provided by Bristol Ferry Boats, routes to outlying districts such as Long Ashton, Keynsham, Chittening or St Andrew's can face delays. Looking beyond the city limits, the city is well served by national motorways including the M4, M5, M49 and M32. In addition, Bristol Airport connects the city by air to a wide range of destin­a­tions.
Bristol's live traffic flow⁠
Why is a fleet management solution partic­u­larly useful in a congested city like Bristol? Congestion is very unpre­dictable and can be caused by a wide range of random incidents. Due to heavy traffic during the day and specifically in peak hours, each vehicle spends about 34%¹ more on the road (a total of 2,503 miles¹ in and around the city). That means an average commercial vehicle driver wastes more than 148 hours¹ per year while sat in traffic. Translate that into an approximate loss of £54,239,040² for businesses in the Bristol area, and you have your answer.
Webfleet
Webfleet
For more than 20 years, our awarded fleet management platform Webfleet, an SaaS (Software as a Service) solution, has helped teams to cooperate better. Whether for real-time tracking and tracing, staff management or driving econom­ically and safely, more than 50,000 customers around the world make smarter decisions every day with Webfleet. No matter where your drivers are, our fleet management service and products ensure that your team remains connected, supporting your drivers and helping you to increase the general efficiency of your fleet.
Webfleet is ISO/IEC 27001 certified which means it fulfils the required high standards of confid­en­ti­ality, integrity and avail­ab­ility.
Request callback⁠
Bristol service area for Fleet Management and Vehicle Tracking
Some of the disctricts around Bristol where Webfleet is active
Long Ashton

Pill

Hallen

Almondsbury

Winter­bourne

Hinton
Wick

Keynsham

Norton Malreward

Chittening

Bishopsworth

Brislington
Montpelier

St Andrew's

Westbury on Trym

Hanham
Request a callback to find out how Webfleet can help your business.