Webfleet Work App
The perfect companion for your mobile workforce
Digitise your workflow and boost efficiency the easy way with Webfleet Work App. Your drivers can effectively manage day-to-day tasks and access best-in-class navigation from one simple Android app.
Introducing Webfleet Work App
Webfleet Work App helps you
Track your vehicles
Keep track of where your vehicles are in real time within Webfleet
Manage your workforce
Know who is driving at any time and view their OptiDrive scores1
Give accurate ETAs
Improve customer experience with precise ETAs2
View trip details
Get an overview of recorded working hours, trips or work status
Manage your orders
Send jobs and order instruc­tions straight from your office to Work App
Keep privacy a top priority
Protect your data and your drivers' privacy
Track and trace3
View the driving times, mileage and locations of your fleet in real time or over a chosen time period in Webfleet. You can track your vehicles with a LINK device. Altern­at­ively, Mobile Tracking is available via the driver's mobile device.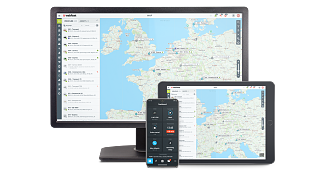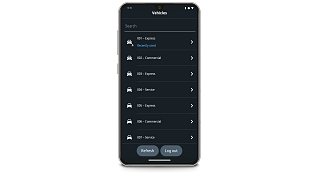 Manage a flexible workforce smoothly with Mobile Tracking
Drivers can use Work App to assign themselves to available vehicles or you can assign a vehicle to a specific driver on a fixed basis. When personnel change, you can reuse existing subscrip­tions for new vehicles or drivers.
Seamless commu­nic­ation
Send jobs and order instruc­tions from your office directly to your driver's mobile device. Your drivers will never miss an important update thanks to push notific­a­tions. Stay connected with two-way messaging, so you can react quickly to unexpected events.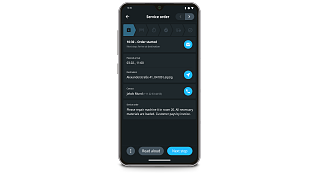 Working time and trip modes
Record working hours and trips with a simple tap on the screen. Define the type of trip (business, commute or private) or work status (work, break or work finished).
Best-in-class navigation with TomTom GO Fleet
Profes­sional navigation2 for all vehicle types (including trucks and electric vehicles) helps drivers choose the fastest route with accurate ETAs.
TomTom GO Fleet is our official partner app for Profes­sional Navigation. It works seamlessly with Work App.
Learn more⁠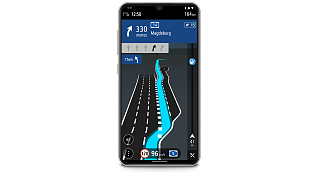 Get the Webfleet Work App datasheet

Want to boost efficiency the easy way? Here's a quick summary of the benefits and features of Webfleet Work App.
Download datasheet
TomTom GO Fleet
TomTom GO Fleet, our official partner app for Profes­sional Navigation, is seamlessly integrated with Work App. TomTom GO Fleet allows drivers to always have the most up-to-date maps with traffic and navigation at their fingertips in a single location. They can automat­ically start their route to their order destination conveni­ently from the Work App, and fleet managers benefit from real-time visibility of the current ETA and destination.
Best-in-class navigation
See the fastest routes for all vehicle types (including trucks and EVs) and get accurate ETAs.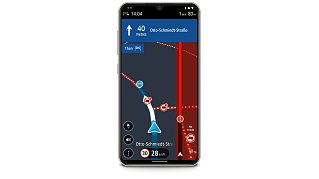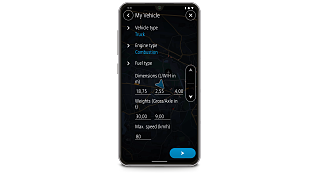 Vehicle profile
Access restric­tions and routing calcu­la­tions based on the type of vehicle, engine, fuel and cargo.
Points of interest
Discover new places and find what you're looking for. Locate nearby parking areas, fuel stations and more.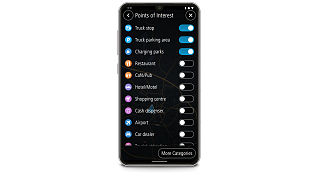 ---
All you need to know about Webfleet Work App
What is the Webfleet Work App?

Webfleet Work App is a mobile-based app that provides drivers with simplified task and commu­nic­a­tions management. When fleets subscribe to Webfleet, their drivers can download Webfleet Work App for free. Does your fleet use Webfleet's profes­sional navigation service? Then your drivers can access it through Work App.
What are the main benefits of Work App for fleets?

Work App digitises your workflow management. As a fleet owner or manager, you can automate operational processes like trip reporting and compliance. Job planning is much easier with Work App, since you can send instruc­tions directly to drivers with the Order Optim­isation feature within Webfleet.
Which types of business could benefit from the Work App?

Webfleet Work App is compatible with all types of vehicles (truck, bus, coach, LCV, car). So, any business that operates a fleet of vehicles can take advantage of our productivity boosting mobile app. Transport and logistics companies, last-mile delivery services, health care providers and contractors can enhance their efficiency with Work App.
How does the Work App help fleet efficiency?

Route optim­isation is one of the biggest benefits of using Work App. You can ensure that your drivers stay on the safest, quickest routes. As a result, you can keep customers happy with reliable ETAs. Need to assign a last-minute job? Just send the instruc­tions to your nearest driver.
How does the Webfleet Work App help fleet drivers?

Work App saves time for your drivers. It also reduces their workload. They can register their working hours, along with their business and private trips, automat­ically. When combined with profes­sional navigation, drivers can make sure they're on the best roads with accurate information about weather and road conditions through Work App.
What do I need to install the Webfleet Work App for my fleet?

To set your fleet up with Work App, you need a Webfleet subscription. No additional hardware is required—drivers just download Work App on their Android devices (but for vehicle tracking function­ality, you could optionally add a LINK device).
This app has changed the telematics game.
I was lucky enough to be a part of the beta trial for Webfleet Work App. This involved rigorous testing as well as constructive feedback directly to Webfleet, and I must say they went all out with this one.
James Shivas, Simplicity Group
Get a demo
Talk to an advisor and find out what Webfleet Work App can do for your fleet.
1 OptiDrive score is only available with LINK Tracking. It is visible in Webfleet for fleet managers and in Work App for drivers.
2 Profes­sional navigation helps give more precise ETAs and requires an Additional Service booking.
3 LINK Tracking requires a LINK 740/710/530/510/410 device, depending on your region.
4 Work App is only available on an Android operating system. Requires an active data connection (SIM or Wi-Fi). Data consumption depends on usage and region, among other factors. The app should only be used with unlimited data plans or plans with automatic cost limits to avoid unexpected expenses due to increased data consumption.
5 LINK 740/710/530/510/410 for LINK tracking.