City of London: Fleet Management by Webfleet
Your business is unique. Just like your fleet of vehicles. Therefore, you need a flexible fleet management platform: a solution in terms of fleet optim­isation, vehicle tracking, workforce management, green & safe driving, business integration and connected car services that suit your activities, vehicles, size, budget and location.
Fleet management solution for your car fleet in London
Are you looking for a fleet management solution for the London region that provides you with real-time information about the location of your vehicles? Do you also want to communicate directly with your drivers, dispatch jobs, track a mileage logbook, improve driving behaviour and save on fuel? Our vehicle tracking and Active Driver Feedback help you with this challenge in a busy city like London.
London - The iconic and historic capital of the UK
Truly a world class city, London is the UK's capital and largest city. It is a magnet for tourists with a host of attractions ranging from the Tower of London to Big Ben, from Buckingham Palace to St Paul's Cathedral, from the Natural History Museum to the Tate Modern. The area known as the City of London is a focus of inter­na­tional trade, finance and foreign exchange. It is home to many leading football clubs from the English Premier League as well as a thriving hub for many other sports. Its population of around 8 million is swelled by the annual influx of tourists which can make getting around a challenge at the best of times.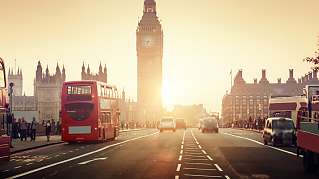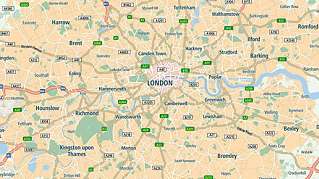 The challenges your drivers & vehicles face in London
Congestion has long been a problem in London and many people prefer to take public transport including the extensive tube network and bus routes. The intro­duction of a congestion charge has reduced the number of vehicles on the roads but choke points still remain. Suburbs and districts including Clerkenwell, Covent Garden, Finsbury and Billingsgate are served by important routes like the North and South Circulars. The M25 goes right around the outside of the city but is notorious for jams. Other important routes include the A100, A1203, A201 and A3. The A1 and M1 link the capital with the north. London is also served by various airports including Heathrow, Stansted and Gatwick.
City of London's live traffic flow⁠
Why is a fleet management solution partic­u­larly useful in a congested city like London? Due to heavy traffic during the day and specifically in peak hours, each vehicle spends about 40%¹ more on the road (a total of 30,417 miles¹ in and around the city). That means an average commercial vehicle driver wastes more than 152 hours¹ per year while sat in traffic. Translate that into an approximate loss of £264,516,480² for businesses in the London area, and you have your answer.
Webfleet
Webfleet
For more than 20 years, our award winning fleet management platform Webfleet, an SaaS (Software as a Service) solution, has helped teams to cooperate better. Whether for real-time tracking and tracing, staff management or driving econom­ically and safely, more than 50,000 customers around the world make smarter decisions every day with Webfleet. No matter where your drivers are, our fleet management service and products ensure that your team remains connected, supporting your drivers and helping you to increase the general efficiency of your fleet.
Webfleet is ISO/IEC 27001 certified which means it fulfils the required high standards of confid­en­ti­ality, integrity and avail­ab­ility.
Request callback⁠
London service area for Fleet Management and Vehicle Tracking
Some of the disctricts around London where Webfleet is active
Clerkenwell

New Era Estate

Covent Garden

Finsbury

St Luke's

Wallbrook
Fitzrovia

Golden Lane Estate

Whitechapel

St Katharine's & Wapping

Aldersgate

King's Cross
Aldgate

Billingsgate

Bishopsgate

Cripplegate
Request a callback to find out how Webfleet can help your business.