Belfast: Fleet Management by Webfleet
Your business is unique. Just like your fleet of vehicles. Therefore, you need a flexible fleet management platform: a solution in terms of fleet optim­isation, vehicle tracking, workforce management, green & safe driving, business integration and connected car services that suit your activities, vehicles, size, budget and location.
Fleet management solution for your fleet in Belfast
Are you looking for a fleet management solution for the Belfast region that provides you with real-time information about the location of your vehicles? Do you also want to communicate directly with your drivers, dispatch jobs, track a mileage logbook, improve driving behaviour and save on fuel? Our vehicle tracking and Active Driver Feedback help you with this challenge in a busy city like Belfast.
Belfast – capital city and cultural melting pot
Belfast is the capital and largest city of Northern Ireland (and second largest city on the island of Ireland). Located on the banks of the River Lagan, it is an important port for both cargo and passengers. The iconic yellow gantries of the Harland & Wolff shipyards are a reminder that this was the birthplace of the Titanic. Today, Belfast is the beating heart of Northern Ireland – commer­cially and culturally. Queen's and Ulster universities enjoy very high reputations while music and theatre paly a big role in Belfast life in venues like the Waterfront Hall.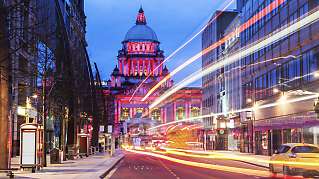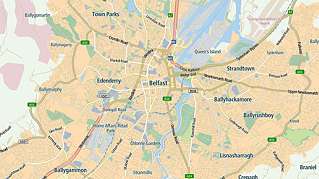 The challenges your drivers & vehicles face in Belfast
According to Wikipedia, Belfast is a relatively car-de­pendent city by European standards with 77% of all journeys made by car in 2005. An extensive network of roads includes links to the M1 and M2 which take drivers north and south of the city. Other major routes such as the A2, A22, A24, A55 and A512 connect with Belfast's suburbs and outlying districts such as Cultra, Carryduff, Ardoyne and Dunmurry. As the most highly populated city in Northern Ireland, with a population of over 300,000, Belfast is partic­u­larly busy and presents unique challenges to drivers.
Belfast's live traffic flow⁠
Why is a fleet management solution partic­u­larly useful in a congested city like Belfast? Due to heavy traffic during the day and specifically in peak hours, each vehicle spends about 43%¹ more on the road (a total of 1,767 miles¹ in and around the city). That means an average commercial vehicle driver wastes more than 200 hours¹ per year while sat in traffic. Translate that into an approximate loss of £14,256,000² for businesses in the Belfast area, and you have your answer.
Webfleet
Webfleet
For more than 20 years, our awarded fleet management platform Webfleet, an SaaS (Software as a Service) solution, has helped teams to cooperate better. Whether for real-time tracking and tracing, staff management or driving econom­ically and safely, more than 50,000 customers around the world make smarter decisions every day with Webfleet. No matter where your drivers are, our fleet management service and products ensure that your team remains connected, supporting your drivers and helping you to increase the general efficiency of your fleet.
Webfleet is ISO/IEC 27001 certified which means it fulfils the required high standards of confid­en­ti­ality, integrity and avail­ab­ility.
Request callback⁠
Belafast service area for Fleet Management and Vehicle Tracking
Some of the disctricts around Belfast where Webfleet is active
Holywood

Cultra

Dundonald

Castlereagh

Gilnahirk
Dunmurry

Ballyskeagh

Whiteabbey

Mallusk

Carryduff
Stranmillis

Sydenham

Upper Galwally

Ardoyne

Whiterock Grove
Request a callback to find out how Webfleet can help your business.