Cambridge: Fleet Management by Webfleet
Your business is unique. Just like your fleet of vehicles. Therefore, you need a flexible fleet management platform: a solution in terms of fleet optim­isation, vehicle tracking, workforce management, green & safe driving, business integration and connected car services that suit your activities, vehicles, size, budget and location.
Fleet management solution for your fleet in Cambridge
Are you looking for a fleet management solution for the Cambridge region that provides you with real-time information about the location of your vehicles? Do you also want to communicate directly with your drivers, dispatch jobs, track a mileage logbook, improve driving behaviour and save on fuel? Our vehicle tracking and Active Driver Feedback help you with this challenge in a busy city like Cambridge.
Cambridge – city of learning and hi-tech industry
The beautiful city of Cambridge on the River Cam is most famous for its world-leading university and the students it produces. Connected to its position as a major seat of learning, many hi-tech industries have either grown up here or have chosen to base themselves here. Software and bioscience companies – both established and start-ups – flourish within the so-called Silicon Fen region and leading companies like Astra Zeneca have set up their HQs here. Cambridge also hosts festivals such as the Strawberry Fair, Cambridge Beer Festival and Midsummer Fairs.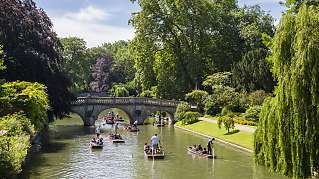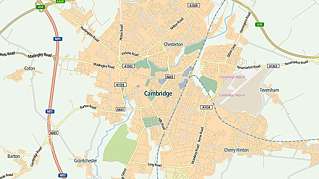 Challenges your drivers & vehicles face in cambridge
With its narrow streets and medieval buildings, the centre of Cambridge poses unique problems for driving. The bike, not the car, is king here. Even the surrounding districts such as Trumpington, Girton, Chesterton and Fulbourn have their own challenges too. In particular, the substantial student population creates seasonal surges in traffic and congestion. The city is served by several important trunk routes including the A10, A14, A428 and A1303 as well as being next to the important M11 motorway giving it a direct link to London, some 50 miles away. Altern­atives to road transport include rail from Cambridge station with a journey time to London of under an hour.
Why is a fleet management solution partic­u­larly useful in a congested city like Cambridge? Due to heavy traffic during the day and specifically in peak hours, each vehicle spends more time on the road which means an average commercial vehicle driver wastes many hours sat in traffic. This can translate into significant losses for businesses in the Cambridge area – and that's precisely where a fleet management solution can help.
Webfleet
Webfleet
For more than 20 years, our awarded fleet management platform Webfleet, an SaaS (Software as a Service) solution, has helped teams to cooperate better. Whether for real-time tracking and tracing, staff management or driving econom­ically and safely, more than 50,000 customers around the world make smarter decisions every day with Webfleet. No matter where your drivers are, our fleet management service and products ensure that your team remains connected, supporting your drivers and helping you to increase the general efficiency of your fleet.
Webfleet is ISO/IEC 27001 certified which means it fulfils the required high standards of confid­en­ti­ality, integrity and avail­ab­ility.
Request callback⁠
Cambridge service area for Fleet Management and Vehicle Tracking
Some of the disctricts around Cambridge where Webfleet is active
Trumpington

Grantchester

Girton

Mirton

Horningsea

Stow cum Quy
Teversham

Fulbourn

Fen Ditton

Barton

Newtown

Grantchester Meadows
Chesterton

Arbury

King's Hedges

Orchard Park
Request a callback to find out how Webfleet can help your business.