Hull: Fleet Management by Webfleet
Your business is unique. Just like your fleet of vehicles. Therefore, you need a flexible fleet management platform: a solution in terms of fleet optim­isation, vehicle tracking, workforce management, green & safe driving, business integration and connected car services that suit your activities, vehicles, size, budget and location.
Fleet management solution for your fleet in Hull
Are you looking for a fleet management solution for the Hull region that provides you with real-time information about the location of your vehicles? Do you also want to communicate directly with your drivers, dispatch jobs, track a mileage logbook, improve driving behaviour and save on fuel? Our vehicle tracking and Active Driver Feedback help you with this challenge in a busy city like Hull.
Hull – city of culture, education and trade
Hull, short for Kingston upon Hull, is a port city on England's east coast. P&O ferries regularly go from the King George Dock to Rotterdam and Zeebrugge making it an important destination for both business and private drivers. It is famous for being the birthplace of William Wilberforce who championed the abolition of slavery. Modern attractions include The Deep aquarium and the KCOM Stadium used for sport and music concerts. The city is home to leading football and rugby league clubs as well as the World Trade Centre Hull & Humber. It was UK City of Culture in 2017.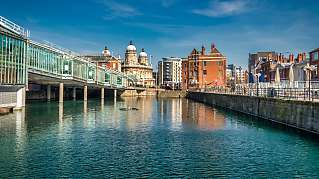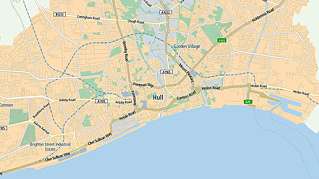 The challenges your drivers & vehicles face in Hull
Hull lies at the end of the M62 motorway linking Liverpool, Manchester and Leeds. Drivers actually take the A63 dual carriageway for the last stretch into the city. Other important routes include the A165, A1033, A1079 and A1165. The nearby Humber Bridge, once the longest single span suspension bridge in the world, crosses the Humber estuary providing a route originally only services by a ferry. The city comprises many varied districts including Hessle, Willerby, Southcoates, Kingswood and Bransholme. Transport between the various parts is made more complicated by the number of bridges and rail crossings that drivers need to negotiate.
Why is a fleet management solution partic­u­larly useful in a congested city like Hull? Due to heavy traffic during the day and specifically in peak hours, each vehicle spends about 35%¹ more on the road (a total of 1,506 miles¹ in and around the city). That means an average commercial vehicle driver wastes more than 152 hours¹ per year while sat in traffic. Translate that into an approximate loss of £15,978,240² for businesses in the Hull area, and you have your answer.
Webfleet
Webfleet
For more than 20 years, our award winning fleet management platform Webfleet, an SaaS (Software as a Service) solution, has helped teams to cooperate better. Whether for real-time tracking and tracing, staff management or driving econom­ically and safely, more than 50,000 customers around the world make smarter decisions every day with Webfleet. No matter where your drivers are, our fleet management service and products ensure that your team remains connected, supporting your drivers and helping you to increase the general efficiency of your fleet.
Webfleet is ISO/IEC 27001 certified which means it fulfils the required high standards of confid­en­ti­ality, integrity and avail­ab­ility.
Request callback⁠
Hull service area for Fleet Management and Vehicle Tracking
Some of the disctricts around Hull where Webfleet is active
Hessle

Anlaby

Willerby

Cottingham

Wincolmlee

Anlaby Park
Dunswell

Wawne

Swine

Ganstead

Kingswood

Bransholme
Bilton

Salt End

Botanic

Southcoates
Request a callback to find out how Webfleet can help your business.