Norwich: Fleet Management by Webfleet
Your business is unique. Just like your fleet of vehicles. Therefore, you need a flexible fleet management platform: a solution in terms of fleet optim­isation, vehicle tracking, workforce management, green & safe driving, business integration and connected car services that suit your activities, vehicles, size, budget and location.
Fleet management solution for your fleet in Norwich
Are you looking for a fleet management solution for the Norwich region that provides you with real-time information about the location of your vehicles? Do you also want to communicate directly with your drivers, dispatch jobs, track a mileage logbook, improve driving behaviour and save on fuel? Our vehicle tracking and Active Driver Feedback help you with this challenge in a busy city like Norwich.
Norwich – cathedral city in the heart of Norfolk
The Norfolk city of Norwich lies around 100 miles (160 km) north of London. It is home to the magnificent medieval Norwich cathedral as well as the University of East Anglia. With its roots dating back to Roman times, today it is a thriving, small city with a population of approx­im­ately 130,000 (Wikipedia). The city has a famous football club, Norwich City, and there are many golf clubs in the surrounding districts. Intu Chapelfield in a large indoor shopping mall popular with shoppers. Norwich Lanes is a mostly pedes­tri­anized area with smaller, independent shops and bars.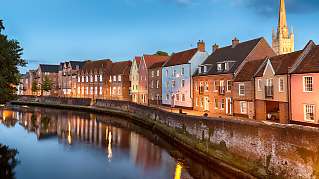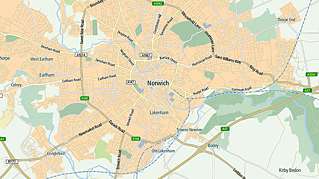 The challenges your drivers & vehicles face in Norwich
Norwich is served by several trunk roads forming a "spokes" pattern around the city. The A11, A47, A146 and A1042 are partic­u­larly important routes linking Norwich to surrounding conurba­tions such as Great Yarmouth, Kings Lynn and Peter­borough. Closer to home, Norwich comprises many suburban districts including Thorpe End, Kirby Bedon, Cringleford, and Heigham Grove. The A11 gives locals access to the M11 and so to London or the M25. Alternative transport is available from Norwich railway station and from Norwich Airport.
Why is a fleet management solution partic­u­larly useful in a congested town like Norwich? Due to heavy traffic during the day and specifically in peak hours, each vehicle spends more time on the road which means an average commercial vehicle driver wastes many hours sat in traffic. This can translate into significant losses for businesses in the Norwich area – and that's precisely where a fleet management solution can help.
Webfleet
Webfleet
For more than 20 years, our award winning fleet management platform Webfleet, an SaaS (Software as a Service) solution, has helped teams to cooperate better. Whether for real-time tracking and tracing, staff management or driving econom­ically and safely, more than 60,000 customers around the world make smarter decisions every day with Webfleet. No matter where your drivers are, our fleet management service and products ensure that your team remains connected, supporting your drivers and helping you to increase the general efficiency of your fleet.
Webfleet is ISO/IEC 27001 certified which means it fulfils the required high standards of confid­en­ti­ality, integrity and avail­ab­ility.
Request callback⁠
Norwich service area for Fleet Management and Vehicle Tracking
Some of the disctricts around Norwich where Webfleet is active
Costessey

Drayton

Thorpe End

Kirby Bedon

Trowse

Arminghall
Caistor St Edmund

Keswick

Cringleford

Intwood

Upper Hellesdon

New Catton
Heigham Grove

Mount Pleasant

Paper Mill YD

Old Lakenham
Request a callback to find out how Webfleet can help your business.