Birmingham: Fleet Management by Webfleet
Your business is unique. Just like your fleet of vehicles. Therefore, you need a flexible fleet management platform: a solution in terms of fleet optim­isation, vehicle tracking, workforce management, green & safe driving, business integration and connected car services that suit your activities, vehicles, size, budget and location.
Fleet management solution for your fleet in Birmingham
Are you looking for a fleet management solution for the Birmingham region that provides you with real-time information about the location of your vehicles? Do you also want to communicate directly with your drivers, dispatch jobs, track a mileage logbook, improve driving behaviour and save on fuel? Our vehicle tracking and Active Driver Feedback help you with this challenge in a busy city like Birmingham.
Birmingham – a busy hub for transport, business and culture
Birmingham is often referred to as the UK's "second city" after London. Rich in industrial heritage, the modern city boasts more miles of canals than Venice and more Michelin standard restaurants than any other city outside the capital. It is an important centre for commerce, culture and education with no fewer than five universities. In addition, important conference venues like The NEC (National Exhibition Centre) and the Inter­na­tional Convention Centre (ICC) host over 320 exhibitions every year attracting visitors from all over the world.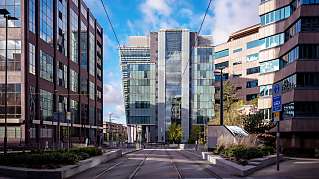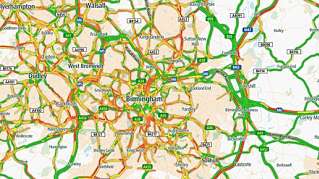 The challenges your drivers & vehicles face in Birmingham
Birmingham is a vital UK transport hub and a focal point for rail, motorway and even canal networks. Served by four main motorways – the M5, M6, M40 and M42 – the city is famous for the Gravelly Hill motorway interchange known as "Spaghetti Junction" where the M6 joins the A38 Aston Expressway in a seemingly baffling tangle of flyovers and slip roads. The M6 also passes through the city on the Bromford Viaduct which, at 3.5 miles (5.6km), is the longest bridge in the UK. Comprising many outlying districts including West Bromwich, Smethwick, Aston and Sparkhill, Birmingham's footprint stretches all the way out to its inter­na­tional airport 6 miles (9.7km) east of the city.
Birmingham's live traffic flow⁠
Why is a fleet management solution partic­u­larly useful in a congested city like Birmingham? With so many districts and the navigation challenges posed by a complex network of roads, getting around isn't always easy. Due to heavy traffic during the day and specifically in peak hours, each vehicle spends about 26%¹ more on the road (a total of 11,169 miles¹ in and around the city). That means an average commercial vehicle driver wastes more than 112 hours¹ per year while sat in traffic. Translate that into an approximate loss of £144,184,320² for businesses in the Birmingham area, and you have your answer.
Webfleet
Webfleet
For more than 20 years, our award winning fleet management platform Webfleet, an SaaS (Software as a Service) solution, has helped teams to cooperate better. Whether for real-time tracking and tracing, staff management or driving econom­ically and safely, more than 60,000 customers around the world make smarter decisions every day with Webfleet. No matter where your drivers are, our fleet management service and products ensure that your team remains connected, supporting your drivers and helping you to increase the general efficiency of your fleet.
Webfleet is ISO/IEC 27001 certified which means it fulfils the required high standards of confid­en­ti­ality, integrity and avail­ab­ility.
Request callback⁠
Birmingham service area for Fleet Management and Vehicle Tracking
Some of the disctricts around Birmingham where Webfleet is active
West Bromwich

Oldbury

Smethwick

Quinton

Hollywood

Shirley
Marston Green

Minworth

Perry Common

Old Scott

Witton

Aston
Saltley

Small Heath

Sparkhill

Stechford
Request a callback to find out how Webfleet can help your business.