Swansea: Fleet Management by Webfleet
Your business is unique. Just like your fleet of vehicles. Therefore, you need a flexible fleet management platform: a solution in terms of fleet optim­isation, vehicle tracking, workforce management, green & safe driving, business integration and connected car services that suit your activities, vehicles, size, budget and location.
Fleet management solution for your fleet in Swansea
Are you looking for a fleet management solution for the Swansea region that provides you with real-time information about the location of your vehicles? Do you also want to communicate directly with your drivers, dispatch jobs, track a mileage logbook, improve driving behaviour and save on fuel? Our vehicle tracking and Active Driver Feedback help you with this challenge in a busy city like Swansea.
Swansea – Wales' second most populous city
Swansea is located on the south west coast of Wales on the River Tawe. With a population of around 240,000 it is Wales's second most populous city after Cardiff. It is home to the DVLA headquarters in Morriston, employing around 6000 people in the city. Other major employers include Admiral Group, |HSBC and Virgin Media. Cultural highlights include the National Waterfront Museum and the Dylan Thomas Centre. The city also has a proud sporting heritage with teams including the Ospreys, Swansea RFC and Swansea City AFC.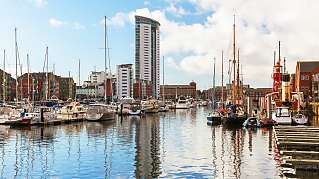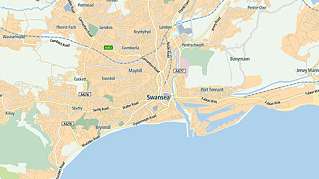 The challenges your drivers & vehicles face in Swansea
Like any busy city, Swansea has its own transport challenges. The A48 and A483 are partic­u­larly important routes around the city, linking it with the M4 motorway which takes drivers down to Cardiff and up to Llanelli. Smaller roads connect Swansea's many suburbs and outer districts including Skewen, Neath, Bon-y-maen and Cwmgwyn. With regards to transport, Swansea is also served by Swansea Railway Station and bus station. Its airport is only for recre­ational use, however (Wikipedia).
Why is a fleet management solution partic­u­larly useful in a congested city like Swansea? Due to heavy traffic during the day and specifically in peak hours, each vehicle spends about 29%¹ more on the road (a total of 1,153 miles¹ in and around the city). That means an average commercial vehicle driver wastes more than 113 hours¹ per year while sat in traffic. Translate that into an approximate loss of £15,621,120² for businesses in the Swansea area, and you have your answer.
Webfleet
Webfleet
For more than 20 years, our award winning fleet management platform Webfleet, an SaaS (Software as a Service) solution, has helped teams to cooperate better. Whether for real-time tracking and tracing, staff management or driving econom­ically and safely, more than 50,000 customers around the world make smarter decisions every day with Webfleet. No matter where your drivers are, our fleet management service and products ensure that your team remains connected, supporting your drivers and helping you to increase the general efficiency of your fleet.
Webfleet is ISO/IEC 27001 certified which means it fulfils the required high standards of confid­en­ti­ality, integrity and avail­ab­ility.
Request callback⁠
Swansea service area for Fleet Management and Vehicle Tracking
Some of the disctricts around Swansea where Webfleet is active
Sketty

Fforestfach

Morriston

Llansamlet

Skewen

Neath
Briton Ferry

Bon-y-maen

Winch Wen

Jersey Marine

Carnglas

Cwmgwyn
Cwmdu

Landore

Foxhole

Pentre-Chwyth
Request a callback to find out how Webfleet can help your business.