Truck tracking solutions
Run your fleet with better control and efficiency
Get full visibility on the position and status of your fleet's trucks. Truck tracking uses GPS technology and fleet tracking devices to monitor vehicle locations, along with driver behaviour. With total visibility on your fleet, you can manage your team's workflow effectively while making smart business decisions. Find out everything you need to know about truck tracking.
Always know where your trucks are
In real-time
Stay on top of maintenance
With timely reminders
Improve performance and safety
With driving insights
Keep your customers happy
With more accurate ETAs
Increase workflow efficiency
With optimised route and schedule planning
Cut running expenses
By monitoring real-time and historical fuel usage
Key features of truck tracking by Webfleet
Accurate live lorry tracking
Take your fleet's efficiency to another level with precise tracking of truck driving times, mileage and locations. Truck tracking also makes it easier to keep on top of your fleet's fuel consumption. Just pinpoint where there's excessive usage, then take the appropriate fuel-saving measures.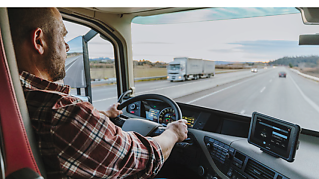 Access to real-time traffic information
Help your drivers avoid roadblocks, congestion and delays. Real-time traffic information makes a world of difference in ensuring your trucks are driving in the safest conditions. With real-time data on local traffic, it's also possible to boost your customer satis­faction with reliable ETAs.
Customised route planning
Advanced route planning helps keep your drivers on the most suitable roads based on the truck's height, weight, length and load. Optimise your route planning for maximum speeds too. Plus, the PRO 8475 Driver Terminal guides drivers to rest areas and other points of interest.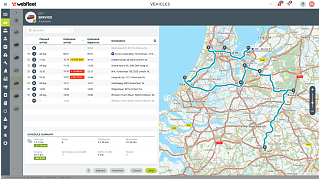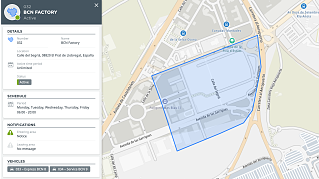 Geofencing
Define geological boundaries to prevent theft and unauthorised usage. With truck tracking, you know the exact locations of your vehicles, allowing you to spot and quickly react to looting, vandalism or misuse. Get alerts if vehicles go beyond predefined areas.
Explore geofencing in more detail⁠
Reporting
Get access to detailed reports on truck and driver performance. Track fuel usage over time, for example. You can also monitor trip status to keep an eye on schedule efficiency. See which drivers are ideally positioned to deliver on orders.
Learn more about vehicle tracking reports⁠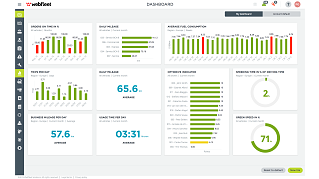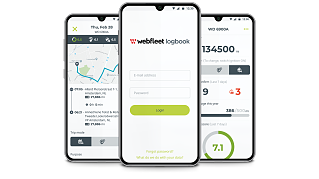 Logbook function­ality
Eliminate time-con­suming paperwork with digital logbook functions. Log drivers' hours, mileage and other trip details digitally, making it easy to pull reports when you need them. Combined with Webfleet Tachograph Manager, digital logging simplifies compliance.
Driving behaviour insights
Many truck GPS tracking systems can record driver behaviour such as speeding, idling, harsh steering and sudden braking. With such insights, fleet managers can support drivers to in adopting safer, more fuel-ef­fi­cient behaviours behind the wheel.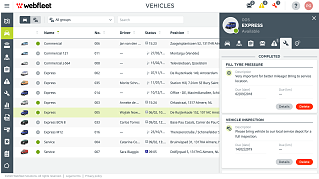 Maintenance notific­a­tions
Plan prevent­ative truck maintenance and service tasks based on real-time mileage. Mitigate vehicle downtime as quickly as possible with automatic alerts about lorry malfunc­tions. By staying on top of truck maintenance, you can increase productivity.
Crash detection
In the case of an accident, you'll want to understand what happened as soon as you can. With truck tracking, you're immediately notified when an accident is detected. Crash detection gives you the ability to take fast action should a road incident occur.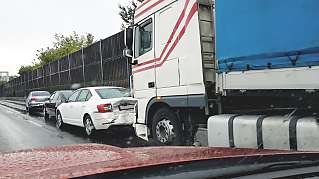 ---
All you need to know about truck tracking
How does truck tracking work?

0

Jump to content

A truck tracking GPS device is installed in a truck to allow real-time tracking of the vehicle's movements. The truck tracking system collects important data such as location, distance travelled, speed, fuel usage, idle time and any harsh braking or turns.
What are the benefits of a truck tracking system?

0

Jump to content

Accurate, real-time truck tracking means you'll know your vehicles' exact locations 24/7, which can help you react quickly to theft or misuse. With an eye on vehicle location, you can also optimise your route planning and schedules, so drivers spend less time on the road and more time completing customer jobs.
How much does truck tracking cost?

0

Jump to content

The cost of truck tracking depends on the number of trucks in your fleet, as each truck will need its own tracker installed. The type of plan you choose from your provider will also affect the cost. With that said, a truck tracking solution can deliver greater efficiency and cost savings through more productivity and less fuel costs.
Who uses lorry tracking?

0

Jump to content

Truck tracking is used by a range of businesses with lorry fleets. Delivery services and freight operators benefit from dynamic route planning, along with visibility on driver safety and vehicle security. Contract-based businesses like plumbing and construction also rely on truck tracking. If you run a fleet of trucks, lorry tracking is for you.
Choose the best truck tracking solution for your business
Set to save 10% on logistics thanks to Webfleet.
Guy Ripley, Marshalls
Fleet productivity increased by 15%.
Peter Harris, Wright Mix
20% rise in appointments.
Peter McGaddey, Matthew Algie
Return on investment in 6 to 9 months on average
Schedule a demo and find out how Webfleet can help your business or speak to a specialist who will answer any questions you have.