Electric vehicle fleet management
Where are you in the electri­fic­ation journey? Webfleet helps every step of the way.
The electri­fic­ation of even a small fleet is quite a journey. Where are you in the process? We help you plan the transition, add EVs to your fleet and then make the right choices to maximise ROI.
Spot the best vehicles to switch over to electric, based on milage, efficiency and TCO
Monitor and manage your ICE and EV fleets on one convenient dashboard
Track range, energy consumption, mechanical status and more with just a click
Measure exactly how driver behaviour and other factors influence your fleet's economy and expenses
Lower costs, increase productivity and make a better ROI by optimising charging choices
Let our EV experts help you implement the best solutions for your own electric fleet
Key features for customers willing to add EVs to their fleet
Monitor fuel usage and carbon emission
Monitor real-time fuel consumption and emissions respons­ib­ility with our fuel efficiency dashboard and use those insights to spot the best places to begin decar­bon­ising your fleet. Whether your fleet consists of passenger cars, LCVs or anything else, our LINK on-board devices can connect everything to Webfleet and make all your data easily available.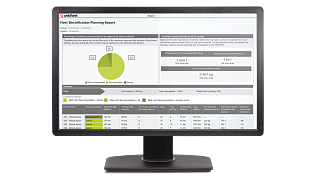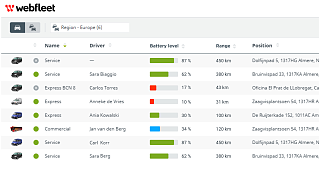 Get your fleet electri­fic­ation report now
Not sure where to start replacing your ICE fleet with clean, efficient EVs? We can create a fleet electri­fic­ation planning report which evaluates your current fleet and make recom­mend­a­tions on which could be replaced most profitably.
Talk to our EV experts
Whether you would like to know more about calculating your current fleet's TCO, comparing that to the advantages and disad­vantages of an EV or hybrid fleet, or want to know exactly where to start the transition, our experts are keen to help.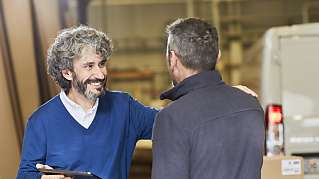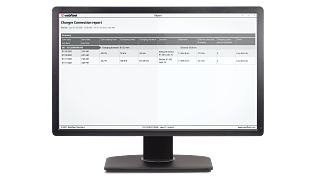 EV charging report
This historical report helps you track when, where and for how long your electric vehicles were plugged in for charging. This allows you to gain insight into why your EVs are at their current level of charge.
Optimise your workforce planning
Plan your jobs with charging stations displayed directly on the Webfleet map, while ensuring that dispatched vehicles have enough battery charge to complete the job.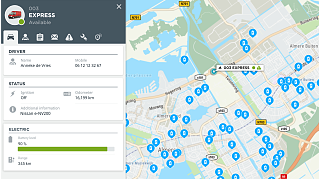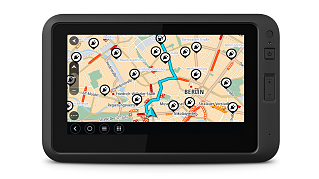 Find the closest EV charging locations on the road
Your drivers can rely on TomTom's EV map coverage on their PRO Driver Terminal with charging points in over 50 countries throughout Europe, the Americas, the Middle East and Asia.
Notific­a­tions keep you on top of your operation
Get notified in real-time when the battery of a vehicle on the road reaches a critical level and needs to be charged.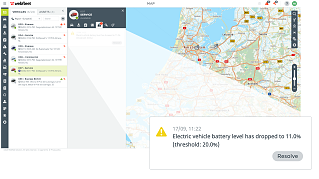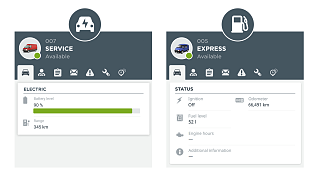 Fleet management made easy
Our Webfleet solution allows you to view, monitor, and manage your ICE, hybrid and electric fleet all on the same platform, while offering support to drivers when necessary. Webfleet can also be integrated with a wide range of 3rd party applic­a­tions, so you can build the ideal solution for your fleet.
Monitor your electric vehicles from anywhere
Right there in the palm of your hand, you can manage your whole fleet from anywhere using our Webfleet Mobile app. Most of the information is available in one touch and commands are carried out using the same intuitive tap or swipe action you use for other mobile apps.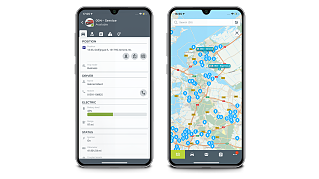 Get a demo
See what Webfleet can do for your electric vehicles.