Electric vehicle management
Get the most value from your EVs with WEBFLEET
WEBFLEET ev fleet management software gives you the tools you need to manage your electric vehicles effectively.
Stay connected to your electric fleet, whether they are parked or on the go
Monitor your whole fleet in one view along with your internal combustion engine (ICE) vehicles
Stay confident about range by ensuring your drivers have enough charge to complete their jobs
Plan your jobs by dispatching based on vehicle charge information
See real-time charging information and always know your EVs' charge levels
Adapt to the unexpected with EV charging points displayed on your PRO Driver Terminal map
Key features electric vehicle fleet management
Real-time battery level
Reduce your range anxiety regarding your electric and plug-in hybrid vehicles by always knowing their battery level and remaining driving range.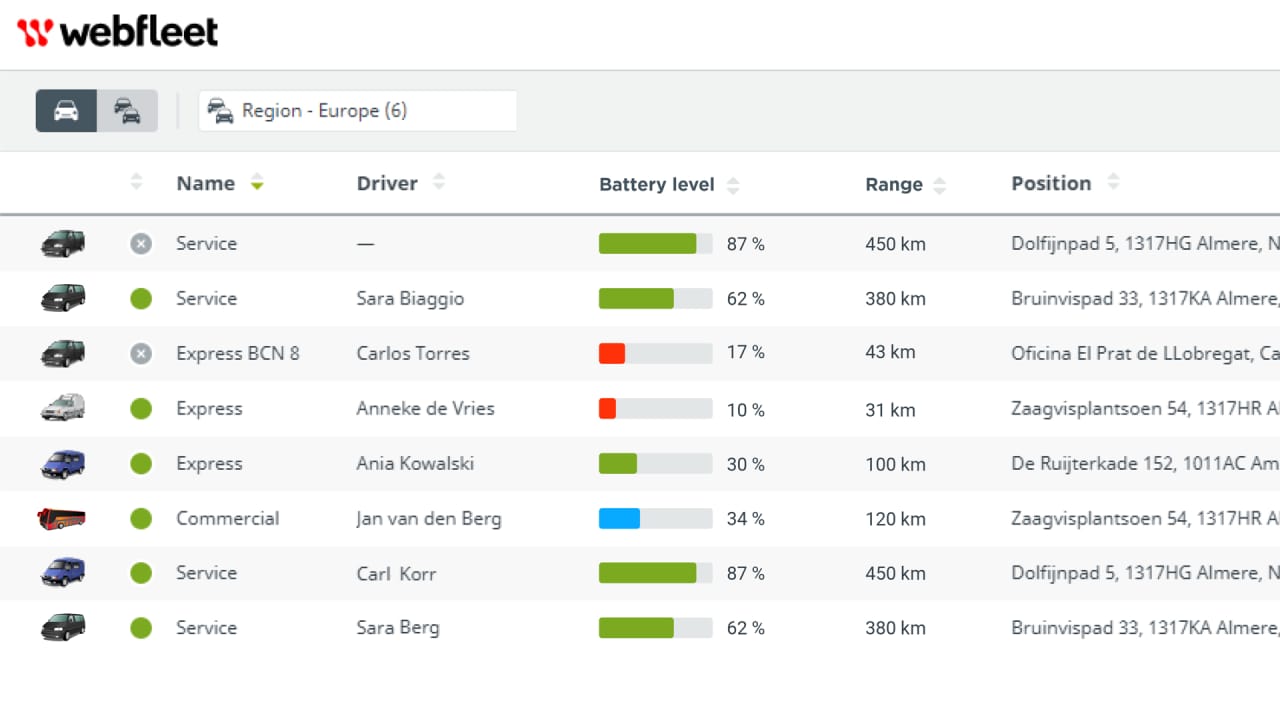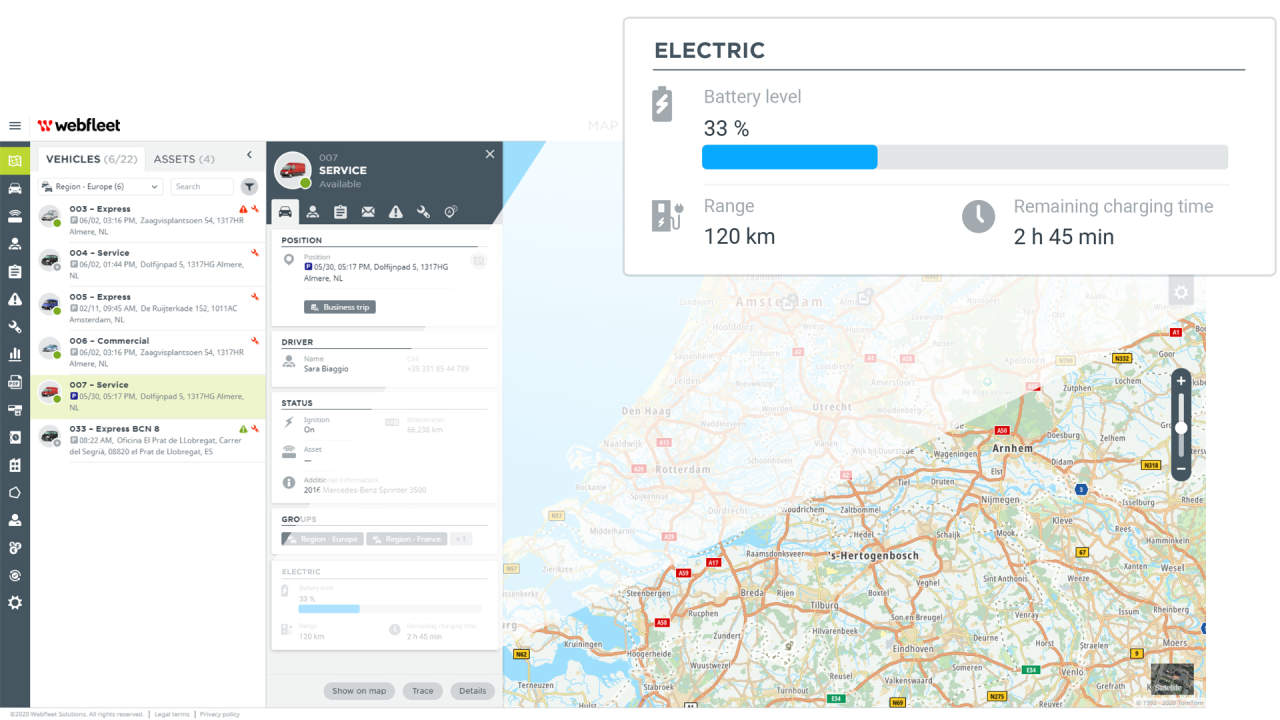 Accurate EV charging information
Stay connected with what's happening in the field with complete visibility of your EV fleet charging status and remaining charging time.
Find the closest EV charging locations
Your drivers can rely on TomTom's EV map coverage on their PRO Driver Terminal with charging points in over 50 countries throughout Europe, the Americas, the Middle East and Asia.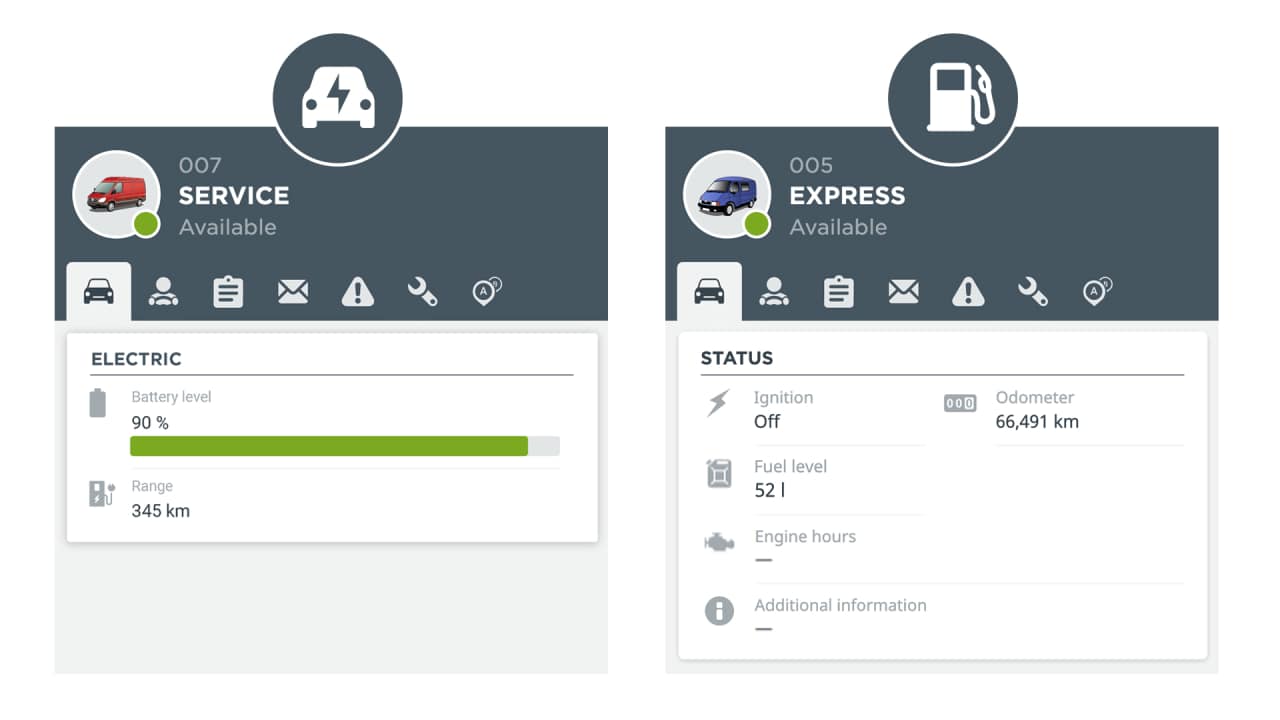 Fleet management made easy
Our WEBFLEET solution allows you to view, monitor, and manage your ICE, hybrid and electric fleet all on the same platform, while offering support to drivers when necessary. WEBFLEET can also be integrated with a wide range of 3rd party applic­a­tions, so you can build the ideal solution for your fleet.
Prepare to plug in
Learn more about what electric vehicles (EVs) can mean for commercial fleets and how telematics can unlock their full value.
Get your

free

copy
Get a demo
See what WEBFLEET can do for your electric vehicles.