Mileage regis­tration with Webfleet Logbook
Take the hassle out of mileage regis­tration
Webfleet comes with automated mileage log function­ality. It delivers and stores reliable trip data so you can prove your fleet's mileage. Drivers can validate their journeys directly from their smartphone or PRO Driver Terminal. Make your mileage regis­tration a breeze with the easy to use Webfleet mileage log. Instantly have a complete overview in the office or on the road. Find out how easily digital mileage regis­tration can be.
Save admin time with easy mileage regis­tration
Drivers can validate their trips at any time directly from their smartphone or PRO Driver Terminal, so mileage reporting is always quick and simple.
Control costs and follow fiscal directives
Reporting on business and private mileage helps you monitor claimed mileage more efficiently and reimburse drivers accordingly.
Know that all miles are accounted for
Webfleet's Logbook records accurate data on mileage and distance traveled. It can also record additional information, like journey purpose, address and contact details.
Stay mobile with Webfleet Logbook
Webfleet Logbook for your smartphone makes it simple to keep your mileage regis­tration updated. The app helps to reimburse your drivers and business and helps you calculate your tax declaration.
The app works in conjunction with* an in-vehicle LINK vehicle tracking device**, to display accurate data such as mileage and distance traveled on your drivers' smartphones.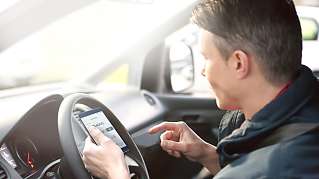 How Webfleet mileage regis­tration can help your drivers
The app allows drivers to add important information to their recorded trip, including:
Type of trip: business, commute or private

Purpose of the journey

Contact person

Notes

Adjustable odometer settings
---
---
All you need to know about mileage tracking
What does mileage tracking do?

0

Jump to content

Mileage tracking is a general term for logging miles travelled for business. This can be done for a number of different reasons, including complying with regulations, tax or reimbursement of employees. This is useful and, in some cases, mandatory for numerous business types.

Essentially, all the miles that an employee drives for business purposes are tracked and recorded. This can be done via a number of different systems, from manual paper-based processes to excel spread­sheets to digital mileage logbook solutions that automate the entire process. Let's consider this last one in more detail.
Automatic mileage tracking

0

Jump to content

Whether you're a driver or a fleet manager, keeping tracking of mileage is unlikely to be your core respons­ib­ility. Therefore, you probably don't want to spend a huge amount of time either filling out paperwork or updating spread­sheets in order to stay on top of it.

This is why more and more companies are now turning to automatic mileage tracking solutions. These solutions will accurately take care of the mileage admin­is­tration for your company vehicles, taking manual work off your plate and freeing you to concentrate on core business.

One of the best types of solution available are mobile tracking apps.
How does a mileage tracking app work?

0

Jump to content

Let's say you have a fleet of pool cars. A top-of-the-line mileage tracking app will create a profile for each of the drivers in your fleet. The driver can then manage their trip admin­is­tration via the mobile app, easily logging key information such as purpose of journey, vehicle used, odometer setting and more. Some apps will even provide feedback on driving performance.

The odometer data is then updated in real-time straight from the vehicle's odometer. All the data from the trip can then be stored, where it can be easily accessed by the fleet manager for mileage claims and tax detail verific­a­tions.
Why use a mileage tracking app for business?

0

Jump to content

Simply, a high quality mileage tracking app makes life easier for drivers and fleet managers. Admin­is­tration is simplified with more of your manual tasks automated. That means both driver and manager can give their full attention to other crucial tasks, increasing efficiency and decreasing stress levels.

There's also the peace of mind of knowing that essential tasks are being handled by a reliable, consistent system. If and when tax authorities wish to audit your records to ensure your employee benefits are being accurately taxed, the reliable accuracy of your mileage tracking app's records will come in very handy. Another crucial task taken care of!

As mentioned above, some mileage tracking apps will also provide feedback on how the driver is performing. For example, Webfleet Logbook offers driver feedback via the OptiDrive 360 system, which tracks key driving behaviours like speeding, driving events, idling, fuel consumption, constant speed, coasting and more. This data helps the driver work both more safely, more cost effectively and more sustainably on the road.

It is important, however, to take note of how any mileage tracking app you may utilise will manage the driver's privacy. For example, a high quality mileage tracking app will give the driver the option to hide vehicle tracing if they are using their company vehicle for a private trip. Also, you want to be sure that your app provider is storing all your trip and driver data in the securest possible manner.
What is the right mobile tracking app for you?

0

Jump to content

Depending on the company, the set of function­al­ities and features required from a mobile tracking app will differ. It might be the case you need only the very basic trip data, it might be the case you need something deeper and more impactful.

Whatever your require­ments, it's worth keeping in mind the core reason for using a mileage tracking app is to make life easier. So, it's key that any app you adopt for this purpose is built with user friend­liness in mind. Find an app with a user-centric layout that both you and your drivers are comfortably using and will not take too much time out of their day.

Webfleet developed the Webfleet Logbook app to help businesses like yours manage their mileage data effectively. If you're looking to take the hassle our of trip admin­is­tration, we'd love to help you do it. Get in touch with one of our mileage experts today and find out what we can do for you.
Take the hassle out of trip admin­is­tration with Webfleet Logbook
---
Schedule a demo and see how Webfleet can help your business.