Mileage regis­tration with WEBFLEET Logbook
Take the hassle out of mileage regis­tration
WEBFLEET's automated logbook function­ality holds reliable trip data, so you can prove your fleet's mileage. Your drivers can validate their journeys straight from their smartphone or Driver Terminal.
Save admin time with easy mileage regis­tration
Mileage regis­tration is quick and easy now that drivers are empowered to validate their own journeys.
Control costs and follow fiscal directives
Monitor claimed mileage more accurately and reimburse drivers accordingly with business and private mileage regis­tration.
Know that all miles are accounted for
As well as recording accurate mileage, the WEBFLEET Logbook can record other information, such as a journey's purpose, destination address and contact details.
Stay mobile with WEBFLEET Logbook
The WEBFLEET Logbook smartphone app helps you reimburse your drivers and business, and calculate your tax declaration. It's the simple way to keep your mileage regis­tration up to date.
Working in conjunction with* an in-vehicle LINK vehicle tracking device**, the app shows mileage and distance travelled on the driver's smartphone.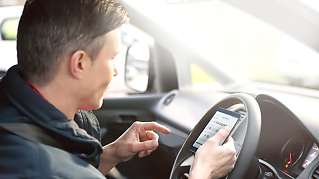 How WEBFLEET mileage regis­tration can help your drivers
With the WEBFLEET Logbook app, drivers can record additional trip information, including:
Type of trip: business, commute or private

Purpose of the journey

Contact person

Notes

Adjustable odometer settings
Take the hassle out of trip admin­is­tration with WEBFLEET Logbook
---
Schedule a demo and see how WEBFLEET can help your business.