Webfleet fleet management software
Everything you need to manage your vehicles and workforce on the road.
Webfleet is our market leading, innovative Software as a Service (SaaS) fleet management software solution. It gives you secure access to all the information you need to manage your fleet operation in the most effective way.
With Webfleet you are always connected with your team on the road. You get to know where your vehicles are, and how they are being used, from any mobile device of your choice.
It makes your fleet performance data visible, so you know current status, and also when and where to take action when it is needed. Take real-time traffic information into account when assigning the most appropriate driver to the next job, or ensure they take a predefined route, that you send directly to their Driver Terminal. Read everything you need to know about fleet management software here⁠
Scalable solution
Webfleet is one of the world's leading Software-as-a-Service (SaaS) fleet management solutions. No matter how big or small your business is, Webfleet can improve vehicle performance, save on fuel, support driver performance and, with enhanced visibility of your data, increase overall fleet efficiency.
Increase visibility by seeing data from multiple sources all in one interface with Webfleet Plugins. You can add tried and tested applic­a­tions, like temperature or tyre pressure sensors, from your existing applic­a­tions, or from our range of integration partners. Find out more in our App Center.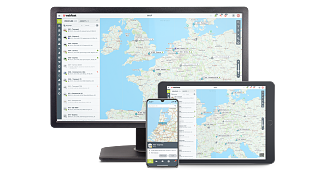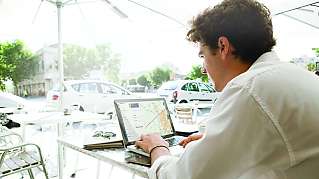 Software as a Service
Access Webfleet using any operating system and any web browser, with no install­ation required.
Built using the latest HTML5 web technology.

Benefit from regular and automatic updates of the latest innovations and features.

Manage your fleet from a desktop computer, a laptop, a tablet or even from your phone.
Complete Solution
Best Maps – Real-time view of vehicle locations and live traffic information, available for different map types including satellite map and Google Street View.

Route planning and send routes directly to drivers – Accurate route planning by location/time of departure/arrival and vehicle type.

Person­alised maps – help you define geographical areas or vehicle groups to quickly and easily switch views and focus, when you need it.

Dashboard – Easy overview of KPI's to keep up to date with performance in real time.

Reporting – Instant access to historical information to spot trends over time.

Enrich data through integration – Connect your business applic­a­tions with Webfleet or view 3rd party data in Webfleet.

Manage your fleet on the go – and on any device of your choice.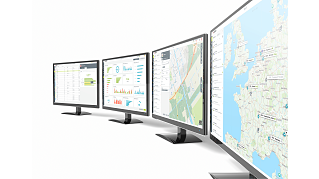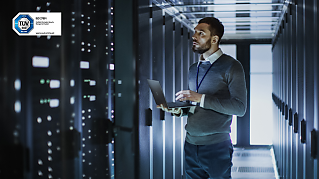 Highest level of security
Webfleet fleet management software is ISO 27001 certified which means it fulfills the highest industry standard for data security, quality and avail­ab­ility.
SSL secure login.

99.95% uptime, that you would expect from market leading fleet management software.
Our set of open APIs and SDKs gives you endless oppor­tun­ities to integrate Webfleet data to enrich your existing systems. Everything you need for a fully-con­nected fleet and workforce management solution for optimised efficiencies.
APIs & SDKs for office and mobile solutions:
WEBFLEET.connect

LINK.connect

PRO.connect
Find out more⁠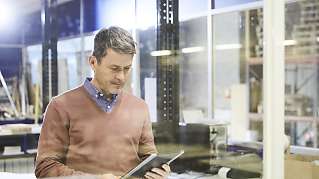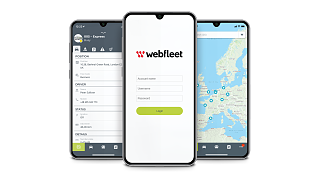 Mobile
You don't need to be at your desk to manage your fleet. With Webfleet Mobile, it's all right there in the palm of your hand.
Features:
Real-time vehicle and asset tracking

Two-way commu­ni­cation

Trip management

Dispatch new orders and jobs

Notifi­ca­tions and alerts of your vehicles
More about Webfleet Mobile⁠
---
Frequently Asked Questions
What is fleet management software?

0

Jump to content

If you run a commercial fleet, your vehicles are a near-endless source of an incredibly powerful business asset: data. Fuel, location, trips taken, mileage — reams of data points measuring these and other key factors are being generated constantly by your fleet. To leverage this data in a way that will truly boost your business, however, you need help. This is where fleet management software comes in.
What does fleet management software do?

0

Jump to content

The most sophis­ti­cated fleet management software gives you access to all your key vehicle data in a way that lets you easily analyze and understand it from a simple interface. It also offers all the features and tools you need to utilize it more effectively, from planning a more efficient daily schedule to commu­ni­cating better with your drivers.
How does fleet management software work?

0

Jump to content

Fleet management software utilizes cutting edge technology to support you at every step of your daily activity. Here is a breakdown of how.

Tracking vehicle locations

A device fitted to the vehicle sends coordinates back to your office's system. You can clearly see on a map where each vehicle is.

Team commu­ni­cation

Your driver has a device in their vehicle through which they can receive updates from your office without disrupting their driving, from changes to the schedule to new orders and more.

Driving behavior improvement

Fleet management software tracks instances of things like speeding, accel­er­ation, and braking speed. With this information, you can see where your drivers could be driving more safely or more econom­i­cally, cutting down on wasteful or dangerous habits.

Better ETAs

Fleet management software can utilize accurate route planning and traffic info to ensure that you always give your customer a reliable ETA.

Working times

Some fleet management software is capable of automat­i­cally recording your driver's working times should you need this for compliance or payroll purposes.

Reduce admin­is­tration

One of the most important benefits for fleet management software for the fleet manager is that it reduces the number of admin­is­trative tasks they need to do manually, freeing them up to concentrate on core business.
Why use fleet management software?

0

Jump to content

Once a fleet management software solution is up and running in your business, the benefits are many.

Efficiency

All of this data can be used to plan a more effective and efficient operation, while also giving you the flexibility to adapt when disruptions occur.

Produc­tivity

With real-time info on traffic, you can keep your drivers out of trouble spots that put needless delays in your operation.

Safety

With an overview of how your drivers are behaving behind the wheel, you can train and coach them to reduce the habits that can put themselves and other road users at risk.

Cost

By promoting more fuel-ef­fi­cient driving, you cut down fuel consumption, helping to reduce those all-im­portant running costs.

Commu­ni­cation

Getting a message to your driver is made easier, ensuring clear lines of commu­ni­cation regardless of how busy it gets.

Simplicity

Fleet management software makes things easy for your drivers, with timely updates on things like traffic. This makes their jobs less stressful, helping to improve retention.
How much does fleet management software cost?

0

Jump to content

The cost of fleet management software will vary depending on a number of key factors. These include the number of vehicles in your fleet and the features you need to utilize. At Webfleet, we offer a range of different options for fleets of all sizes in all industries. The important thing for us is that you have the right set of function­al­ities to handle your fleet type.

We recommend taking the time to discuss your fleet needs with one of our fleet management software experts before choosing the right package for you. They can talk you through all the potential options available to your budget and how they can best benefit your business. In fact, our customers get return on investment in six to nine months on average after adopting the Webfleet solution.
What is the best fleet management software?

0

Jump to content

There are many different options to choose from when you want to purchase fleet management software. Every provider will have their list of benefits, specialties, and claims, and so identifying the best may be open to subjec­tivity.

However, Webfleet, our award-winning platform, is Europe's most popular fleet management solution. Every day, 50,000 fleets worldwide trust it to monitor their vehicles, reduce their costs, and keep their drivers safe. Want to find out why so many fleet managers choose Webfleet? Then book some time with one of our experts and find out.
Discover our fleet management products
60,000 customers rely on Webfleet every day
Priority Patient Transport increases dispatch efficiency by 300%.
Steve Higgins, Priority Patient Transport
Once the technology was installed, efficiencies tightened and productivity jumped 20%.
Maik Gutzeit, Elmer Schultz
Cut fuel costs by 10% and saved on labor costs
Jim Coniglione, Scoopy Doo
Get a demo
See how Webfleet can help your business.