Profes­sional navigation & traffic avoidance
The best miles are the ones not driven
Being stuck in traffic affects worker produc­tivity and has a high impact on your service and planning. This is why we believe that efficient fleet management starts with profes­sional navigation which can deal with traffic. Or better said: that can avoid traffic. TomTom has years of experience and provides a complex network of live traffic data and advanced algorithms all working to achieve exactly that goal.
Extremely accurate traffic info*
Drivers can rely on TomTom Traffic* that is so accurate that they can be alerted to tail jams which prevent braking suddenly. More likely they will avoid traffic completely thanks to TomTom's trillions of data points collected from hundreds of millions of connected devices which are used with live traffic views to accurately predict and help avoid traffic.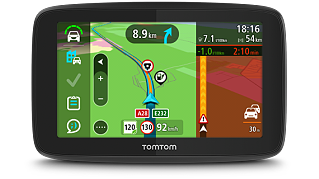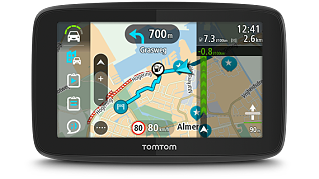 No delay from closed roads
Avoid congestion and never get stuck in traffic with our Driver Terminals. Even closed roads are no longer an issue as our devices recognize the closure and plan around it, even when vehicles are forced into certain roads.
Fastest routes
TomTom's navigation technology is equipped with a database of real driving times to calculate the fastest route, whenever and wherever you go. Besides the actual traffic, it factors in the traffic lights, roundabouts and other road obstacles.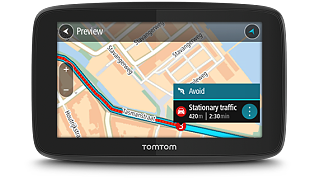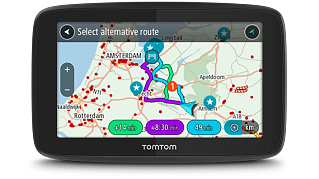 Less time on the road
Using TomTom, your workforce can spend less time on the road, and more time with customers and provide realistic ETAs. Your drivers will be able to impress customers with their reliability while wasting less time and fuel on each journey. And their increased produc­tivity will have a direct impact on your revenue.
Person­alized large vehicle navigation
Rest assured that our ruggedized truck sat nav knows your large vehicle will fit the road ahead. Our customized routing technology takes into account your vehicle type, size, weight, cargo and speed – so you never have to worry when going under a low bridge.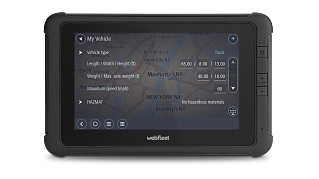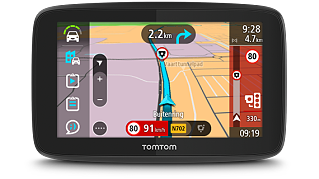 Speed cameras*
Speed cameras are a valuable aid in safer driving and traffic regulation. The locations of fixed and mobile speed cameras are shown on your in-car device, to help your drivers regularly check their speed and maintain a safe driving style.
Driver Terminals
With the right subscription, all our PRO series Driver Terminals support real-time traffic information. And besides this, they can be part of your fleet management solution, enabling active driver feedback to help save on fuel, send orders straight to the vehicle, working time regis­tration and much more.
Explore PRO devices⁠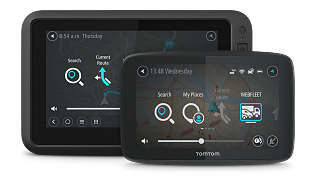 Get a demo
See how Webfleet can help your business.
Your device comes with regular software and fixed safety camera updates and seasonal (four times per year) updates for maps. To download these updates you need an active Internet connection via Wi-Fi® or a computer with access to the Internet. Your device also comes with regular traffic and safety camera services. To receive these services as part of your Webfleet contract, your device must be connected to a LINK with an active Webfleet LIVE subscription. To receive these services without a Webfleet subscription, your device needs to be smartphone connected or equipped with a SIM including data. The safety camera services may be prohibited in some countries and should only be used in compliance with local legislation. Safety cameras are not available in Germany, Switzerland, and France. In France, you can only access Danger Zones. All of these services and updates will be available as long as your device is fully operational. Fully operational means that the device is able to receive software updates, service updates, and content, and works with current accessories. A device will not be fully operational when one of these can no longer be received by the device or is no longer available. As the map and navigation software technologies evolve they may require newer hardware technology to support this. In case the hardware is no longer compatible, updates will not be possible. Services and updates can only be used on the device they have been purchased with and cannot be transferred to another device.