Fleet management for transport companies
Cut costs, stay compliant, and enhance safety
Webfleet, the award-winning fleet management solution from a global leading telematics provider, equips you with the tools you need to cut fuel costs, improve efficiency, stay compliant and be safer on the road. That leaves you free to focus on growing your transport business.
Webfleet transport fleet management helps you
Lower your operating costs
Manage your ELD/DVIR and drivers' hours compliance
Boost productivity and plan your workflow more efficiently
Stay on schedule with the fastest and most suitable routes
Encourage drivers to be safer on the road
Monitor your trucks, trailers and drivers in one place
Discover our solutions for transport
Vehicle management
See your trucks and trailers' position and usage in real-time. Get instant alerts on your vehicle's health, including maintenance service due, AdBlue level low and diagnostic system incidents.
More on our vehicle management solution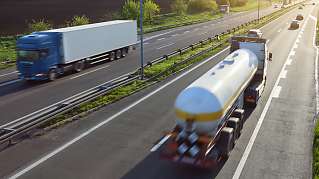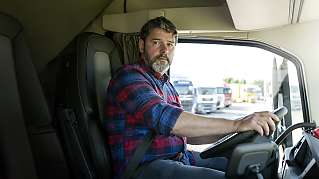 Driver management
Webfleet takes time-con­suming manual tasks off your driver's plate. This helps boost produc­tivity, while driving behavior and driving time data encourages safer performance on the road.
More on our driver management solution
Compliance support
A full suite of compliance tools for tachograph and drivers' hours regulation helps minimise the burden of proving compliance for both your drivers on the road and your team in the office.
More on our compliance support solution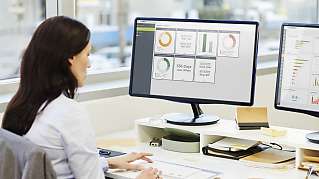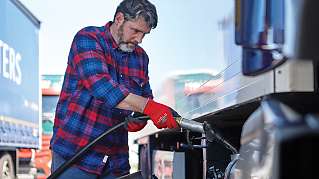 Truck fuel efficiency
With real-time insight into fuel consumption and driving behavior, including idling and cruise control engagement, you can take steps to cut total cost of ownership and reduce carbon emissions.
More on our fuel efficiency solution
Workflow optimization
Connect with a PRO navigation and fleet management device to get all the information you need about orders and drivers. Seamlessly communicate with your team on the road to better manage workflow and ensure they deliver on time.
More on our workflow optimization solution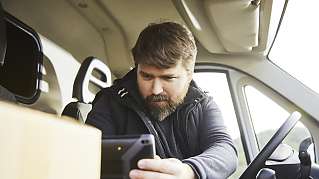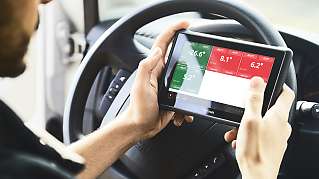 3rd party integration
You can easily integrate other business applic­a­tions with Webfleet to get exactly the solution you need today and future proof your system as your business progresses.
---
Check out Webfleet's trans­port-spe­cific features
Webfleet eLogs
The reliable all-in-one solution to download, analyze and archive your ELD data.
Find out more⁠
Remaining Driving Times
Real-time access to driving time information.
Find out more⁠
Webfleet Asset Tracking
Monitor your assets and vehicles on one interface
Find out more⁠
Return on investment in 6 to 9 months on average
Want to know how our fleet management solution helps cut transport operating costs, boost productivity and enhance safety, while staying compliant? Book a demo and find out now.