Hobart:
Fleet management by Webfleet
Your business is unique. Just like your fleet of vehicles. Therefore, you need a flexible fleet management platform: a solution in terms of fleet optim­isation, vehicle tracking, workforce management, green & safe driving, business integration and connected car services that suit your activities, vehicles, size, budget and location.
Fleet management solution for your fleet in Hobart
Are you looking for a fleet management solution for the Hobart region that provides you with real-time information about the location of your vehicles? Do you also want to communicate directly with your drivers, dispatch jobs, track a mileage logbook, improve driving behaviour and save on fuel? Our vehicle tracking and Active Driver Feedback help you with this challenge in a busy city like Hobart.
Tasmania - The Island City
As the capital of the island of Tasmania, and the nation's second-oldest city, Hobart has long cemented its place within Australia as a melting pot of industry, arts and natural wonder – from the sprawling views atop Mount Wellington, to the more modern Museum of Old and New Art (MONA), the bustling Salamanca Markets and the historic Maritime Museum of Australia, there's something for everyone in the capital of the Apple Isle1.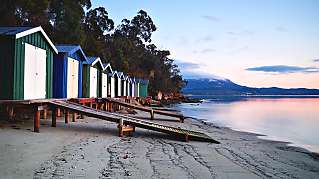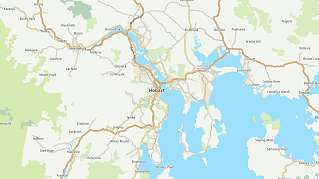 The challenges your drivers & vehicles face in Hobart
Hobart's appealing landscape, arts and culture also has its downfalls – one being the congestion created by an increase in tourism and a rising house market, especially on the roads. In fact, a 2016 study2 by TomTom showed that it takes 32 percent longer to drive in Hobart during peak hour times, compared to that of non-peak times. That's why Hobart's nearly 2,000 kilometres of highways and city and suburban roads are so vital to keeping the island state moving. The 1, A6 and B68 are major thorough­fares for city traffic, as are the B64 and the A3. And many major roads from and through Hobart link out to the wider­-reaching suburbs of Tasmania like Cygnet, New Norfolk, Kempton, Ellendale, Maydena, Buckland, Bream Creek and Dover.
Why is a fleet management solution partic­u­larly useful in a congested city like Hobart? Due to heavy traffic during the day and specifically in peak hours, each vehicle spends more time on the road which means an average commercial vehicle driver wastes many hours sat in traffic. This can translate into significant losses for businesses in the Hobart area – and that's precisely where a fleet management solution can help.
Webfleet
Webfleet
For more than 20 years, our award winning fleet management platform Webfleet, a SaaS (Software as a Service) solution, has helped teams to cooperate better. Whether for real-time tracking and tracing, staff management or driving econom­ically and safely, more than 60,000 customers around the world make smarter decisions every day with Webfleet. No matter where your drivers are, our fleet management service and products ensure that your team remains connected, supporting your drivers and helping you to increase the general efficiency of your fleet.
Webfleet is ISO/IEC 27001 certified which means it fulfils the required high standards of confid­en­ti­ality, integrity and avail­ab­ility.
Request callback⁠
Hobart service area for Fleet Management and Vehicle Tracking
Some of the districts around Hobart where Webfleet is active
Cygnet

New norfolk

Kempton

Ellendale

Maydena

Buckland
Bream creek

Dover

Southport

Hamilton

New Town

North Hobart
West Hobart

South Hobart

Dynnyrne

Glebe
---
If your business is located in or near the Hobart area, please contact:
Request a callback to find out how Webfleet can help your business.