Fleet management for technical service and maintenance companies
Cut cost, enhance safety and boost productivity
Webfleet, a global leader in telematics, equips you with all the tools you need to reduce fleet costs, ensure safety, improve customer satis­faction and boost productivity for your drivers. Our Webfleet solution supports seamless commu­nic­ation with your team in the field and helps you streamline your workforce management. The result? Happier customers and more jobs done.
Keep customers and drivers happy with higher levels of service
Provide best-in-class ETAs so customers aren't kept waiting1
Complete more jobs with optimised order management workflow
Save costs with optimal routes and maintenance alerts
Reduce time spent on fleet admin­is­tration so you can focus on your core business
Get the right workflow management process for you by integrating with other business applic­a­tions
Discover our technical service and maintenance solutions
Always know where your vehicles are
Track your fleets' position and usage in real-time with Webfleet. Our van tracking system accurately records hours worked or hours spent behind the wheel, and remembers where each vehicle in your fleet has previously been. Vehicle tracking also highlights anomalies and reveals patterns in your business.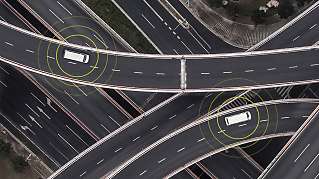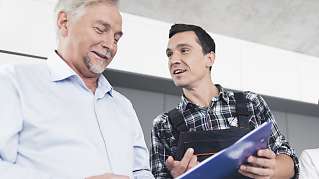 Increase customer satis­faction
Webfleet helps you to create more accurate ETAs based on our award-winning traffic information solution. Our profes­sional navigation uses a complex network of live traffic data and advanced algorithms to keep your drivers away from jams and congested areas. That means they're more likely to get to the job on time and keep your customers happy.
Dynamic order dispatch and workflow management
Webfleet helps you identify the driver best suited to each job using smart scheduling and dispatch with award-winning TomTom Traffic, order status, and vehicle status. Our Order Optim­isation feature2 optimises your sequence of visits in one click, reducing mileage and time spent on the road. This all helps you to plan better, get more orders done and improve on-site services.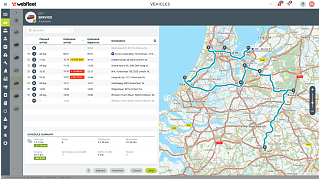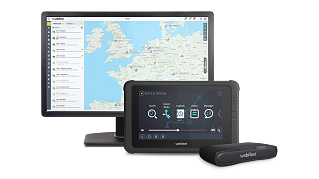 Seamless two-way commu­nic­ation
Simplify your order workflow and save time by sending jobs and order instruc­tions straight from your office to your driver's PRO Driver Terminal. The terminal reads the message aloud to avoid distracting the driver. You stay connected with your team in the field and get regular updates on order status and ETAs, so you can react dynamically to unexpected events.
Everything you need to control costs
As well as providing regular maintenance schedule alerts, Webfleet automat­ically notifies you when a vehicle shows sign of malfunction. This way, you can plan maintenance before a costly breakdown occurs. You can also monitor fuel consumption to identify abnormal usage or identify areas where driving style can be improved to reduce insurance premiums.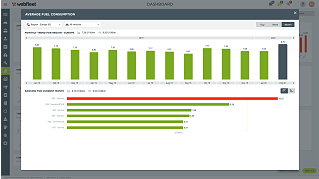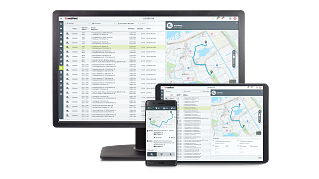 Accurately track every taxable mileage
Your drivers can log private and business mileage with a PRO Driver Terminal or with the Webfleet Logbook mobile app. With accurate trip reports provided by Webfleet, they can be used for mileage claims.
Effective team management
With OptiDrive scores, Webfleet gives you the information you need to optimise your driver's performance in the field. Active driver feedback and advice is displayed on the PRO Driver Terminal in a way that won't disturb your drivers. This helps them remain safe and reliable on the road, while maintaining a good reputation for your business.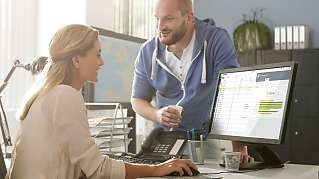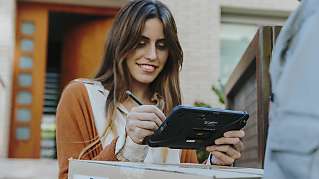 Get all your business systems working together
You can easily integrate other business applic­a­tions with Webfleet to get exactly the solution you need. For example, using the PRO 8475 Driver Terminal, you can customise workflow management further. This device handles activities like vehicle checks and delivery data capture via barcode scanning and digital signature in combination with 3rd party applic­a­tions. All your data is then stored in one system.
Check out our technical service and maintenance features in more detail
How much money can you save on vehicle costs with telematics?
Calculate it yourself for your technical service and maintenance company
Download the FREE guide
The world's no 1 choice!
Already 50,000 clients are achieving more with Webfleet
25% savings in 2 months.
Dennis Evans, Sanctuary Maintenance
Other systems we looked at seemed unnecessarily complicated.
Simon Bond, THE TILE SOURCE
We're able to do more jobs every day.
Dino Mastantuono, Action Door
Return on investment in 6 to 9 months
Want to know how to improve service, control costs and get more jobs done? Book a demo and find out how Webfleet can help you to manage your technical service and maintenance operations.