Workflow Management system Webfleet
Helping you to manage your workflow, improve customer service and get more jobs done
Workflow Management system Webfleet
Helping you to manage your workflow, improve customer service and get more jobs done
Connect our Webfleet solution with a PRO Driver Terminal and get all the valuable information you need about your orders and drivers. Our trans­port­ation management system supports seamless commu­nic­ation with your team in the field and helps you to streamline your workflow management. The net result? Happier customers and more jobs done.
---
Explore our workflow management solutions
Profes­sional navigation
Stay on the fastest routes and get more jobs done with best-in-class navigation and live traffic updates
Dynamic dispatching
Boost productivity and enhance your customer service by efficiently scheduling and following assignments
Scheduled maintenance
Stay on top of your fleet's maintenance tasks with advanced vehicle diagnostics to help you increase safety and reduce costs
---
Tools and apps for workflow management
Driver terminals
Optimise your fleet with navigation, commu­nic­ation and reporting tools
Operations management app
Operations management app
Stay connected to your vehicles, drivers and assets even if you're working on the go
Workflow management app
Digitise your workflow and improve efficiency with one mobile app for your drivers
Vehicle inspections app
Makeyour drivers' daily vehicle inspections easier
Workflow management software helps you
Optimize order management workflow and complete more orders
Keep your drivers and customers happy
Provide best-in-class ETAs* for customers
Stay flexible in planning, so you can adapt to the unexpected
Reduce time spent on admin­is­tration tasks
Integrate with other business applic­a­tions to get the ideal workflow management system for your workflow
Workflow management key features
Dynamic order dispatch and management
Webfleet helps you identify the driver best suited for each job using smart scheduling and dispatch with award-winning TomTom Traffic, order status and vehicle status.
The Order Optim­isation feature** optimises your sequence of visits in one click, with the aim of reducing mileage and time spent on the road. This all helps you to plan better, get more orders done and improve on-site services.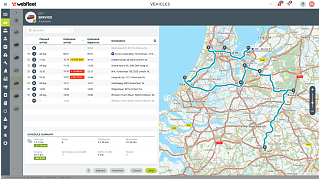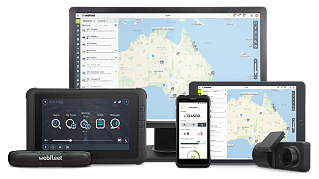 Seamless commu­nic­ation
Simplify your order workflow and save time by sending jobs and order instruc­tions straight from your office to your driver's PRO Driver Terminal. The terminal reads the message aloud to avoid distracting the driver.
You stay connected with your team in the field, getting regular updates on order status and ETAs, so you can react dynamically to unexpected events.
Best-in-class ETAs
Webfleet enables you to to give more accurate ETAs to your customers based on TomTom's award-winning traffic information.
Profes­sional Navigation uses a complex network of live traffic data and advanced algorithms to help your drivers avoid traffic, improve their workflow and get to the job on time.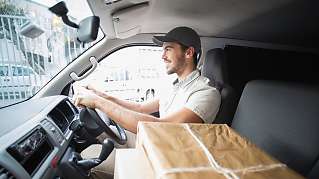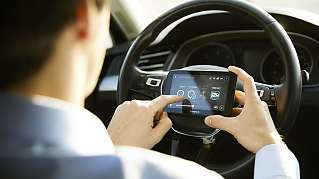 Automated workflow management processes and reporting
Webfleet's workflow management software takes distracting, time-con­suming manual tasks off your plate. Logbook with real-time odometer and working time regis­tration are both automated, for more accurate reporting and less time spent on admin­is­tration.
Meanwhile, you get job-by-job insight with accurate time spent with clients and automated invoices, which can speed up billing and make disputes less likely.
Everything you need to control cost
Webfleet comes with a range of features to help decrease your vehicle's total cost of ownership, using rich data from vehicle integration.
As well as receiving regular maintenance schedule alerts, you're automat­ically notified when a vehicle shows sign of malfunction. This way, you can plan maintenance before a costly breakdown occurs. You can also monitor fuel consumption to identify abnormal usage or identify areas where driving style can be improved to reduce insurance premiums.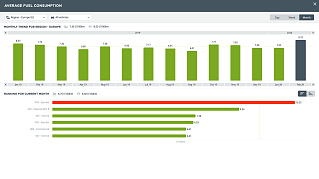 Driver behaviour feedback and analysis
By offering analysis on driver behaviour with OptiDrive score, Webfleet gives you the information you need to optimise your driver's performance in the field.
Active driver feedback and advice is displayed on the PRO Driver Terminal in a way that won't disturb your drivers. This helps them remain safe and reliable on the road, maintaining a good reputation for your business.
Learn more about OptiDrive⁠
Business operation at-a-glance
Webfleet is constantly providing data to help you improve your business processes.
With accurate information on time spent on location, order status, trip information, working times and driver performance, amongst many other facts and figures, you can clearly judge what areas of your operation need to be developed.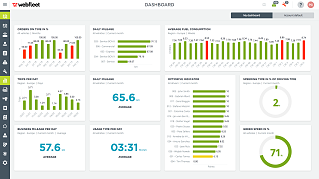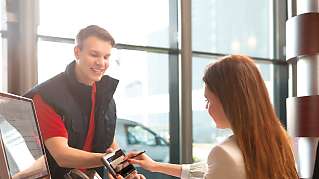 Customise and integrate
You can easily integrate other business applic­a­tions with Webfleet to get exactly the solution you need. For example, synchronise with CRM and billing systems and get a more complete view of essential data that reduces admin­is­tration work.
Using the TomTom PRO 8275 Driver Terminal, you can customise workflow management further. This device handles activities like vehicle checks and delivery data capture via barcode scanning and digital signature in combination with 3rd party applic­a­tions. All of your data is then stored in one system.
Manage your fleet operations on the go
You don't need to be at your desk to manage your fleet. With Webfleet Mobile, it's all right there in the palm of your hand.
Features:
Real-time vehicle and asset tracking

Two-way commu­nic­ation

Trip management

Dispatch new orders and jobs

Notific­a­tions and alerts of your vehicles
More about Webfleet Mobile⁠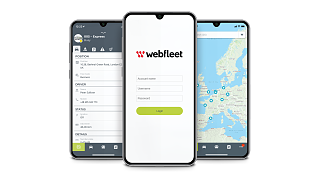 Free ebook: why companies are digitising the workflow
Get exclusive insight into how companies like yours are:
I'm ready to download
Choose the perfect solution to suit your work order process
Standard
The essential workflow and vehicle management solution - ideal for SME businesses with fleets and field teams.
Advanced
Profes­sional workflow, route optim­isation, job dispatch and scheduling– ideal for corporate fleets with a large amount of orders to handle.
Expert
For the company that needs a perfectly tailored solution to optimise their specific workflow.
Get a demo
See how Webfleet can help your business.
* ETA = estimated time of arrival** Order Optim­isation requires an additional feature subscription.