Fleet management for passenger transport
Safer journeys, happier customers, lower costs
Fleet management for passenger transport
Safer journeys, happier customers, lower costs
Webfleet gives you everything you need to run a secure, high quality service for your passengers. From controlling fuel costs to maintaining safe driving standards to proving your tachograph compliance, we help you handle many pressing challenges.
Ensure passengers arrive safe and on time
Control fuel and maintenance costs
Run a reliable, rapid service
Encourage safer driving
Want to ensure your passengers arrive safe and happy? Webfleet's OptiDrive 360 gives you the data you need to identify where drivers can improve their performance.
The PRO Driver Terminal offers active driver feedback and advice on things like idling, speeding and harsh steering, coaching the driver to make adjustments. The net results? Your vehicles stay safe, your passengers stay happy and your business reputation stays high.
Learn more about OptiDrive 360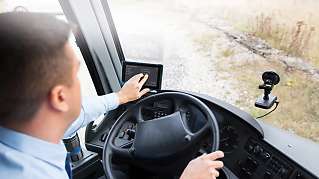 Smoother workflow, better service
Information supports your drivers to do their jobs better. The PRO Driver Terminal offers dedicated large vehicle navigation to avoid trouble spots and reduce the chance of accidents. It also displays points of interest like coach parking spaces and drop-off points.
Back in the office, you have a clear overview of your vehicle locations. You send instruc­tions straight to the Driver Terminal, which reads the message aloud – drivers don't need to stop to check. All of this leaves your drivers free to concentrate on delivering a high-quality service to your passengers.
Learn more about Driver Terminals
Best-in-class ETAs
Delays cost money. To help you provide more accurate estimated times of arrival (ETAs), Webfleet utilises TomTom's award-winning traffic information.
Profes­sional navigation uses live traffic data and advanced algorithms to help your drivers avoid traffic. That means your customers are more likely to get where they're going on time.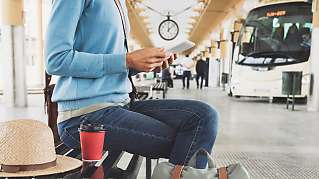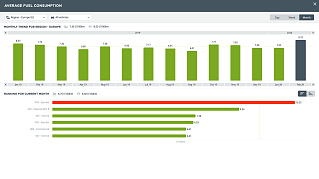 Everything you need to control cost
Webfleet helps to control your vehicles' total cost of ownership in a number of ways. It identifies abnormal fuel usage and encourage more cost-ef­fective driving habits (such as the use of cruise control).
Meanwhile, you get timely notific­a­tions when vehicle maintenance is required. That helps you to solve issues before they become problems that could cause downtime.
Learn more about Webfleet reporting
Plan and deliver a quality service
Webfleet gives you a range of tools to maintain a high level of service for your passengers.
For example, when planning a tour, you can easily optimise the timing of departure, passenger pickups, scheduled stops and arrival. Plus, you can quickly identify the best-suited driver if you need a replacement due to an unexpected incident mid-journey.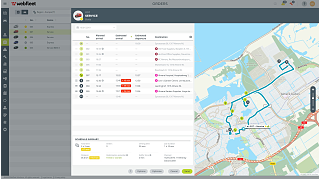 ---
Trusted by over 60,000 businesses
Webfleet provides us crucial data to communicate with parents.
Todd Bell, Kentwood Public Schools
Priority Patient Transport increases dispatch efficiency by 300%.
Steve Higgins, Priority Patient Transport
Get a demo
See how Webfleet can help your business.
Get a demo
See how Webfleet can help your business.