Transport manager
Optimise your transport fleet's performance
Transport manager
Optimise your transport fleet's performance
Webfleet, Europe's top fleet management solution, gives you the tools you need to support drivers, cut costs, save time and improve the safety of your transport fleet. You'll win back time so you can focus on your core work.
---
Driver recruitment and retention
Keep driver safety and well-being a top priority. Webfleet provides insights into driving data such as remaining driving times and driving behaviour. Our PRO Driver Terminals help support drivers in their daily tasks, such as digital order management and in-vehicle driver feedback. They'll stay engaged and motivated, helping you attract and keep qualified drivers.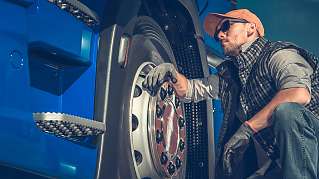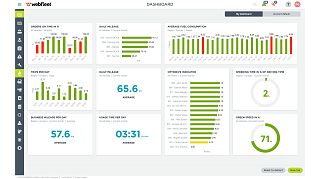 Complex operational costs optim­isation
Gain detailed insights to help identify where you can cut costs. With operational visibility all in one place, you can monitor your fleet's utilisation–such as mileage and fuel consumption–in real time. You can also benchmark historical data to see patterns, identify anomalies and optimise operational costs.
Admin­is­trative time and optimal planning
Save valuable time by automating admin­is­trative tasks. Plan day-to-day logistics more efficiently, set more accurate delivery times and simplify the time spent on commu­nic­ation and compliance. Webfleet is also a scalable solution where you can integrate with existing applic­a­tions or a range of integration partners.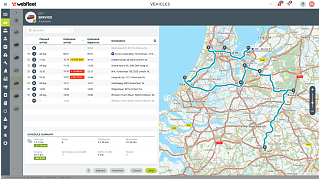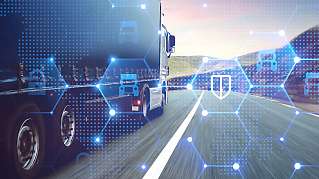 Security and safety
Improve the safety and security of your fleet. Webfleet will let you know the status of your vehicles and trailers 24/7 through real-time tracking, so you can act in time if theft or misuse is detected. Webfleet Video works in combination with AI-powered dashcams to help you increase safety and reduce claims. Our safeguards extend beyond physical items, too–Webfleet is ISO 27001 certified, meaning customer data is stored at the highest level of data security.
Identify oppor­tun­ities to reduce your operating costs
Optimise workflow management and boost productivity
Plan the most efficient routes and provide more accurate ETAs
Encourage safer driving behaviour
Monitor your trucks and trailers 24/7
All you need to know about transport managers
What is the role of a transport manager?

0

Jump to content

Transport managers play an important role in optimising a fleet's performance. They analyse KPIs, for example, with an eye on cost-cutting. Supporting drivers is key too. Transport managers prioritise driver safety and engagement, keeping track of driving hours and compliance.
What does a transport manager do (on a daily basis)?

0

Jump to content

Transport managers oversee a fleet's daily logistics. They take care of digital order management and vehicle maintenance schedules. Transport managers are also in charge of improving road safety, along with the security of fleet assets.
What skills do you need as a transport manager?

0

Jump to content

Transport managers are highly skilled in logistics and customer service. As such, they boast strong inter­per­sonal and commu­nic­ation abilities. They're detail-ori­ented, savvy with computer software and experienced in business management practices.
Which tools does a transport manager use?

0

Jump to content

Transport managers leverage digital tools to simplify workflows, improve efficiency and collaborate with drivers. A complete fleet management solution makes it easy to monitor costs, communicate with drivers and satisfy compliance require­ments—all from a single dashboard.
Check out our transport fleet management features in more detail
Webfleet Asset Tracking
Monitor your vehicles and assets on one simple interface.
Fleet dash cam
Combining dashcam footage with driving data to give you the full context of road incidents.
TPMS
Reliable road safety with 24/7 tyre control – Webfleet TPMS
How secure and safe are your trucks on the road?
Download the eBook and learn how you can improve the safety and security of your transport fleet.
Get your copy now
Get a demo
See how Webfleet can help your business.
Get a demo
See how Webfleet can help your business.