Van tracking solutions
Improve fleet performance with real-time insights
Get a clear under­standing of where your vans are located, in real time. Van tracking combines automatic vehicle location programming with software that collects, processes and stores your location data. With real-time insights, you can better assess how your fleet is performing and how your resources may be used more efficiently. Find out everything you need to know about van tracking here.
Track your fleet's vans
In real time
Save admin time and be tax compliant
With mileage regis­tration
Get proof of delivery
And provide insight on time spent at a customer
Improve customer satis­faction
With accurate ETAs
Increase productivity
With optimised route planning
Monitor fuel consumption
Get real-time and historical data on fuel use
Key features of van tracking by Webfleet
Real-time van trackers
Know where your drivers are at all times, whether they're resting for the night or just hitting the road. Tracking your fleet's vans in real time supports customer ETAs and proof of delivery. It also makes it easy to monitor compliance with drivers' hours rules.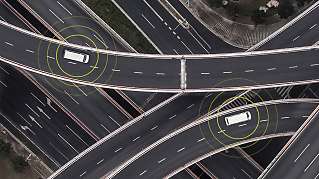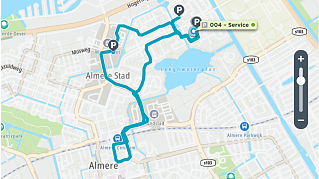 Van tracking insights
Spot where to cut costs by tracking and tracing prior van trips. Know precisely how long drivers have worked behind the wheel, with the ability to recall vehicle locations for up to 90 days in the past. Gain greater visibility with a real-time map of vehicle movements.
Geofencing with direct alerts
Receive instant notific­a­tions when a vehicle enters or leaves a previously designated geographical area. Van tracking works with GPS so you can establish virtual fencing according to selected locations, be they customer businesses or your fleet's parking lot.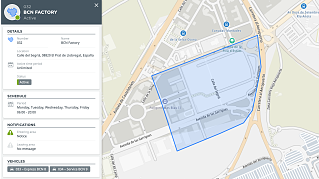 Accurate traffic information
Rely on real-time traffic conditions to keep your drivers on the best roads. Put traffic jams and weather­-re­lated delays behind you. Go with TomTom maps with updated traffic information, Google maps with street view or satel­lite-based maps.
Customised reporting and dashboards
Give your productivity a boost with analyses on driver performance. Access a wide range of dashboards and customised reports with Webfleet's vehicle tracking system. Draw insights on driver hours, fuel use, road events and so much more.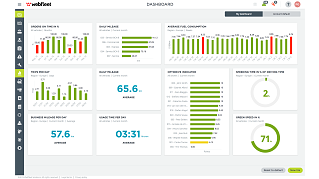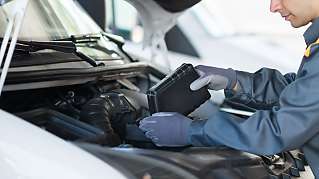 Van maintenance
Ensure your vehicles stay roadworthy with regular maintenance. Limit unexpected downtime and cut repair costs by scheduling your fleet maintenance. With real-time data on mileage, you can make vehicle-spe­cific decisions on maintenance needs.
---
All you need to know about van tracking
How does a van tracking system work?

0

A van tracking system links GPS devices with data processing software to pinpoint your van locations. Need to which driver is nearest to a job location? Real-time van tracking shows you, helping with last-minute route changes.
What are the benefits of van tracking?

0

Van tracking provides several benefits. With precise vehicle locations, you always know where your vehicles are, ensuring you can quickly respond to changing business needs.

Other key benefits of van tracking include:

Improved efficiency and cost savings
Enhanced visibility and accurate ETAs
Cost-cutting insights on trip comparison
How much does a van tracker cost?

0

The cost depends on your fleet's operational dynamics. The number of vans in your fleet, for example, will determine the number of devices and install­a­tions. With efficiency and productivity improve­ments, you save on costs.
Van tracking is ideal for businesses that provide delivery and maintenance services. Construction and plumbing businesses use van trackers to create accurate customer invoicing, for instance. Last-mile services use it to plan smarter routes.
What kind of range does a van tracker have?

0

The range of a van tracker depends on the specific device and the conditions in which it is being used. Webfleet van trackers use GPS technology, so you can always know the exact locations of your vehicles, whether they're on route to a customer or returning to your business.
How do I set up a van tracking system?

0

Setting up a van tracking system typically involves choosing your preferred type of tracker device for your fleet's vans, installing this device in each of your vans and configuring the software that you'll use to monitor your van locations. With a plug-and-play option, you can install the van trackers on your own. If your business needs compre­hensive reporting, you should choose fixed install­a­tions. Looking for profes­sional navigation and real-time commu­nic­ation tools? Go with an expert setup to make sure all your built-in devices are properly installed.
How accurate is van tracking?

0

With reliable traffic information and GPS devices connected to data processing software, van tracking highly accurate. Along with tracking your vehicles in real time, you can define geographical areas and get notified any time a vehicle enters or leaves this zone.
What security measures are in place to protect my van tracker data?

0

Webfleet takes data security seriously. We have obtained the highest certi­fic­ation possible for information security management, ISO 27001. When your drivers are off the clock, they're in control of their personal data—they just switch to private mode on their Webfleet profes­sional navigation device to turn off the van tracker function.
How can van tracking help me improve my customer service?

0

With real-time van tracking, you can provide your customers with accurate ETAs and notify them of any delays. Van tracking can also help you optimise your delivery routes, improving your delivery times and increasing overall customer satis­faction.
Choose the best van tracking solution for your business
20% rise in appointments.
Peter McGaddey, Matthew Algie
It took 15 minutes to set up and it is so easy to use.
Rusty Russell, S&R Towing
Webfleet provides us crucial data to communicate with parents.
Todd Bell, Kentwood Public Schools
Return on investment in 6 to 9 months on average
Schedule a demo and find out how Webfleet can help your business or speak to a specialist who will answer any questions you have.