Bloem­fontein
Fleet management by Webfleet
Your business is unique. Just like your fleet of vehicles. Therefore, you need a flexible fleet management platform: a solution in terms of fleet optim­isation, vehicle tracking, workforce management, green & safe driving, business integration and connected car services that suit your activities, vehicles, size, budget and location.
Fleet management solution for your fleet in Bloem­fontein
Are you looking for a fleet management solution for the Bloem­fontein region that provides you with real-time information about the location of your vehicles? Do you also want to communicate directly with your drivers, dispatch jobs, track a mileage logbook, improve driving behaviour and save on fuel? Our vehicle tracking and Active Driver Feedback help you with this challenge in a busy city like Bloem­fontein.
Bloem­fontein - The rose of the free state
South Africa's seventh-largest city and judicial capital, Bloem­fontein is said to be named as such for the Dutch, "Bloem" (Flower) and "Fontein" (Fountain). A well-main­tained historical city, surrounded by agricul­tural holdings, Bloem­fontein's sights include the Free State Botanical Gardens, the National Museum, the Anglo Boer War Museum and – for the sports' fans – the Choet Visser Rugby Museum. Bloem­fontein is a highly sports-ori­entated city and hosts many inter­na­tional sporting events – partic­u­larly inter­na­tional cricket and rugby. Main routes around the city include the N1, which takes travellers all the way through Johan­nesburg – the N8, the R700 and the R706.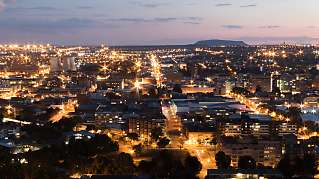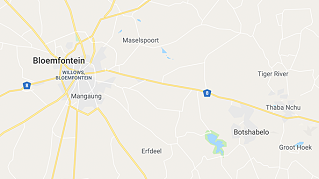 Traffic challenges in Bloem­fontein
Traffic congestion in Bloem­fontein is largely caused by the abundant use of privately-owned vehicles. As is the case in most South African cities, the public transport system has a long way to go before it is likely to be utilised as effectively as it is in other countries. And with a sustainable transport system such a long way off, traffic is a foregone conclusion. Population growth in South Africa on a grand scale is happening at a rapid rate. And the influx of job-seekers into the major city centres exerts a tremendous amount of pressure on the roads.
Bloem­fontein live traffic flow⁠
Why is a fleet management solution partic­u­larly useful in a congested city like Bloem­fontein? Due to heavy traffic during the day and specifically during peak hours, each vehicle spends about 18% more on the road (a total of 5223 kilometres in and around the city). That means an average commercial vehicle driver wastes more than 68 hours per year while sitting in traffic.
Webfleet
Webfleet
For more than 18 years, our award winning fleet management platform Webfleet, a SaaS (Software as a Service) solution, has helped teams to cooperate better. Whether for real-time tracking and tracing, staff management or driving econom­ically and safely, more than 49,000 customers around the world make smarter decisions every day with Webfleet. No matter where your drivers are, our fleet management service and products ensure that your team remains connected, supporting your drivers and helping you to increase the general efficiency of your fleet.
Webfleet is ISO/IEC 27001 certified which means it fulfils the required high standards of confid­en­ti­ality, integrity and avail­ab­ility.
Request callback⁠
Bloem­fontein service area for Fleet Management and Vehicle Tracking
Some of the districts around Bloem­fontein where Webfleet is active:
Manguang

Maselspoort

Westdene Willows
Botshabelo

Thaba Nchu

Koffiefontein
Petrusburg

De Brug

Sannaspos
---
If your business is located in or near the Bloem­fontein area, please contact:
Request a callback to find out how Webfleet can help your business.