Vehicle tracking system: make better decisions faster
Optimisze your operations and reduce cost with real time GPS vehicle tracking
Vehicle tracking system: make better decisions faster
Optimisze your operations and reduce cost with real time GPS vehicle tracking
Vehicle tracking system: make better decisions faster
Optimisze your operations and reduce cost with real time GPS vehicle tracking
Vehicle tracking and fleet tracking by GPS, connects the location of your vehicles with software tracker devices that collect fleet data. This fleet management solution shows precisely the driver's time spent behind the wheel and when, where, and how your fleet is utilized.
Webfleet's vehicle tracking and fleet tracking solutions by GPS deliver the real-time location of every vehicle in your fleet. This lets your business adapt quickly to new devel­op­ments, and allows you to make smart, informed decisions. Our vehicle tracker system tells you which employee is closest to any new assignment, as well as it gives you instant access to important vehicle information and driving behavior data, such as speeding or harsh braking. Imple­menting a GPS vehicle tracking system on your fleet can make your business more efficient by reducing costs and increasing drivers' safety. Find out everything you need to know about vehicle tracking.
Explore our vehicle tracking solutions
Van tracking
Improve fleet performance with precise location tracking combined with critical vehicle data
Car tracking solutions
Enhance your fleet visibility with Webfleet's car tracking solutions for South Africa
Asset tracking
Monitor your vehicles and assets on one interface
Powered asset tracking
Monitor your machinery and powered equipment
Trailer tracking
Proactive monitoring and reporting with Webfleet Trailer
---
Discover our alternative tracking method
Dashcam tracking
Get full insight into critical road events with our AI-powered dashcam and GPS tracking
Mobile app tracking
Track your vehicles and digitise your workflow with a simple Android app
Why vehicle tracking by GPS?
Track your fleet
Always know where your vehicles are, in real-time.
Get proof of delivery
Get proof of delivery and provide insight on time spent at a customer.
Increase productivity
Identify where to make savings by comparing previous trips of your vehicles.
Improve customer satis­faction
Optimize your business by increasing trans­parency to your customers by providing precise ETAs.
ETAs based on GPS
Respond quickly to customer emergencies by sending the driver with the quickest estimated arrival time.
Real-time vehicle tracking
Track your vehicles precisely by GPS. Whether your drivers are parked or on the move, get their precise, mapped location with Webfleet. This can help with proof of delivery and lets you track and monitor working-time guidelines compliance.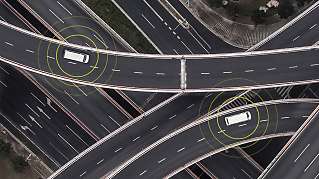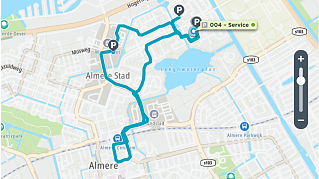 Informative tracking and tracing of your vehicles
Identify where to make savings by tracing previous trips. Our vehicle tracking system accurately records hours worked or hours that the driver has spent behind the wheel and remembers where each vehicle in your fleet has been for up to 90 days in the past. This feature of the vehicle tracking, and fleet tracking system by GPS provides an instant overview of vehicle movements, highlighting anomalies and exposing patterns in your business.
Instant, direct alerts
Webfleet provides real-time alerts instantly when a vehicle enters or leaves a previously designated area or nominated geo zone.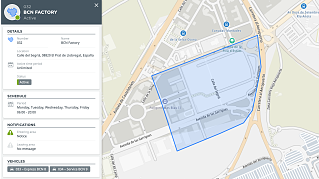 Reliable mileage regis­tration with Webfleet Logbook
Reduce your admin time to a minimum with automatic regis­tration of private and business mileage. Simplify your trip regis­tration with our fleet tracking software.
Read more⁠
Maps
Choose between TomTom Maps, with extremely accurate traffic information, and Google Maps, with street view or satellite maps, and customize your fleet tracking.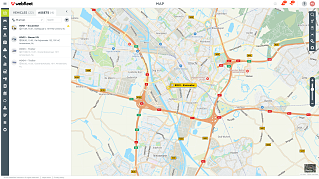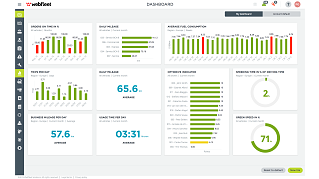 Dashboards and customized reports
Improve your business and fleet productivity by analyzing driver data. Get access to an extensive set of dashboards and customized reports like driving hours, driving events, working time, trip reports, vehicle information, and much more.
Read more⁠
Maintenance scheduling
Reduce maintenance costs by scheduling vehicle maintenance. You have realtime insight in the odometer data from your vehicles, which helps you to determine the service require­ments of each vehicle with precision.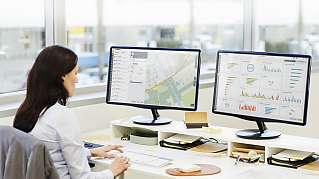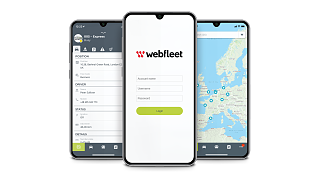 Manage your fleet operations on the go
You don't need to be at your desk to manage your fleet. With Webfleet Mobile, it's all right there in the palm of your hand.
Features:
Real-time vehicle and asset tracking

Two-way commu­nic­ation

Trip management

Dispatch new orders and jobs

Notific­a­tions and alerts of your vehicles
More about Webfleet Mobile⁠
---
All you need to know about vehicle tracking
What is vehicle tracking?

0

Jump to content

Vehicle tracking works by combining automatic vehicle location programming with software that is able to collect and maintain said data. Its triple function of acquiring, storing and, ultimately, processing location data allows trackers to get a vivid under­standing of where a vehicle is located, all in real time.

By delivering real-time and historical locations of the cars, vans or trucks in a business' fleet, vehicle tracking solutions help the fleet manager to both manage their workflow effectively in the moment and take better informed action to improve it in future.
What is a GPS vehicle tracking system?

0

Jump to content

Vehicle tracking by GPS works just as the name suggests. Using a global positioning system, users are able to monitor fleet vehicle locations as it relates to their geographical location.

Depending on the nature of the tracker device, the registered information may be stored internally or broadcast in real time to a cooperating program. Some GPS tracker devices use cellular data (such as those found in most contem­porary smartphones), while others use satellite signals to store and project the information.

Satel­lite-managed GPS tracking systems require no phone service to provide real-time updates. Consequently, they are well-equipped to handle more challenging routes in which acquiring a signal is a rare and unlikely occurrence. In either case, however, GPS systems are dependably accurate.
What is vehicle tracking software?

0

Jump to content

Vehicle tracking software helps fleet operators track their whole fleet of vehicles, down to an individual truck or van. Such software can be used as a compre­hensive fleet management solution, since it provides all the data needed to run a business efficiently. Fleet managers can, for example, stay on top of maintenance schedules as much easily as monitoring vehicle locations.
How does vehicle tracking software work?

0

Jump to content

Vehicle tracking software enables businesses to analyse their fleet data effectively. It processes your vehicle location data and driver behaviour information, making it available to your fleet management applic­a­tions. Vehicle tracking software works in real time, so you can draw accurate insights about your operations 24/7.
Why implement a vehicle tracking system in your fleet?

0

Jump to content

When it comes to fleet management, the benefits of a vehicle tracking solution are many. Vehicle tracker devices, allow fleet managers and supervisors to track and localize where their drivers and cargo are at all times—a very helpful feature for handling unexpected situations and a powerful tool for ensuring some of a business' most valuable resources are kept secure, safe, and in good condition.

Vehicle tracking systems can also help you set more accurate estimated times of arrival, partic­u­larly if the solution you are using offers accurate traffic information. With that function­ality, you can adapt to unexpected jams and alert your driver to alter their route.

A reliable vehicle tracker solution can also provide proof of delivery, if required, while also giving you insights into how much time is being spent with customers.

Driver commu­nic­ation and performance evaluation are both also improved by vehicle tracking. For example, a vehicle tracker solution could provide insight into how drivers are behaving behind the wheel that can be a good basis for focused coaching and improve­ments.

Vehicle tracking can also help with route planning. It could provide insights on how to select faster, more efficient routes in future, or guarantee that drivers are remaining within compliance as it relates to laws dictating how many hours they are permitted to work consec­ut­ively in a single shift.

In short, the service allows a level of fleet oversight never before realized by legacy techno­logies.
What are the benefits of tracking and tracing for your business?

0

Jump to content

Tracking and tracing previous trips your vehicles have made is a great way to identify where savings can be made, and greater levels of efficiency can be created in your workflow. A reliable vehicle tracker system will accurately record hours worked and hours driven. Users can also see the historical position of the cars, vans, or trucks, in some cases going back as far as 90 days in the past.

With this information, you can better assess how your fleet is performing and how your resources are being utilized. Patterns and anomalies can be identified in how your vehicles move day to day, so you can make intelligent choices as to how to improve your business fleet.
How much does vehicle tracking cost?

0

Jump to content

How much vehicle tracking costs strongly depends on the type of plan that you select. Things like the number of vehicles you wish to track will impact the overall cost of your vehicle tracking solution.

However, while there are certainly costs built into adopting a vehicle tracker system, there are also savings associated with the service as well. For example, performance improve­ments linked to increased oversight may save fleets money on mileage, time, and other expenses that are associated with under­whelming efficiency.
How does a vehicle tracking system work?

0

Jump to content

Vehicle tracking operates through Global Positioning Systems (GPS). To start, vehicles are outfitted with hardware tracker devices that serve as receivers for important satellite signals. Layperson vehicle tracking may not require anything more than a smartphone, while other systems could involve an install­ation of some kind.

The GPS-enabled tracker device remains in constant commu­nic­ation with the satellite while the vehicle is in motion. In addition to including information about the specific location of a vehicle, many tracking systems are also able to furnish other key data points, such as direction and speed.
Choose the best vehicle tracking solution for your business
See how it works
How does gps for vehicle tracking systems work?
8% decrease in driving time.
Bryan Campbell, Blackbourne Integrated M&E
Fife Council improved MPG by 15%.
Jennifer Thain, Fife Council
20% rise in appointments.
Peter McGaddey, Matthew Algie
Return on investment within 6 to 9 months
Schedule a demo to understand how Webfleet can help your business or speak to a specialist who will answer any question regarding our solutions.
Return on investment within 6 to 9 months
Schedule a demo to understand how Webfleet can help your business or speak to a specialist who will answer any question regarding our solutions.
Return on investment within 6 to 9 months
Schedule a demo to understand how Webfleet can help your business or speak to a specialist who will answer any question regarding our solutions.