Johan­nesburg
Fleet management by Webfleet
Your business is unique. Just like your fleet of vehicles. Therefore, you need a flexible fleet management platform: a solution in terms of fleet optim­isation, vehicle tracking, workforce management, green & safe driving, business integration and connected car services that suit your activities, vehicles, size, budget and location.
Fleet management solution for your fleet in Johan­nesburg
Are you looking for a fleet management solution for the Johan­nesburg region that provides you with real-time information about the location of your vehicles? Do you also want to communicate directly with your drivers, dispatch jobs, track a mileage logbook, improve driving behaviour and save on fuel? Our vehicle tracking and Active Driver Feedback help you with this challenge in a busy city like Johan­nesburg.
Johan­nesburg - The City of Gold
Johan­nesburg is South Africa's commercial hub and one of the world's largest urban forests. The city is rich in culture, with attractions like the Apartheid Museum, Gold Reef City, Soweto – home to Wandi's Place, a traditional "shebeen" or bar, the Credo Mutwa Cultural Village, the Hector Peterson Museum, and more. The Cradle of Humankind is a natural wonder to behold. And for those who enjoy shopping and fine dining, there's Sandton City and Nelson Mandela Square. Johan­nesburg's network of freeways connects the vast city. Major freeways include the N1, N3, N12, N14, N17, R21, R24, R59, M1 and the M2.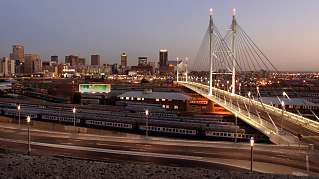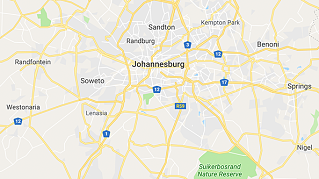 Traffic challenges in Johan­nesburg
As South Africa's busiest city, major areas in Johan­nesburg are often slowed down by gridlocked traffic. Frequent power outages, causing traffic lights to malfunction, an ever-growing migration of people flocking to the city and densely-pop­u­lated areas are among some of the causes of the congestion. Limited public transport options mean that there's a greater need for commuters to have their own vehicles, but rising fuel costs are also a challenge. The sheer size of Johan­nesburg causes some difficulty too, with the Greater Johan­nesburg Metro­politan area spanning around 1,645 km (about 635 square miles).
Johan­nesburg live traffic flow⁠
These issues are seeing more and more business owners turning to fleet management companies to save them time and offer reliable transport solutions.
Webfleet
Webfleet
For more than 18 years, our award winning fleet management platform Webfleet, a SaaS (Software as a Service) solution, has helped teams to cooperate better. Whether for real-time tracking and tracing, staff management or driving econom­ically and safely, more than 49,000 customers around the world make smarter decisions every day with Webfleet. No matter where your drivers are, our fleet management service and products ensure that your team remains connected, supporting your drivers and helping you to increase the general efficiency of your fleet.
Webfleet is ISO/IEC 27001 certified which means it fulfils the required high standards of confid­en­ti­ality, integrity and avail­ab­ility.
Request callback⁠
Johan­nesburg service area for Fleet Management and Vehicle Tracking
Some of the districts around Johan­nesburg where Webfleet is active:
Sandton

Houghton

Bryanston

Mondeor

Soweto

Alexandra
Norwood

Diepsloot

Mulder­sdrift

Randburg

Craighall Park

Rosebank
Roodepoort

Krugersdorp

Edenvale

Newtown

Braam­fontein

Fourways
---
If your business is located in or near the Johan­nesburg area, please contact:
Request a callback to find out how Webfleet can help your business.