Port Elizabeth
Fleet management by Webfleet
Your business is unique. Just like your fleet of vehicles. Therefore, you need a flexible fleet management platform: a solution in terms of fleet optim­isation, vehicle tracking, workforce management, green & safe driving, business integration and connected car services that suit your activities, vehicles, size, budget and location.
Fleet management solution for your fleet in Port Elizabeth
Are you looking for a fleet management solution for the Port Elizabeth region that provides you with real-time information about the location of your vehicles? Do you also want to communicate directly with your drivers, dispatch jobs, track a mileage logbook, improve driving behaviour and save on fuel? Our vehicle tracking and Active Driver Feedback help you with this challenge in a busy city like Port Elizabeth.
Port Elizabeth - The Friendly City
Abbreviated to "PE" by the locals, Port Elizabeth is known for its many beaches along the scenic Algoa coastline. The area offers a variety of outdoor, leisure and water-based activities for nature-loving travellers. From water sports to bird watching and whale-spotting, there's something for everyone. PE is one of the biggest cities in South Africa, with attractions including the Nearby Addo Elephant National Park, the Kragga Kamma Game Park, the cultural Route 67 and the South African Marine Rehab­il­it­ation Centre. Main routes around the city include the M7, the R102 and the N2.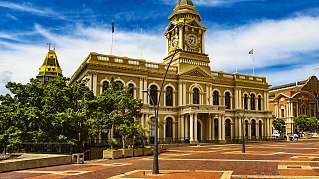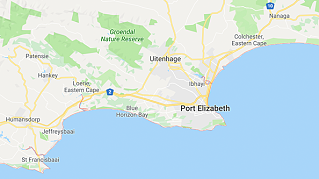 Traffic challenges in Port Elizabeth
Continual roadworks and upgrades, power outages and congestion as a result of the large number of commuters are among the causes of traffic challenges in Port Elizabeth. Big industry, in and around the city, has resulted in many people travelling to-and-from work during peak times. Roads become even more congested during the busy tourist seasons, with visitors from outside the Eastern Cape Province flocking to Port Elizabeth for the holidays. The city's roads are quite condensed, which can cause bottlenecks during busier periods, and there's an ever-in­creasing number of privately-owned vehicles on the roads, which is adding to the pressure.
Why is a fleet management solution partic­u­larly useful in a congested city like Port Elizabeth? Due to heavy traffic during the day and specifically during peak hours, each vehicle spends more time on the road which means an average commercial vehicle driver wastes many hours sitting in traffic. This can translate into significant losses for businesses in the Port Elizabeth area – and that's precisely where a fleet management solution can help.
Webfleet
Webfleet
For more than 18 years, our award winning fleet management platform Webfleet, a SaaS (Software as a Service) solution, has helped teams to cooperate better. Whether for real-time tracking and tracing, staff management or driving econom­ically and safely, more than 49,000 customers around the world make smarter decisions every day with Webfleet. No matter where your drivers are, our fleet management service and products ensure that your team remains connected, supporting your drivers and helping you to increase the general efficiency of your fleet.
Webfleet is ISO/IEC 27001 certified which means it fulfils the required high standards of confid­en­ti­ality, integrity and avail­ab­ility.
Request callback⁠
Port Elizabeth service area for Fleet Management and Vehicle Tracking
Some of the districts around Port Elizabeth where Webfleet is active:
Walmer

Bethelsdorp

New Brighton

Southdene

Fernglen
Marigold Park

Bluewater Bay

North End

South End

Newton Park
Salisbury Park

Mount Pleasant

Kwazakhele

Algoa Park
---
If your business is located in or near the Port Elizabeth area, please contact:
Request a callback to find out how Webfleet can help your business.