Are you considering switching to an electric fleet? Then you probably have questions about the times and costs of charging electric vans. It's key for fleet operators to understand how charging electric vehicles will impact business, from vehicle choices to charging routines. Here are some tips on optimising charging speed and reducing charging costs.
How to optimise the speed of charging electric vans
Charging speed is influenced by battery size, battery level, type of charger and plug type. If you use alternating current (AC) chargers, you should be aware that electric vehicles have a set charging speed, which influences how long it takes to charge.
When it comes to buying a new electric van, you should consider checking its on-board charger, battery size and how long it takes to reach 80% battery level. It's also important to understand which plug types are compatible with your vehicle.
The vehicle's on-board charger
The on-board charger converts AC to direct current (DC) and determines the maximum charging speed for your electric vehicle. If you're using an AC charging station, then the on-board device may have your vehicle charge slower than the actual power delivered by the charger.
For example, the charging time for a Mercedes-Benz eVito to go from 20% to 80% will be around 3 hours, regardless of whether you're charging with a 7.4kW or 43kW AC charger. That's because the eVito's on-board charger only allows up to 7.4kW.
Ask your EV dealer about the maximum charging speed of AC chargers to understand the impact on your electric vehicle's charging times.
Battery size and charging time to 80% of battery
The bigger your battery size, the longer it will take to charge.
Unless your electric van is parked overnight, you shouldn't charge it to 100%. Batteries are designed to charge fast from a battery level of 20% to 80%. But once it reaches 80%, the charging rate slows down to protect the battery. Knowing the average time it takes for your vehicle to reach 80% will help you optimise your charging time.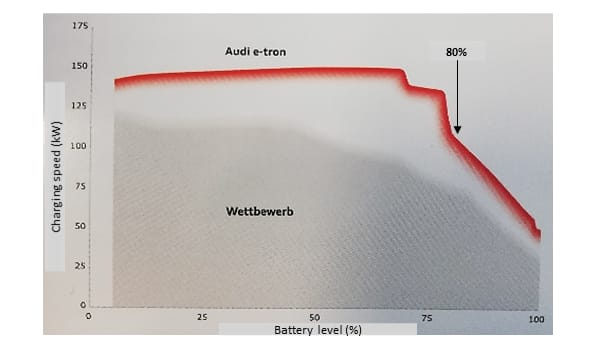 Charging plug types
Plug types depend on the type of charger. You should be conscious of which ones are compatible with your vehicle to understand the charging speed you'll get.

CCS and CHAdeMo plug types are usually used for fast or ultrafast chargers. There are also some Type 2 plugs found in fast chargers and slow chargers. All the others are common among slow chargers.
You can identify the type of plug, availability and details of charging stations on the map in Webfleet. This will help you plan the best place to charge.
How to reduce costs when charging electric vans
Van drivers need an easy way to charge their electric vehicles. This naturally leads to questions such as:
– Should I take the van home or drive back to the depot to charge?
– What time of day is the cheapest to charge my electric van?
Understanding the energy consumption of your fleet and the required charging time of each vehicle will help you optimise your costs, whether it's negotiating with your utilities provider or investing in charging points.
Webfleet's charger connection report lets you stay on top of your EV's energy consumption after every trip, as well as keep track of all charging events. This means you can make sure your drivers only charge up to 80% during the day.
In the UK, the Workplace Charging Scheme (WCS) supports investments in charging infrastructure. It covers up to 75% of purchase and installation costs, with a maximum of £350 for each socket and up to 40 sockets per applicant.
Next steps
Are you considering switching from internal combustion engines to electric vans, but don't know what to consider? Webfleet can help you with its Fleet Electrification Report.
Or have you already electrified your fleet and want a better way to monitor your electric data? Webfleet can help you understand your average daily energy consumption and how long it takes to recharge—in turn, helping you optimise the recharging periods of your electric vehicles.
Boost your fleet's EV potential
Read our free eBook for insights on the growing EV market, with tips on adding EVs to your fleet efficiently and effectively.
Download the FREE guide