Vehicle tracking reports
Vehicle tracking monitors when, where and how your vehicles are being used. And Webfleet provides you with an extensive range of vehicle tracking reports so that you can use this information to improve processes, increase efficiency and drive down spend on fuel.
Examples vehicle tracking reports
Summarised reports
Find out when, how often and for how long your vehicles are being used.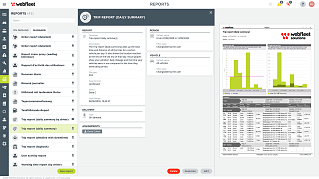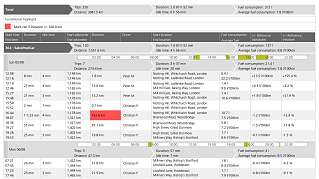 Detailed reports
Receive detailed reports about your vehicles' efficiency out on the road.
Compliancy reports
Ensure legal compliance with reliable, automatic logbooks.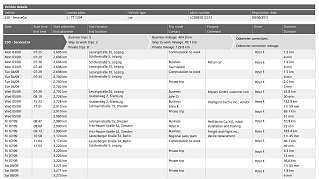 Trip data
Real-time and historical trip data on start and end time, location, distance, duration and standstill time. This will help you to plan and timetable more efficiently, manage payroll, spot problems early and send the closest team to each new job in order to minimise on mileage.
Vehicle data
Get vehicle data on fuel efficiency, carbon emissions, and driving events such as harsh braking or speeding. This information highlights problematic driving styles, helping you to reduce your company's carbon footprint and fuel costs, and keep your drivers safe on the road.
---
How is vehicle and driver information reported?
Clear vehicle tracking dashboard
Trip and vehicle data from your fleet is neatly presented in a graphic dashboard on Webfleet. This gives you a visual repres­ent­ation of KPIs affecting your service levels, productivity and costs so that you can quickly see what's going on and where there's room for improvement. It lets you set benchmarks for each KPI and assess individual and group performance against them.
Detailed vehicle tracking reports
We can generate accurate and reliable logbook and vehicle tracking reports on a range of criteria such as business vs. private miles, driving times, fuel usage and standstill time. Schedule regular reports to help with tax returns, or get reports on demand to assess fuel efficiency. You can even export the data files into your payroll and other applic­a­tions to save time on admin and make your processes run smoother.
Return on investment within 6 to 9 months
Schedule a demo to understand how Webfleet can help your business or speak to a specialist who will answer any question regarding our solutions.