Perth:
Fleet management by Webfleet
Your business is unique. Just like your fleet of vehicles. Therefore, you need a flexible fleet management platform: a solution in terms of fleet optim­isation, vehicle tracking, workforce management, green & safe driving, business integration and connected car services that suit your activities, vehicles, size, budget and location.
Fleet management solution for your fleet in Perth
Are you looking for a fleet management solution for the Perth region that provides you with real-time information about the location of your vehicles? Do you also want to communicate directly with your drivers, dispatch jobs, track a mileage logbook, improve driving behaviour and save on fuel? Our vehicle tracking and Active Driver Feedback help you with this challenge in a busy city like perth.
Perth - The West Coast Gem
The capital city of Western Australia, Perth is a flourishing city flanked by nearby pristine coastline, with a booming trade sector and an ever-growing arts and culture footprint. And while it's one of the most isolated cities in the world (the nearest major city is over 2,000 kilometres away), it's home to many major tourist attractions like Perth Zoo, Kinds Park and the Botanic Gardens; and only a short drive to natural wonders like John Forrest National Park and Whiteman Park.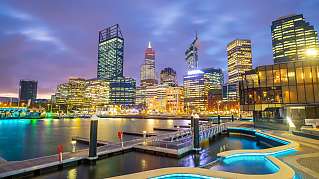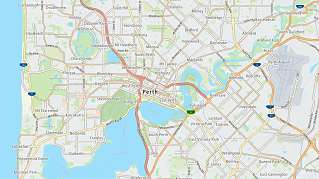 The challenges your drivers & vehicles face in Perth
While Perth has recorded an increase in average on-road speeds in 2018, the city's roads are still the fourth slowest when compared to other cities in Australia according to a 2018 NRMA study – and, like most other Australian cities, Perth's extensive collection of interlinked roads and motorways aren't immune to heavy congestion. Albany Highway, Canning Highway and Great Eastern Highway are all major thorough­fares that feature congestion during peak traffic times. Other key routes include the Great Northern Highway, Kwinana Freeway, Mitchell Freeway, Reed Highway, Roe Highway and West Coast Highway.
Perth's live traffic flow⁠
Why is a fleet management solution partic­u­larly useful in a congested city like Perth? Due to heavy traffic during the day and specifically in peak hours, each vehicle spends about 27% more on the road (a total of 19,422 kilometres2 in and around the city). That means an average commercial vehicle driver wastes more than 94 hours2 per year while sat in traffic.
Webfleet
Webfleet
For more than 20 years, our award winning fleet management platform Webfleet, a SaaS (Software as a Service) solution, has helped teams to cooperate better. Whether for real-time tracking and tracing, staff management or driving econom­ically and safely, more than 50,000 customers around the world make smarter decisions every day with Webfleet. No matter where your drivers are, our fleet management service and products ensure that your team remains connected, supporting your drivers and helping you to increase the general efficiency of your fleet.
Webfleet is ISO/IEC 27001 certified which means it fulfils the required high standards of confid­en­ti­ality, integrity and avail­ab­ility.
Request callback⁠
Perth service area for Fleet Management and Vehicle Tracking
Some of the districts around Perth where Webfleet is active
Rockingham

Mandurah

Joondalup

Hillarys

Ellenbrook

Jarrahdale
Mundaring

Gidgegannup

Avocet Island

Brigadoon

Cottesloe

Osborne Park
City of Subiaco

Claremont

Northbridge

Inglewood
---
If your business is located in or near the Perth area, please contact:
Request a callback to find out how Webfleet can help your business.