Wollongong:
Fleet management by Webfleet
Your business is unique. Just like your fleet of vehicles. Therefore, you need a flexible fleet management platform: a solution in terms of fleet optim­isation, vehicle tracking, workforce management, green & safe driving, business integration and connected car services that suit your activities, vehicles, size, budget and location.
Fleet management solution for your fleet in Wollongong
Are you looking for a fleet management solution for the Wollongong region that provides you with real-time information about the location of your vehicles? Do you also want to communicate directly with your drivers, dispatch jobs, track a mileage logbook, improve driving behaviour and save on fuel? Our vehicle tracking and Active Driver Feedback help you with this challenge in a busy city like Wollongong.
Wollongong - The Seaside City
Drive a mere hour south of Sydney and you'll reach Wollongong – a seaside city flanked by a vast coastline and pristine beaches to the east, and sprawling bushland mountain ranges to the west. Witnessing initial growth in the early 20th century thanks to thriving coal and steel industries, Wollongong is now a fast-building hotspot for residential, business and culture. It's home to the world-class University of Wollongong, along with tourism mentions such as the Breakwater Lighthouse, the Botanic Garden, natural wonders including the Mount Keira Lookout, and the iconic Sea Cliff bridge which hugs the rocky coastline.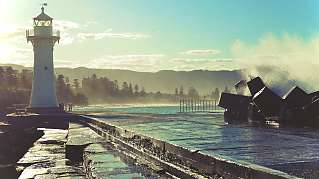 The challenges your drivers & vehicles face in Wollongong
Wollongong is Sydney's gateway to the south coast of New South Wales, and an important hub for towns like Port Kembla, Bowral, Campbelltown and more. It's no surprise, then, that its motorways, highways and major roads play a vital role in industry and infra­structure for the east coast of Australia – the most important of which is the Princes Highway, which stretches from New South Wales through Victoria and to South Australia. The Grand Pacific Drive is a scenic route but plays an equally vital role in getting people to and from Wollongong.
Wollongong's live traffic flow⁠
Why is a fleet management solution partic­u­larly useful in a congested city like Wollongong? Due to heavy traffic during the day and specifically in peak hours, each vehicle spends about 19% more on the road (a total of 1,853 kilometres1 in and around the city). That means an average commercial vehicle driver wastes more than 61 hours1 per year while sat in traffic.
Webfleet
Webfleet
For more than 20 years, our award winning fleet management platform Webfleet, a SaaS (Software as a Service) solution, has helped teams to cooperate better. Whether for real-time tracking and tracing, staff management or driving econom­ically and safely, more than 50,000 customers around the world make smarter decisions every day with Webfleet. No matter where your drivers are, our fleet management service and products ensure that your team remains connected, supporting your drivers and helping you to increase the general efficiency of your fleet.
Webfleet is ISO/IEC 27001 certified which means it fulfils the required high standards of confid­en­ti­ality, integrity and avail­ab­ility.
Request callback⁠
Wollongong service area for Fleet Management and Vehicle Tracking
Some of the districts around Wollongong where Webfleet is active
Port Kembla

Blackbutt

Thirroul

Nowra

Bowral

Kiama
Campbelltown

Mittagong

Bargo

Moss vale

Gwynneville

West Wollongong
Mangerton

Keiraville

North wollongong

Mount St Thomas
---
If your business is located in or near the Wollongong area, please contact:
Request a callback to find out how Webfleet can help your business.