Bridgestone and Webfleet: two companies committed to helping transport companies cut costs and emissions. The key to doing both? Fuel efficiency.
Bridgestone does it with cutting edge tyre design. Webfleet does it with industry leading digital solutions and hardware. Combine our products and services and you'll be equipped with everything you need to take full control of your fuel.
Webfleet and Bridgestone help you:
Lower your costs
Through real time track and trace
Decrease your emissions
By monitoring and analysing driving behaviour
Keep your company sustainable
With optim­isation across your whole business process
Webfleet fuel efficiency range
The Webfleet fleet management solution
Our award-winning fleet management solution provides real-time and historic visibility over how your vehicles are being used. You can zero in on areas where fuel is being wasted and take steps to improve. For example, trip data shows you where drivers are idling or could engage cruise control more often, helping promote more sustainable and fuel-ef­fi­cient driving.
By connecting to your truck's FMS, you get clear insight into the trips your drivers are taking and how your fuel is being used.
Learn more about fuel efficiency⁠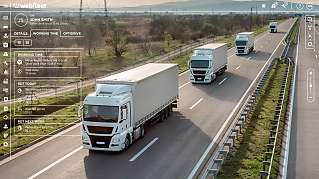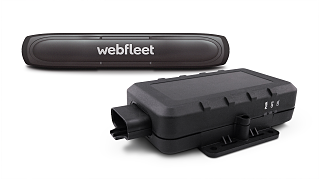 LINK devices
Vehicle tracking systems for all fleet sizes and types that tell you more than just the position of your vehicles and trailers. Get clear insight into the trips your drivers are taking and how your fuel is being used.
PRO Driver Terminal range
These all-in-one devices are designed to help drivers work smarter. Truck navigation shows the shortest, safest routes and active driver feedback cuts out habits that waste fuel and increase CO2 emissions.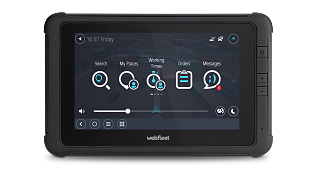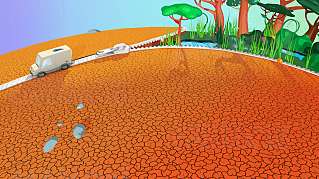 Green Your Fleet
Want to find out how sustainable your business is? Webfleet' Green Your Fleet lets you calculate your fleet's CO2 emissions and find out what steps you need to take to make a positive climate impact. Want to go even further? Then join our initiative with our partner Justdiggit to re-green African dryland. By greening up and capturing carbon we can cool down our planet and reverse climate change.
Learn more about Green Your Fleet⁠
---
Bridgestone fuel efficiency range
ECOPIA H002 tyres
Bridgestone's ECOPIA H002 is the best solution to reduce the operating costs of long-haul fleets1 in particular by signi­fic­antly reducing fuel cost.
Best in class fuel efficiency, A-A-A combination for steer, drive and trailer2: 1.1 litres per 100 km less fuel consumption vs B graded tyres3
Minimised fuel cost with an average annual saving of € 234,0004
Reduced CO2 emission4
Best in class wet traction: outper­forming all its competitors5, B-B-B grade wet grip on steer, drive and trailer
Winter ready6

Connected with RFID
Learn more about ECOPIA H002 truck tyres⁠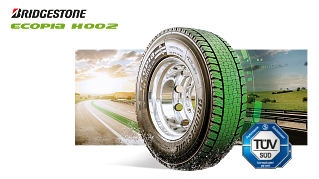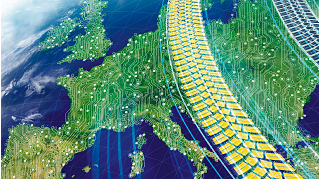 Bandag FuelTech® retreads
Extend your ECOPIA H002 tyres life with Bandag FuelTech® low rolling resistance retreads and continue saving fuel while reducing your tyre cost.
Same as the new ECOPIA H002, it reduces energy loss and optimizes fuel efficiency.
Retreads contain up to 75% recycled and reused material, contrib­uting further to sustain­ab­ility and circular economy.
Learn more about Bandag⁠
Tirematics
Bridgestone's Tirematics maximise fuel saving and reduce fleet costs with pro-active tyre maintenance.7
Proactive alerts and maintenance reports allow the fleet and service provider to efficiently keep the fleet running at its optimal level.

Provides a proven cost effective way to track tyre pressures across the fleet delivering multiple cost savings.8
Has a significant impact on tyre performance, fuel economy, road and driver safety and breakdown prevention.3
We saved on fuel costs thanks to the Webfleet and Bridgestone synergy
Hubert Sośnicki, Transhut sp. z o.o.
Ready to maximise your fuel efficiency by combining Bridgestone tyres with Webfleet?
Talk to one of our fuel efficiency experts
Free research: How to cut your transport fleet costs
The new eBook from Bridgestone and Webfleet examines the issue of transport fleet costs in depth. Get exclusive insight on the impact of COVID-19 on transport, the factors that drive up costs and the steps you can take to control them.
Learn more
1
ACEA Position Paper: Future CO2 standards for heavy duty vehicles, April 2018.
2
EU label grades in long haul sizes 315/70 R 22.5 and 385/55 R 22.5.
3
Based on calcu­la­tions with the VECTO tool for a 4x2 tractor and trailer combination with ECOPIA H002 315/70 R 22.5 steer and drive, and 385/55 R 22.5 trailer tyres compared with the same unit fitted and under same conditions with previous generation ECOPIA H001 tyres. Please note that actual savings may vary as they depend heavily on other factors.
4
Financial savings and CO2 reduction projected for an entire fleet based on the following assumptions: fleet size of 150 tractors and 150 trailers, 130,000 km annual mileage per truck, diesel price € 1.2/l. Minimised fuel cost with an average annual saving of € 234,000 for an average fleet. An average annual CO2 reduction of 546 tonnes for transport companies.
5
Based on Wet Hill Climb Test carried out by TÜV SÜD at the request of Bridgestone in June 2018 at ADAC proving ground in Hockenheim (D). Bridgestone ECOPIA H-DRIVE 002 compared to Goodyear Fuelmax D, Continental Ecoplus HD3, Michelin X-Line Energy D2, Pirelli TH:01 in 315/70 R 22.5 size. Report number: 713136052-7_1.
6
3PMFS and M+S for steer, drive and trailer
7
via an automated inspection system that measures tire inflation pressure
8
The annual average savings for a typical tract­or-trailer combination running at the correct tyre pressure are up to £ 450 in fuel consumption, £ 180 in tyre costs and £ 360 in breakdown costs, minimising total fleet costs by up to £ 980/yr saving per tractor­trailer combination running at correct tyre pressures.